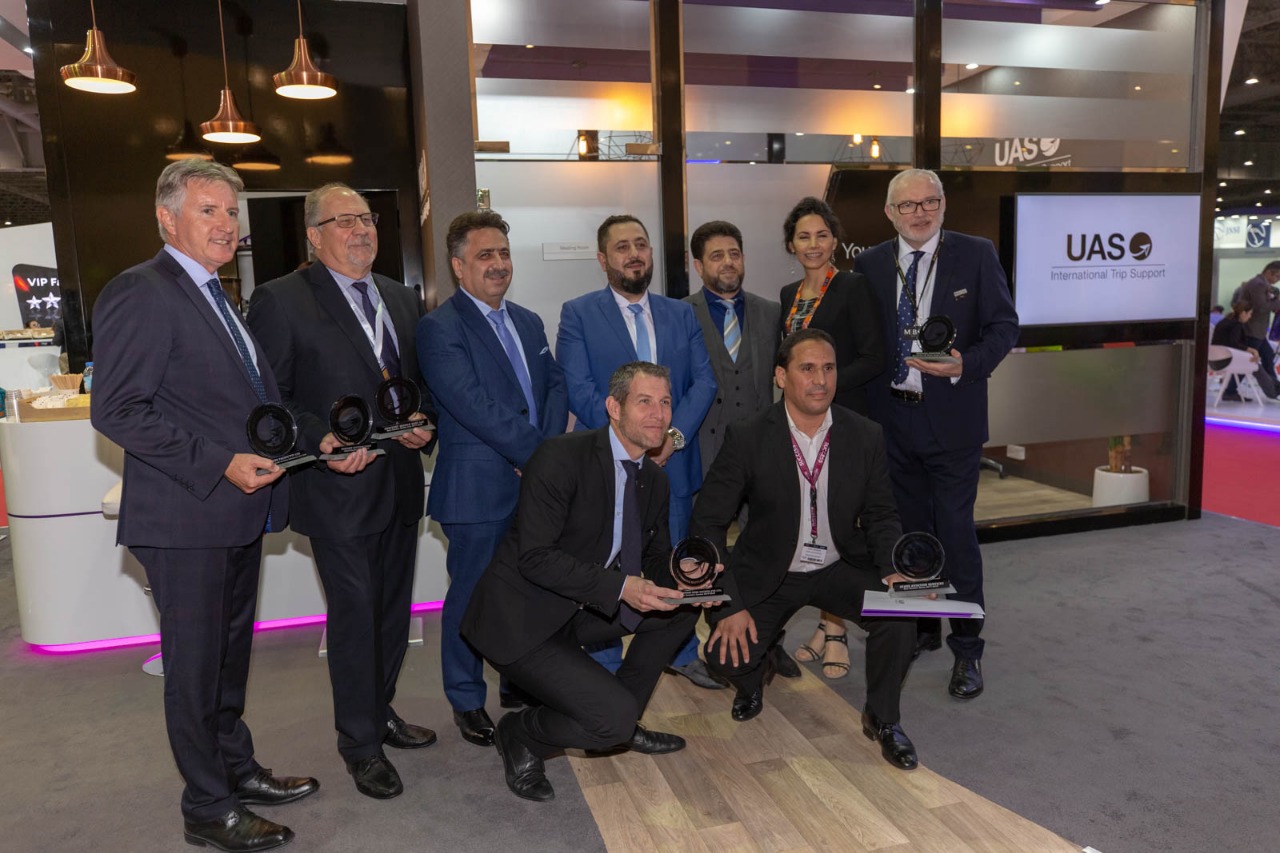 Blog
Celebrating Our Outstanding Suppliers
Go back to main page
Celebrating Our Outstanding Suppliers: One of the highlights of MEBAA Show 2018 for UAS was our Outstanding Suppliers 2017-2018 Awards ceremony on Tuesday afternoon. We invited our best-performing global partners to attend so we could honor their huge contribution to the global operational excellence and success we maintain with every mission we plan and execute.
In an industry as competitive as business aviation, it's vital to build relationships with global suppliers you can trust to deliver on time, every time. Our procurement department employs an incredibly strict selection procedure when it comes to deciding who we will work with. So, choosing from the best of the best isn't an easy task. The UAS Outstanding Suppliers Award winners were selected based on our internal assessment as well as satisfaction reports from our international clients. The result was seven companies facilitating solutions all over the globe in eight different award categories.
Focusing on customer experience –a key issue for UAS- the award for Best Customer Service 2017 – 2018 went to Jet Aviation (Asia Pacific) and Senior Vice President Operations of EMEA, Stefan Benz received the trophy on behalf of the company. The title of Global Fuel Supplier 2017 – 2018 went to a deserved Nautilus Aviation, represented by COO Barbara Cardella. Our ground handlers are our eyes on the ground, and we always appreciate their consistent support. The award for Global Handler 2017–2018 went to Execujet Aviation Group, represented by FBO Director Ettore Poggi. ExecuJet Middle East also scooped the title of Best Handler Middle East 2017-2018. The award for Best Handler Africa 2017-2018 went to Stars Aviation Services and Ops Manager Kamal Mourajid was on hand to receive the trophy. Ian D'Arcy, SVP Middle East attended on behalf of the Best Handler Asia Pacific and Indian Subcontinent 2017-2018, Hawker Pacific. The Best Handler CIS, Russia, Europe 2017-2018 went to Harrods Aviation represented at the ceremony by Managing Director Paul Norton. The title of Best Handler America 2017-2018 went to Signature Flight Support USA.
It was fantastic to honor these great suppliers, our global partners and support network. We look forward to the next UAS Outstanding Suppliers Awards next year.