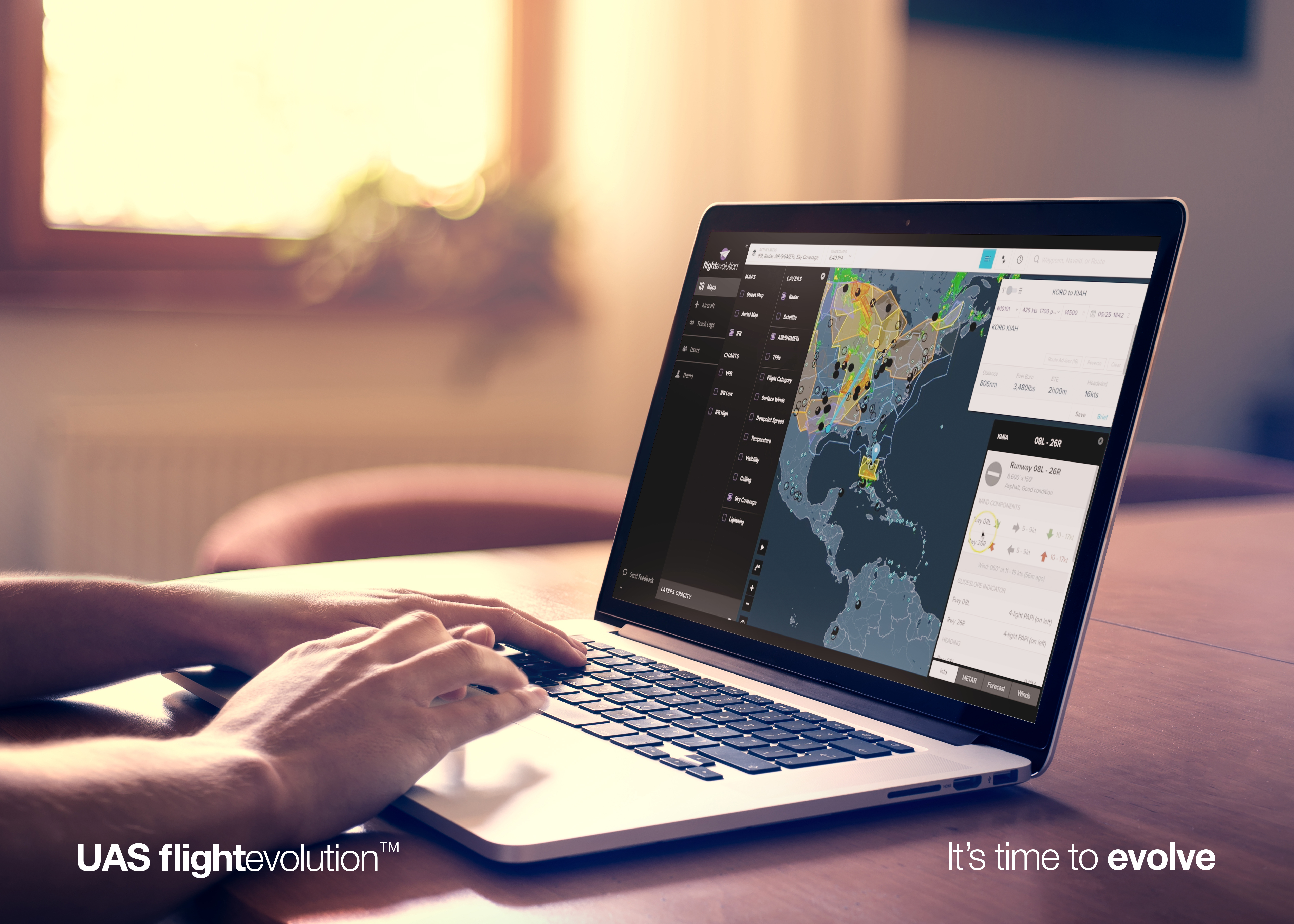 Blog
UAS flightevolution™ Launches at NBAA-BACE
Go back to main page
The Cutting-Edge Flight Planning Solution for Pilots and Dispatchers Formally Launches
The industry's newest all-in-one trip planning and weather solution, UAS flightevolutionTM from UAS International Trip Support, formally launches today at NBAA-BACE 2016. Created exclusively for pilots and dispatchers, it is set to revolutionize the process of advanced global flight planning, weather checking, aircraft performance calculation, and in-flight situational awareness owing to its high speed, simplicity, and convenient mobile capabilities.
UAS flightevolutionTM 's intuitive design, built on a web and mobile-based platform, provides the tools to navigate the most complex logistics with ease. Visitors to UAS' stand at EBACE in Geneva earlier this year enjoyed a preview of the new technology.
Built with Mobile-First Infrastructure, UAS flightevolutionTM is the solution that literally sits in the user's pocket, affording great convenience, because nowadays most internet connections are made via mobile device. Available anywhere around the globe, the power of this unique technology enables pilots and dispatchers to plan, review, and execute missions, with or without a data connection.
UAS flightevolutionTM is ready for in-flight use and provides access to flight plans, weather, charts, procedures, and global position on a high-definition moving map, as well as synthetic vision technology. Hazards, special events, and restricted areas are well defined, and the platform provides the users with unprecedented situational awareness.
The platform gives the ultimate user-experience when there isn't time for lagging or unresponsive webpages or client-side software applications. A typical flight plan can be run in less than five seconds, and the mapping engine renders high-definition graphics without delays, pixilation, or frustration.
UAS flightevolutionTM is built on one of the world's finest flight planning algorithms and datasets. Users can run optimized routes based on time, speed, and ride quality, as well as choose routes from an extensive route catalog. Graphical manipulation of routes ("rubber-band routing"), and worldwide weather and weather depictions are integrated seamlessly into the flight planning process and available throughout the entire flight. The solution will soon provide advanced features such as ETPs, drift down calculations, ETOPS, runway analysis, weight, and balance, reclearances, and much more.
Self-Service Functionality puts the user in complete control of their operations. They can view airport information, vendor information, services, and pricing within the web or mobile app. Planning is streamlined when using the highly-intuitive interface, and 24/7 expert support is available by UAS' team of global operations professionals.
Jay Ammar Husary, UAS Executive Vice-President said, "UAS flightevolutionTM is truly cutting-edge technology that has never been seen before. The advancements in flight planning and mapping technologies brought to the industry by this platform will completely change the way users construct and execute their flight plans. It puts a three-dimensional view of your mission in the palm of your hands. The system was built for the large group of users that are not satisfied with the status quo in the flight planning market. We're extremely proud of this tool and excited about future launches from the UAS|evolution™ suite."
UAS is exhibiting at Booth 2682 at NBAA-BACE 2016. Visit the booth to demo UAS flightevolutionTM or see www.uas.aero/evolution for more details.