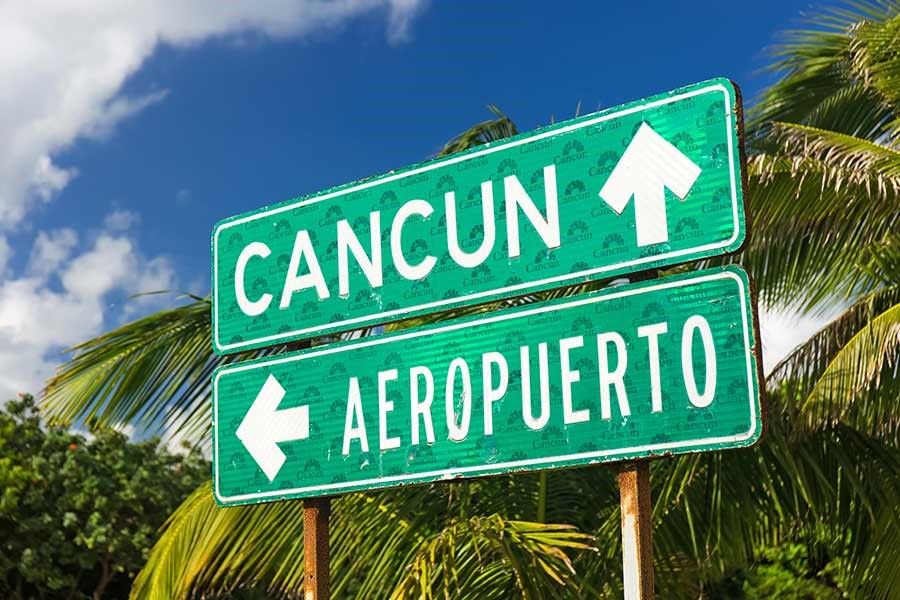 Blog
Flight Operations to Cancun Mexico
Go back to main page
Flight Operations to Cancun Mexico: Planning a trip to sunny Cancun anytime soon? Here's exactly what you need to know.
MRO Latin America 2017 takes place this January 25-26 in the tropical paradise of Cancun, Mexico. The event will see stakeholders and operators from over 35 countries come together to discuss how to continue modernization and fleet growth within the Latin American business aviation market. Though playing host to this year's MRO Latin America event, Cancun is mainly a popular tourist destination thanks to the balmy climate and crystal clear waters of the Caribbean. So here's the operational info you need to plan a trip to Cancun, whether for business or leisure.
Cancun International Airport
IATA: CUN
ICAO: MMUN
Latitude / longitude: N21-02.6/W086-52.4
Elevation: 22 ft.
Magnetic variation: 00E
Fuel types: Jet and Avgas
Time zone: UTC -5 hours
Operational Information
Private flights: require overflight and landing permits and both can be arranged through your handler.
Non-scheduled flights: require overflight permits that can be arranged through your handler and landing permits that can be coordinated with the DGAC through your handler.
Note: Please keep in mind that the crew is only entitled to bring along clothes, personal hygiene items and necessary work related items.
Parking restrictions: Normally there aren't any parking restrictions in general aviation. However, parking is high in demand during peak times (especially with a major event).
Immigration
All visitors must clear customs and immigration
Citizens of EU and USA do not require MEX VISA
Some countries require MEX VISA, please check with your local Mexican Consulate
Passports cannot be less than six months from expiration date
Customs
Import:
200 cigarettes, 50 cigars or 200 mg of pipe tobacco for those over 18 years of age
3 liters of alcoholic beverages for those over 18 years of age
Perfume, eau-de-cologne, and lotions for personal use only
A camera and 12 rolls of film
Goods worth up to USD 300
Prohibited:
Uncanned foodstuff
Canned pork and derivatives
Earth, plants, flowers, fruit, seeds, and materials of vegetable origin
Export:
Tobacco and alcohol
The export of archaeological relics is prohibited
Note:
Crew is entitled to bring only clothes, personal hygiene items, and items necessary for work
All international luggage is screened inbound and outbound
When the passenger takes his/her baggage to customs and it's screened, a red light indicates they must open their baggage for clearance and a green light means they're clear to go
Airport Embarkation Tax
DNR, DSM, and TUA, they're included on your handling bill.
Currency
The local currency is the Mexican Peso (MXP).
Transport
Car rental, limousine, and taxis service are all readily available at the airport
Prepaid transport with limo or taxi can be arranged through your handler
Accommodation  
Hotels near the airport:
Comfort Inn Cancun Aeropuerto
Courtyard Cancun Airport
NIZUC Resort and Spa
The Westin Resort and Spa Cancun
Bel Air Cancun
Royal Solaris Cancun
 Hotels near the event:
Now Jade Riviera Cancun (event location)
Hotel Marina El Cid Spa and Beach Resort
Grand Residences Riviera Cancun
Posada El Moro
Note: The above lists are for informational purposes only and based on proximity. UAS does not promote any specific establishments. 
For more on Cancun, visit https://www.visitmexico.com/en/main-destinations/quintana-roo/cancun
UAS Americas can assist you with any requirements for your Flight Operations to Cancun Mexico, contact hou@uas.aero