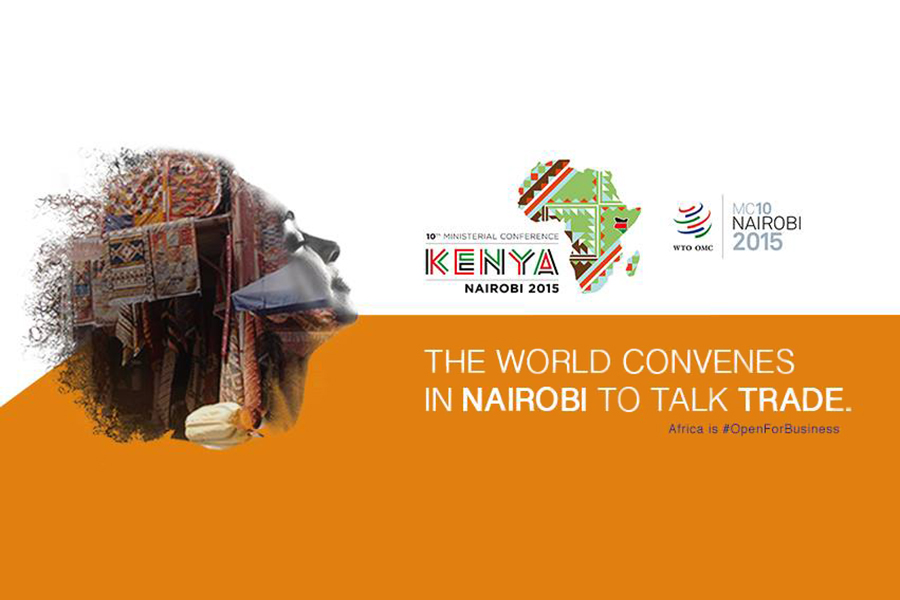 Blog
10th WTO Ministerial Conference
Go back to main page
The World Trade Organization's 10th Ministerial Conference takes place at the Kenyatta International Convention Centre (KICC), Nairobi, Kenya, from 15 to 18 December. The issue of agricultural export competition has long been a major concern for many developing countries, and the aim of the conference is to level the playing field for trade across the globe. Leading international politicians will attend in order to work towards a fairer, more inclusive trading system.
We've put together some valuable operations, customs and immigration advice for anyone travelling to Nairobi.
Immigration
Both EU and Non-EU passengers require visas to enter Kenya (with the exception of those listed below).
Travelers who are also visiting Rwanda and Uganda may find it more useful to apply for an East Africa joint cross-border visa that allows entry into all three countries on a single visa.
Visas can be applied online and upon arrival at HKJK
Visas cost $50 USD or equivalent in EUR, GBP or SFR
E-visas:
E-visas can only be paid in USD
There are three easy steps and approval can be expected within 48 hours
Your visa must be printed and presented on arrival
For more information see www.evisa.go.ke
At present, online application is in English only, a multilingual website is in development.
Manual visas are also available on arrival and will continue until the electronic system is fully functional.
Online visa payment is by debit or prepayment cards only.
An East African Tourist Visa issued by the governments of Rwanda or Uganda is accepted in Kenya provided the visitor first enters the country of issue.
The visa is valid for 90 days with multiple entries or re-entries.
Visitors holding damaged passports and/or passport replacing documents will be refused entry.
You also need a passport that's valid at least three months beyond the day of entering Kenya with at least one blank page in it.
Nationalities that don't need a visa to enter Kenya:
Bahamas, Bangladesh, Barbados, Botswana, Brunei-Darussalam, Cyprus, Dominica, Ethiopia, Fiji Islands, Gambia, The, Ghana, Grenada, Jamaica, Kiribati, Lesotho, Malawi, Maldives, Mauritius, Namibia, Nauru, Papua New Guinea, Samoa, San Marino, Seychelles, Sierra Leone, Singapore, Solomon Islands, St Lucia, St Vincent and The Grenadines, Swaziland, Tanzania, Tonga, Turkey, Tuvalu, Uganda, Uruguay, Vanuatu, Zambia, Zimbabwe.
Nationalities that need to have referral visas (applied at their country of origin) before entering Kenya:
Afghanistan, Armenia, Azerbaijan, Cameroon, Georgia, Iran, Iraq, Lebanon, Libya, Mali, Nigeria, North Korea, Pakistan, Senegal, Somali, Sudan, Syria, Tajikistan, Yemen.
Crew
Crew members entering Kenya don't require a visa as long as they are listed on the GENDEC and have crew ID
Crew flying in on commercial jets or as passengers on private jets to operate outgoing flights will require visas
Customs
Items that are not for personal use such as electronic items and large consignments of clothing material will attract customs duty. Passengers are normally required to present their luggage to inspectors. Small quantities of gift items will be allowed.
Free import
200 cigarettes or 50 cigars or 227 grams of tobacco
One bottle of alcohol
One pint of perfume
Prohibited
Illegal drugs
Guns, explosives and ammunition (unless previous permission has been obtained)
Hunting weapons
Any hazardous materials
Meat and its products
Plant and associated products (unless previous permission has been obtained)
Counterfeit money and goods
Any pornographic material
Restricted
A special Plant Import Permit will be required to import any plant or plant products
Meat and meat products must be declared at customs and are not permitted entry
Any animals being imported into the country must travel as cargo. Cats and dogs will need a general good health certificate from the country of origin and a certificate that's less than a month old clearing the pets of Rabies
Wild birds being imported from countries currently experiencing bird flu will need a sanitary import permit issued by the Director of Veterinary Services
Other restricted items include various forms of unprepared ivory, precious metal and stones, historical artefacts, imitation firearms, and children's toys
Export
It is prohibited to export gold, diamonds, or game trophies not obtained from authorized government departments
It is illegal to export elephant ivory, wildlife skins, or sea turtle products
There is free export of a reasonable quantity of tobacco products and alcohol
Currency
The local currency is the Kenya Shilling (KES).
1 USD is currently exchanging at about 102KES.
Foreign currency is easily exchanged for the KES at Banks and Forex bureaus at the airport and cities. These operate 24/7 at the airports but in the cities majority operate up to about 5 pm.
There is no limit on the amount of local and foreign currency that travellers can import into the country.
Residents of Kenya are free to import up to 500,000 Kenyan Shillings and an unlimited amount of foreign currency. The same rules apply for both locals and visitors if exporting currency out of the country although $500 USD or more must be declared.
Baggage Clearance
Baggage clearance normally takes less than five minutes if you don't have anything to declare or items that will incur customs duty
The process of paying for duty can take time depending on the quantities and duty is payable in KES only
Airport Tax
Passenger Tax for Kenya is paid on the ticket and is not collected at the airport.
Airport
Jomo Kenyatta International Airport
IATA Code: NBO
Latitude/ Longitude: S1-19.15 / E36-55.67
Elevation: 5330 feet
Fuel types: Jet A1 and Avgas
Private and non-scheduled flights
Permits are needed for both landing and overflight, regardless of the type of flight. Application is through a Kenya Civil Aviation Authority (KCAA) website where all required documentation is also submitted. They are processed during working hours, Monday – Friday, 0500-1300 UTC, as the office is officially closed on weekends and public holidays.
Emergency and Air ambulance flights are normally processed within the shortest time possible within or outside working hours.
Official permit request lead time is 72 hours, but can be processed quicker if all the required information and documentation has been submitted.
Documents required for the processing of permits are COA, AOC, COR, COI, Captain's License and Cargo or Pax manifest. Also, you'll be required to provide the type of aircraft, Maximum Takeoff Weight (MTOW) and full schedule.
Worldwide insurance policies must indicate the operator's name, tail number, and expiration date. If your airworthiness certificate does not have an expiration date, you'll need to provide the latest maintenance log/certificate.
The type of flight (private, non-revenue, commercial or charter) must be specified on all permit applications. If the aircraft is coming in for maintenance, you'll need to provide information and contact details regarding the maintenance facility.
All required information and documentation needs to be submitted with the original online request. While the system stores operator information, all other documentation must be resubmitted with each request.
In the event of emergencies, and over the weekend, permits can be issued by the briefing office.
Fuel
Fuel is generally available from major suppliers at major airports in Kenya during airport opening hours. It is important always to ensure a fuel nomination is sent well in advance to the fuel company, the handler and the UAS representative. Delays in fueling can occur during peak airport hours which are between 0300-0500Z and 1600-2100Z.
Fuelling while passengers are on board is allowed at all airports in Kenya provided fire standby is arranged in advance.
Slots
HKJK has been slot controlled since April. Work commencing on the runway means it is closed between 2100 and 0300Z. The closure times will remain until April 2016. Other international airports are operational 24 hours.
Airport slots at HKJK are required for all scheduled flights and must be applied for 48 hours before the operation.
Non-scheduled flights need to indicate clearly any possible deviation from their schedule when applying for permits to avoid a slot being denied.
Parking
There is plenty of parking space at HKJK with certain designated areas according to the size of aircraft. Private jets are generally parked at Terminal 2.
Significant NOTAM
HKJK closure for takeoff and landing between 2100 and 0300Z daily until April 1, 2016.
Ground Transport
Taxis
Taxis are readily available in Nairobi and are clearly marked
The majority of taxis are yellow and prices are negotiable
All hotels provide shuttles to the airport
Please note:
Buses and Trains are not recommended for visitors to Nairobi unless accompanied by residents.
Car rental 
Rental vehicles are readily available at negotiable rates and are present at all major hotels.
Accommodation
Hotels near Jomo Kenyatta International Airport 
Ole Sereni Hotel (8 Kms)
Panari Hotel (6Km)
Eka Hotel (8Km)
Boma Hotel (9Km)
Hotels near Kenyatta International Convention Center 
Hilton Hotel
Intercontinental Hotel
The Stanley Hotel
Crowne Plaza
Raddison Blu
Villa Rosa Kempinski