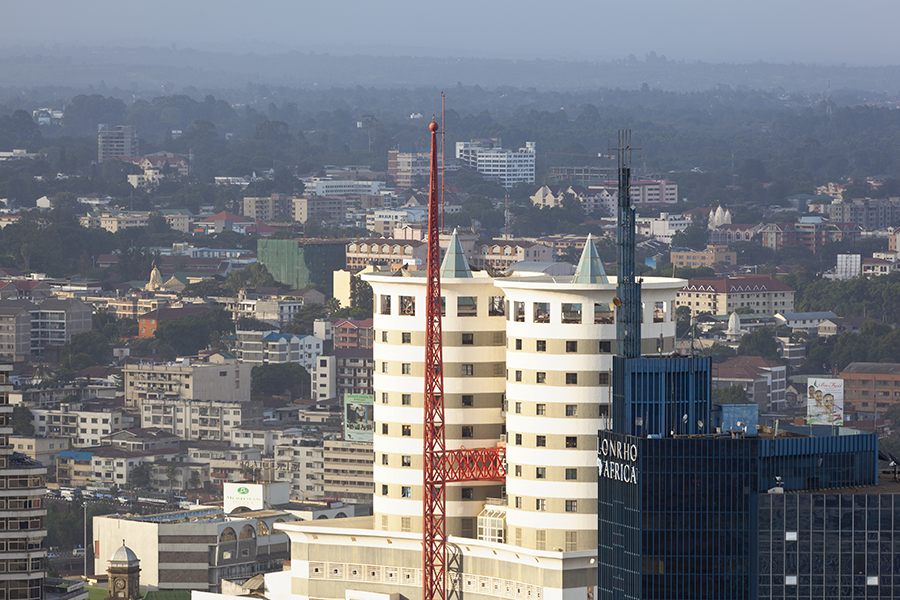 Blog
Flight Operations to Nairobi, Kenya
Go back to main page
Planning a trip to TICAD this August? Know the ins and outs of Nairobi's two main airports? 
The Sixth Tokyo International Conference on African Development (TICAD VI) Summit takes place at the Kenyatta International Convention Center (KICC) Nairobi, Kenya this August 27-28. Here is the info you need to get there.
Airport information
Nairobi is served by two international gateways, Jomo Kenyatta International Airport (HKJK) and Nairobi Wilson Airport (HKNW) with full CIQ facilities.
Jomo Kenyatta International Airport (HKJK)
Jomo Kenyatta International Airport (HKJK) serves all types of aircraft and is open 24hrs with all services available round the clock. There is congestion around peak hours which can cause delays in getting aircraft parking slots, ground handling services and fuel. Queues at Immigration and baggage areas are also slow during peak hours.
Daily peak hours at HKJK:
• Between 1600 and 2200z – Most international flights arrive and take off at this time.
• Between 0200 and 0400z – Morning wave – most regional Kenya Airways flights depart at this time.
Nairobi Wilson Airport (HKNW)
Nairobi Wilson is open daily from 0300 to 1700z and serves small and medium sized aircraft plying domestic and regional routes. While the airport is busy throughout the day (one of the busiest in Africa), there is minimal congestion due to its expansive nature and abundance of facilities.
Telephone Services 
Mobile telephone services are quite efficient in Kenya. The main mobile telephone service providers are; Safaricom, AirTel and Orange.
Mobile telephone service providers also provide gateway to internet using 3G and 4G. Cellphone SIM cards are easily available at a cost of approximately USD 1. The three main mobile phone providers have booths at HKJK where visitors can purchase SIM cards on arrival. Delegates should note that registration is required for activation.
Roaming services on mobile networks are available from virtually any network in Nairobi.
Fixed telephone services are also available at hotels and other facilities.
Kenya's international prefix code is +254.
Internet and Wi-Fi
Reliable internet is available everywhere in Nairobi through the mobile phone networks. Almost all hotels, restaurants and some public places have Wi-fi connectivity.
Hotels and Restaurants
Nairobi offers a wide variety of hotels from quiet comfortable 3-4 star country hotels to luxurious 5 star hotels. Room costs range from USD 150 to USD 500 on Bed and Breakfast basis per night.
African, western and oriental cuisine are all available in Nairobi restaurants. All major credit cards are generally accepted. When dining in Nairobi, leaving a tip is voluntary and considered courteous. Though there is no standard, a tip of 10% of the bill is considered sufficient. Similarly, tipping hotel porters is a matter of courtesy.
Climate
Kenya enjoys a tropical climate. The weather in August is usually cool, with average highs of 24 degrees Celsius and lows of 14 degrees. It is also not unusual to experience some rain during this month.
Banking Services
Banking hours are from 0900 to 1600LT on weekdays and from 0900 to 1200Hrs on Saturdays. Some banks open for longer hours and on Sundays and Public Holidays at major shopping malls. Most banks have Automated Teller Machines (ATMs) accepting all well established international debit and credit cards especially VISA and Mastercard. All banks offer foreign exchange services.
Foreign Exchange (Forex Bureaus) are readily available within the Nairobi Central Business District (CBD) and at the shopping malls. These offer better rates than banks. Opening times are 0900 to 1600LT on weekends and 0900 to 1200LT on Saturdays. Most Forex bureaus are closed on Sundays and Public holidays.
Time zone
Kenya observes and is within the East Africa Standard Time zone (GMT +3).
Electricity supply
In Kenya the standard voltage is 240V. However, electric appliances from countries whose standard voltage is between 220V – 240V can be used. The power sockets that are used are three-pin, square, type G.
Business and Shopping Hours
Most businesses are generally open from 0800LT to 1700LT.
Nairobi has some of the largest shopping malls in the region most of which open till about 2000LT. Delegates who wish to shop may seek advice from their hotels on the nearest shopping facilities.
Tourism
Kenya is a popular tourism destination throughout the year. Tourist attractions range from the white sandy beaches at the coast to scenic landscapes, memorable mountain expeditions and the majestic beauty of a wide variety of flora and fauna. The month of August is known for the great wildebeest migration in the Savannahs of the Maasai Mara.
Immigration
There are three categories of visa requirements for visitors to Kenya:
1. Countries whose nationals do not require Visas to enter Kenya
2. Countries whose nationals may be issued a Visa on Arrival (Check outwww.evisa.go.ke and www.ecitizen.go.ke)
3. Countries whose nationals need to obtain a visa before traveling through the nearest Kenyan mission abroad. (visasection@immigration.go.ke for assistance)
• There will be dedicated immigration booths at the JKIA for Conference delegates.
• For faster visa application, apply for your visa at least one month before travel.
Crew
Operating aircraft crew do not require visa to enter Kenya provided:
• Their names are listed on the General Declaration (GENDEC)
• They are in uniform
• They are traveling in the same aircraft they are operating
Crew traveling on commercial aircraft for positioning either into or out of Kenya will require passenger visas.
Crew on GENDEC are allowed to stay in Kenya for a maximum of seven days after which they are eligible for a normal visa.
Visa costs
• USD 50 for offline applications
• USD 51 for online applications
• Diplomatic and service passport holders attending the TICAD VI Summit will be issued with a courtesy visa.
Passports
Passports should be valid for at least six months from the date of entry and should have at least two unused pages.
For more information on Kenya Immigration services see www.immigration.go.ke
Or contact the Department of Immigration Services
o Tel: +254 20 2222022
o Email: visasection@immigration.go.ke and dis@immigration.go.ke
Vaccinations
Yellow Fever vaccinations are required from those coming from countries with a risk of yellow fever transmission; those who have transited through countries with risk of yellow fever transmission; or anybody from a country currently reporting an outbreak of yellow fever. Vaccinations should take place at least ten days before travel.
Transport
The Government of Kenya will provide transport to and from the Conference venue for all delegations and participants attending the conference.
Taxi services are available at reasonable rates from the airport and all around the city. A guideline tariff is displayed at the HKJK International Arrivals exit point.
Several online Taxi companies operate in Nairobi:
• Uber
• Pewin
• Little cab – recently launched by Kenya's largest mobile telephone service provider Safaricom.