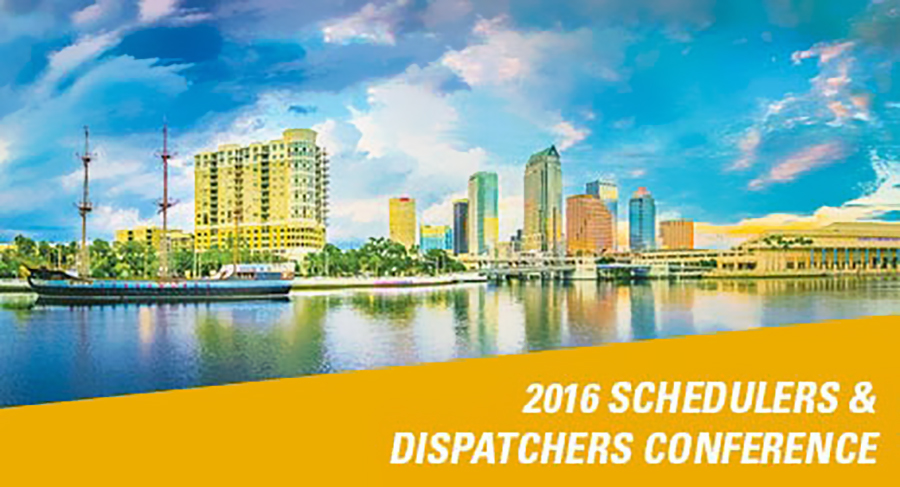 Blog
NBAA Schedulers and Dispatchers Conference 2016
Go back to main page
Taking place from January 19-22 at the Tampa Convention Center, the 2016 NBAA Schedulers and Dispatchers Conference is the premier event for scheduling and dispatching professionals to develop their skills. It includes high-level educational sessions with the top industry players, and plenty of networking and consolidating relationships for the year ahead.
Here are some important tips to get you to Tampa:
Immigration
Non-U.S. citizens who wish to enter the United States must obtain a U.S. visa to be inserted into their passport before they enter the country.
There are certain travelers who may travel without a visa through the Visa Waiver Program (VWP). The VWP enables citizens of designated countries to travel to the U.S. for stays of up to 90 days without arranging a visa before their trip.
Citizens of the following countries may travel to the U.S. under the VWP:
Andorra, Australia, Austria, Belgium, Brunei, Chile, Czech Republic, Denmark, Estonia, Finland, France, Germany, Greece, Hungary, Iceland, Ireland, Italy, Japan, Republic of Korea, Latvia, Liechtenstein, Lithuania, Luxembourg, Malta, Monaco, New Zealand, Norway, Portugal, San Marino, Singapore, Slovakia, Slovenia, Spain, Sweden, Switzerland, Taiwan, The United Kingdom*, The Netherlands.
*This applies to British citizens only with the unrestricted right of permanent domicile in England, Scotland, Wales, Northern Ireland, the Channel Islands and the Isle of Man.
All citizens of VWP countries planning to travel to the U.S. for 90 days or under must receive authorization through the Electronic System for Travel Authorization, ESTA, before boarding a U.S.-bound flight. ESTA is an automated system that assists in determining an individual's eligibility to travel to the U.S.
Crew
Crewmember (D) visas are non-immigrant visas for persons working on aircraft and intending to depart the U.S. again within 29 days.
Customs
Import regulations
Special duty preferences exist for articles from certain developing countries. Information regarding the countries and the eligible articles can be obtained directly from the U.S. International Trade Commission, 701 E Street N.W., Washington, D. C. 20436 or from the nearest overseas U.S. Consulate.
For further information regarding the exact allowance for your country of origin, please contact:
• U.S. Department of Agriculture, Animal and Plant Health Inspection Service (APHIS), National Center for Import and Export, 4700 River Road, Unit 39; Riverdale, MD 20737.
• The U.S. Bureau of Sport Fisheries and Wildlife, Washington, D.C. 20240, or at a U.S. Embassy or Consulate overseas.
• Quarantines; U.S. Department of Agriculture (see address quoted above) or at a U.S. embassy or consulate.
Prohibited:
Narcotics, meat products, plants, seeds, vegetables, fruits, soil, dairy products, live insects, snails and other pests.
Also, fish (unless it has been certified disease-free), items from Iran, leather souvenirs from Haiti, and Cuban cigars.
Export regulations
Free export exists for an unlimited quantity of tobacco and alcohol.
Crew are allowed to import:
• One open liter of alcohol
• 300 cigarettes or 50 cigars or 2 kilograms of smoking tobacco
• Merchandise not exceeding USD $200 in value
• A special crew line is available
Baggage Clearance
All baggage, regardless of the next destination, is cleared at the first point of entry in the USA.
This also applies to baggage making an international transfer.
A special crew line is available.
Airport Embarkation Tax
No airport tax is levied on passengers at this airport.
Destination Airport
Tampa International Airport
IATA Code: KTPA
Latitude / Longitude: 27-58-31.7 N / 82-31-59.7 W
Elevation: 26.4 FT
Magnetic Variation: 5 W 2010
Fuel type: AVGAS JET
Operations
Private and non-scheduled flights require TSA Waiver Authorization if flying domestic legs within the US FAA Route Authorization for landing and overflying is required for aircraft registered in China, Cuba, Iran, North Korea, Russia, Sudan, and Syria. A TSA Waiver Authorization is required for aircraft overflying the U.S. Aircraft registered in the U.S., Mexico, Canada, Bahamas, Bermuda, Cayman Islands, and British Virgin Islands do not require a waiver to conduct flights within the U.S.
Non-scheduled commercial flights require a U.S. Department of Transportation license to operate flights in the U.S.
Foreign operators that wish to provide air transportation service as an air carrier must obtain two separate authorizations from the Department of Transportation:
• Economic Authority from the Office of the Secretary of Transportation (the Department) in the form of a certificate for interstate or foreign passenger and/or cargo authority
• Safety Authority in the form of an Air Carrier Certificate and Operations Specifications from the Federal Aviation Administration (FAA)
Additional notes:
*RWY 19L IS NOISE SENSITIVE TO TURBOJET DEPARTURES. RWY 01R IS NOISE SENSITIVE TO TURBOJET ARRIVALS.
PUBLISHED NOISE ABATEMENT PROCEDURES IN EFFECT.
*ONLY AIRCRAFT WITH PRIOR PERMISSION MAY USE TERMINAL APRON; ALL OTHERS USE GA APRON.
*BIRD ACTIVITY ON AND IN VICINITY OF AIRPORT.
*TPA RWY 28 CLSD TO DEPARTING ACFT FROM SEP 25 2015 TO SEP 30 2016
*TPA RWY 10 CLSD TO LDG FROM SEP 25 2015 TO SEP 30 2016.
*CONSTRUCTION IN PROGRESS. https://nfdc.faa.gov/xwiki/bin/download/NFDC/Construction+Notices/tpa.pdf
There are no parking restrictions at this time.
NOTAMs
NOTAM 09/059 TPA RWY 10 CLSD TO LDG 1509251825-1609302100
NOTAM 09/058 TPA RWY 28 CLSD TO DEPARTING
ACFT 1509251824-1609302100
Accommodation
Hotels near Tampa International:
Marriott – Tampa (Airport)
Extended Stay Deluxe Tampa
Renaissance Tampa International Plaza
Grand Hyatt Tampa Bay
La Quinta Inn Tampa Airport
Extended Stay Deluxe Tampa – Airport
Residence Inn by Marriott Tampa Westshore
Hyatt Place Tampa Airport
Hampton Inn Tampa Airport
Marriott ExecuStay at Mainsail
Hilton Tampa Airport Westshore
Hilton Tampa Airport Westshore
Hotels near the convention center:
The Westin Tampa Harbour Island
Hilton Downtown Tampa
Tampa Waterside Marriott
Embassy Suites Downtown Convention Center
Aloft Tampa Downtown
Courtyard Tampa Downtown
Residence Inn Tampa Downtown
Transport
There is a wide variety of ground transport options making access to the airport's surrounds easy.
• Taxi service by Yellow Cab and United Cab is available at the curbside outside the arrivals hall
• Access to on-airport rental car providers is available in the Red and Blue baggage claim areas
• Airport limos and shared passenger van service are available
• The Hillsborough Area Regional Transit bus stop is located at the west end of the Red Baggage Claim
• The Greyhound bus terminal is located in Downtown Tampa on 610 Polk Street and is accessible by taxi
• Passenger pickups are located in the bus spaces in the Ground Transportation Centers Red 1 and Blue 2