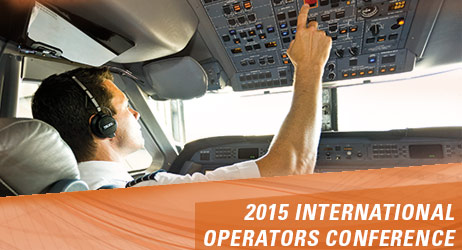 Blog
2015 International Operators Conference (IOC)
Go back to main page
The IOC is a vital event for anyone involved in business aircraft planning and operating internationally. Taking place March 23 -26 in San Antonio, Texas, here's some important information for any conference attendees visiting from outside the US.
U.S. Immigration
Passport required
Visitors must hold return/onward tickets
Any visitors who have visited Guinea, Liberia or Sierra Leone within the last 21 days must enter at Atlanta (ATL), Chicago (ORD), Newark (EWR), New York (JFK) or Washington (IAD) and will be subject to screening and medical checks upon arrival
A visa is required
All visitors are required to hold proof of sufficient funds to cover their stay
All visitors must produce any documents required for their next destination
Crew
The same regulations apply for crew as regular passengers
Visa regulations for Airline Crews:
A visa is also valid for entry of air crew arriving in the USA on a flight operated by their own company
Such crew must be listed as "crew" on the arrival manifest
If air crew arrive on a flight of another carrier for the purpose of boarding a flight as a member of crew, they must have a valid C-1 visa
On arrival a Form I-95 must be filled out
U.S. Customs Rules
Note: making false statements to U.S. Customs Officers is punishable by law.
Information regarding regulations for the movement of fish, animals and foodstuffs, periods of quarantine, etc. should be obtained from the following:
US Bureau of Sport Fisheries and Wildlife, Washington, D.C. 20240
US Embassies or Consulates overseas
US Dept. of Agriculture, Animal and Plant Health Inspection Service (APHIS), National Center for Import and Export, 4700 River Road, Unit 39; Riverdale, MD 20737
Please see http://www.aphis.usda.gov/
Baggage Clearance
All baggage, regardless of its final destination, is cleared at the first point of entry
This also applies to baggage making an international transfer
Airport Embarkation Tax
No airport tax is levied on passengers
Airports
KSAT – San Antonio International
7 NM N of San Antonio TX, USA
N 29° 32.0′ W 98° 28.1′ Mag Var: 6.4°E
Elevation: 809′
Fuel: 100LL, Jet A
Time Zone Info: Central Time GMT-6:00 uses DST
KSAT – San Antonio International
7 NM N of San Antonio TX, USA
N 29° 32.0′ W 98° 28.1′ Mag Var: 6.4°E
Elevation: 809′
Fuel: 100LL, Jet A
Time Zone Info: Central Time GMT-5:00
Private Flights
An agent will be required to help you with this request
If planning a series internal stops TSA Waiver authorization is required
Landing rights must be cleared through US Customs
There are no special restrictions on parking
Fuel Service
UAS offer supply via truck/browser fuel delivery. JET A1 readily available.
Note:
Variables like weather and aircraft diversions can affect things quickly
FAA will issue traffic management protocol in the instance of traffic congestion
If alternative routes are a necessity they will be issued by the FAA
Significant NOTAM
KSAT 01/009 (A0010/15) – AD AIRPORT CLSD TO ACFT WINGSPAN 171FT OR GREATER No wide body aircraft allowed 06 JAN 13:20 2015 UNTIL 01 JAN 12:00 2016 ESTIMATED
Location
The City of San Antonio has a population of almost 1.5 million.
It is a popular destination so it's very well set up to cater for tourists
The conference takes place at the Grand Hyatt San Antonio, 600 East Market Street, San Antonio, TX 78205, US
Accommodation
Here are some of the hotels San Antonio has to offer:
Hotel Valencia Riverwalk
HomeGate Studios & Suites San Antonio Fiesta Park
Holiday Inn San Antonio Nw – Seaworld Area
Doubletree Hotel San Antonio Downtown
Hilton Palacio Del Rio
Red Roof Plus San Antonio Downtown – Riverwalk
Transport
VIA Metropolitan Transit
A bus and rubber tired streetcar (bus) system is provided by the city's metropolitan transit authority, VIA Metropolitan Transit
VIA offers 89 regular bus routes and two Downtown streetcar routes
See www.viainfo.net
Rail
Amtrak, the US' national passenger rail service, provides services at San Antonio Station
Car Rental
Enterprise Rent-A-Car are the official; car rental partners of the conference organizers, the NBAA. See www.enterprise.com for more information
Taxis
Expect to pay about 40 for a ten km journey- and don't forget to check whether the tip is included or not (15%)
Shuttle Bus
Shuttle transportation between San Antonio International Airport and downtown (about 12 kilometers) is provided by SATRANS, San Antonio's official airport shuttle
The shuttle runs from 7AM and 1AM every daily. Making reservation s is advised – see www.saairportshuttle.com