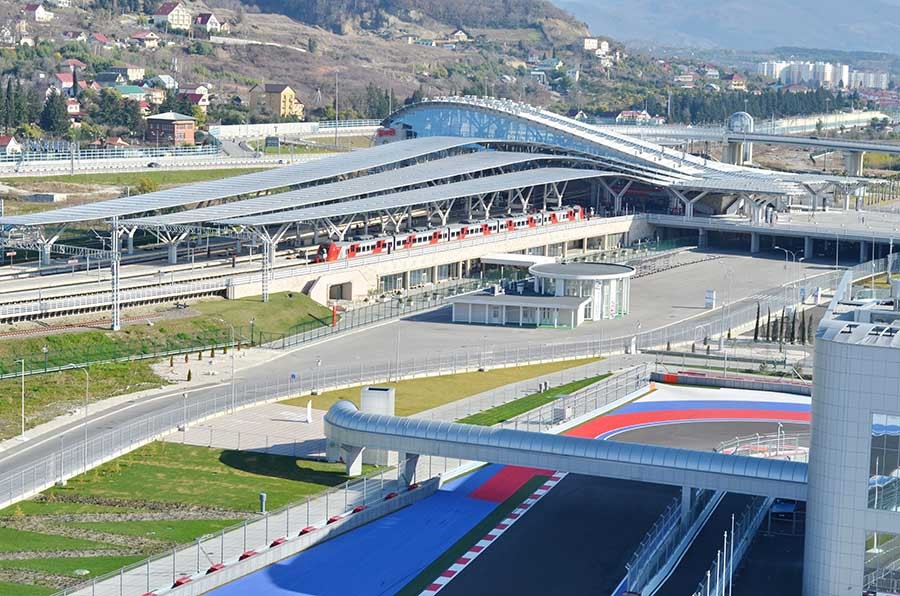 Blog
Flight Operations to Sochi – Russian Grand Prix
Go back to main page
Planning a trip to Sochi for the Russian Grand Prix? Are you familiar with immigration and import regulations for the Russian Federation?
The 2016 Russian Grand Prix gets underway on May 1 at the Sochi Autodrom. We've compiled the vital information you need to get there.
Russian Immigration
All passengers and crew:
Anyone entering the Russian Federation must hold a valid Russian VISA before flying to Sochi, VISA upon arrival is not available.
There are some countries that have a bilateral agreement with Russian Federation; please contact your local Russian Consulate to confirm your VISA requirements.
Customs
Import
Free import by passengers over 18 years of age:
400 cigarettes / 200 cigarillos / 100 cigars / 500 grams of tobacco
For passengers over 21 years of age:
Three liters of alcohol
Perfume (personal use)
Goods up to the value of EUR 10,000 (personal use)
Caviar (factory packed) – maximum of 250 grams per person
Prohibited
Printed matter directed against the Russian Federation
Live animals are subject to special permits
Narcotics
Fruit and vegetables
Dairy and meat products from Armenia and Georgia
Poultry and poultry products from the People's Republic of China
Acipenseridae family (sturgeons) fish and any product made thereof
Arms and Ammunition Regulations
Import and export permit required
Arms and ammunition can only be carried as checked baggage
The import and export of military arms is prohibited.
Additional Information
The customs declaration that is filled out upon entry to Russia must be handed in on departure.
Dairy and meat products are permitted but must be packed in factory packing and be for personal use.
Large quantities must have the appropriate documentation, including veterinary health documents.
Export
Archeological, historical and artistic objects require written permission from the Ministry of Cultural Affairs and a photograph of the object.
Prohibited
Precious metals, stones, pearls
Acipenseridae family (sturgeons) fish and any by-products
Antiquities, art objects, and furs
Currency
Local currency: (Russian Rouble – RUB)
There are no restrictions applying to import of currency
A written declaration is required for amounts over 3,000
An import declaration is required for amounts over 10,000
Traveler's cheques are allowed up to amounts imported
Declaration is required for traveler's cheques purchased in Russia
Baggage Clearance
Baggage must be cleared at the first airport of entry in the Russian Federation
Exempt:
The baggage of passengers in transit to Sochi, provided airline conforms to Customs procedures.
The baggage of international transit passengers with onward connections to Belarus and Kazakhstan must be cleared in the Russian Federation
The baggage of transit passengers with an onward connection to all other destinations outside the Russian Federation must be through checked to its final destination
When entering Russia, a limit of baggage allowance of 50 kg and / or a value of RUB 65,000- exists.
Anyone exceeding the limit will be liable to a customs fee of EUR 4 per kilo or a 30% axis on top of the excess value to be collected
Airport Embarkation Tax
There is no airport tax levied on passengers upon embarkation at the airport.
Airport
Sochi International Airport
IATA Code: AER
ICAO: URSS
Latitude/ Longitude: N4327.0 / E03957.4
Elevation: 89′
Magnetic variation: E6° as of 01/06
Fuel types: JET A1
Private flights and non-scheduled commercial flights require overflight and landing permits
There are parking restrictions at this airport
NOTAMs
A0098/16 NOTAMN
Q) URRV/QFAXX/IV/B/A/000/999/
A) URSS B) 1604272100 C) 1605022100
E) TRAFFIC REGULATIONS INTRODUCED AT SOCHI AD FOR THE PERIOD OF
FORMULA 1 RUSSIAN GRAND PRIX 2016:
FOR THE PERIOD OF FORMULA 1 RUSSIAN GRAND PRIX, SOCHI AD
OPERATES DAILY H24 ONLY FOR ARR/DEP OF:
1.1. SKED FLT,
1.2. ACFT WITH HEAD OF STATES, GOVERNMENT DELEGATIONS ON BOARD,
1.3. ACFT OF MINISTRY OF DEFENCE, MINISTRY OF INTERNAL AFFAIRS,
FEDERAL SECURITY SERVICE OF THE RUSSIAN FEDERATION DETACHED TO
PROVIDE SECURITY OF OBJECTS OF STATE IMPORTANCE, SAR AND
RESCUE OPERATIONS,
ACFT SPECIALLY DETACHED TO RENDER ASSISTANCE FOR FORMULA 1
RUSSIAN GRAD PRIX, INCLUDING EMERGENCY SITUATIONS.
1.4. INTL AND DOMESTIC CHARTER FLT INCLUDING BUSINESS AVIATION
FLT CARRIED OUT IN THE INTEREST OF FORMULA 1 RUSSIAN GRAND
PRIX.
DUE TO FORMULA 1 RUSSIAN GRAND PRIX, PARKING OF ACFT
CARRYING OUT SPECIAL OR CHARTER FLIGHTS IS RESTRICTED TO:
– 1 HR FOR CLASS 3, CLASS 4 ACFT INCLUDING HEL (MTOM 10-30 TONS
OR LESS),
– 1.5 HR FOR CLASS 2 ACFT (MTOM 30-75 TONS),
– 2 HR FOR CLASS 1 ACFT (MTOM 75 TONS OR GREATER), NOT MORE THAN
6 HR FOR ACFT CARRYING OUT CARGO FLT,
– 1 HR FOR ALL BUSINESS AVIATION FLT,
– NOT MORE THAN 4 HR FOR ALL ADDITIONAL (NEW) SKED FLT.
ACFT OPERATORS PLANNING TO CARRY OUT SPECIAL OR CHARTER FLT TO
SOCHI AD DRG INDICATED PERIOD MUST OBTAIN TIME SLOT FM AD
ADMINISTRATION BFR FPL SUBMISSION.
TIME SLOT APPLICATION FOR CARGO FLT MUST CONTAIN:
– DETAILED CARGO DESCRIPTION,
– INFORMATION ABOUT CONSIGNOR, CONSIGNEE/RECEIVING PARTY AND
INFORMATION IN THE INTEREST OF WHICH PARTICIPANTS AND STATES
CARGO IS CARRIED,
– RECEIVING PARTY CONTACTS: TEL, FAX, E-MAIL, FULL NAME OF
RESPONSIBLE OFFICIERS,
– INFORMATION ABOUT NECESSARY EQPT FOR CARGO HANDLING OPERATION
AND GROUND HANDLING.
WIDE-BODY ACFT WITH UNSERVICEABLE AUX POWER UNIT WILL NOT BE
ACCEPTED AT AD.
NEW TIME SLOT MUST BE OBTAINED FROM SOCHI AD ADMINISTRATION
BEFORE SUBMISSION OF FPL IN CASE OF: CHANGE OF ARR/DEP TIME
BY 30 MIN OR MORE, DEPARTURE DELAY (DLA), CHANGE OF FPL (CHG).
IF AIRLINE RECEIVES ALTERNATIVE TIME SLOT SUGGESTION FROM AD
ADMINISTRATION AND AD ADMINISTRATION DOES NOT RECEIVE REPLY ON THE
SUGGESTION FROM AIRLINE DRG 3 WORKING DAYS, AD ADMINISTRATION WILL
CANCEL TIME SLOTS AND NOTIFY AIRLINE ABOUT FLT CANCELLATION.
WHEN CALCULATING FUEL QUANTITY, FLIGHT CREW MUST TAKE INTO
ACCOUNT THAT LONG DELAYS OF ARRIVING ACFT IN HOLDING AREAS AND
FURTHER LEAVING FOR ALTN AD ARE POSSIBLE AS WELL AS DELAYS OF
DEPARTING ACFT DUE TO HIGH WORKLOAD OF SOCHI AP.
IF POSSIBLE, FLIGHT CREW SHOULD NOT PLAN ACFT FUELING AT SOCHI
AD IN ORDER TO REDUCE THE TIME OF ACFT SERVICING.
Fuel Service
Arriving aircraft may experience long delays in holdings areas
Departing aircraft may experience long delays due to demand at Sochi
If possible, avoid refueling at Sochi to avoid further delays
Ground Transport
Buses, trains, and car rental are available.