Your Local Partner with Global Reach
We're a global network of aviation professionals creating bespoke solutions to improve and simplify business and commercial aviation operational efficiency at every step of the value chain. Offering a one-stop shop for all aviation needs, we deliver a powerful combination of solutions including trip planning, supervision, executive travel, and air charter to enhance the customer and crew experience, making the impossible, possible.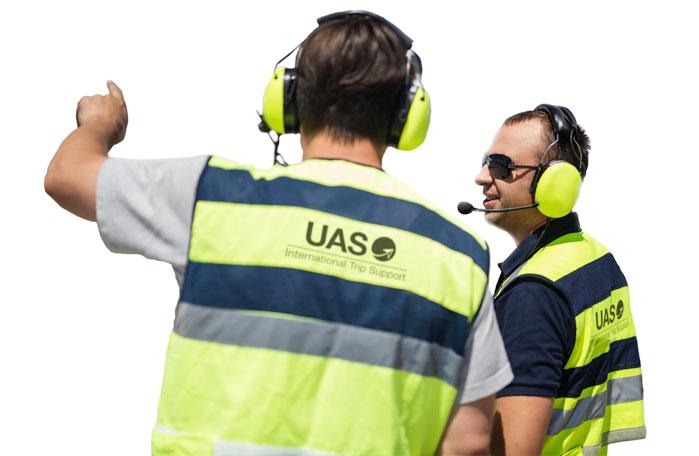 Operators can now enjoy the fastest, most powerful trip management system on the market. Launching at EBACE 2022, UAS Global Trip Manager technology gives even greater control of all planning activities and delivers fast, efficient, and simple access to all trip details, from anywhere and at any time. The web and mobile-based trip planning application provides real-time updates and information on all service requests globally, so operators have the power to manage all their trip planning needs as well as manage their own company profile, including personnel, contacts, fleet, documentation, etc.
The European Business Aviation Convention & Exhibition (EBACE 2022) gets underway at Geneva's Palexpo from May 23-25. The UAS team will be exhibiting at booth A22 and welcoming delegates and offering expertise on the best customized international trip support solutions to meet operators' unique needs. UAS will launch its advanced trip planning technology, Global Trip Manager, with delegates invited to stop by and enjoy a demo at booth A22.
The 75th edition of the Cannes Film Festival gets underway from May 17 to 28 with private jets from all over the globe gravitating to the South of France for the prestigious event. Organizers are set to axe COVID-19 curbs ahead of the diamond jubilee event. with no plans to test attendees, as it did last year, and no mark mandate at screenings. The majority of private jets with passengers destined for Cannes will pass through either Nice Cote d'Azur Airport (LFMN) or Mandelieu Airport (LFMD).