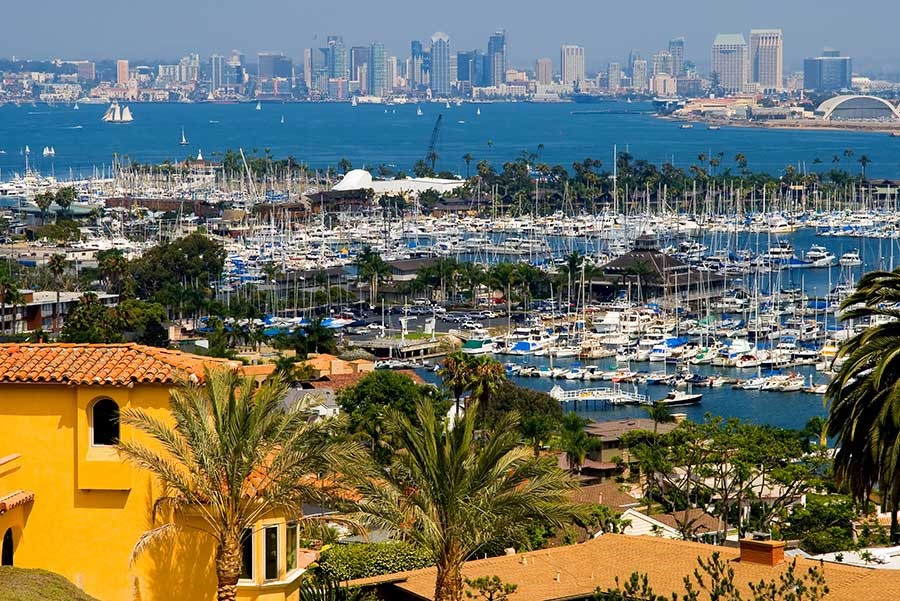 Blog
Flight Operations to San Diego, CA
Go back to main page
Flight Operations to San Diego: Planning a flight operation to San Diego? Do you have the information you need to make your mission a success? 
ISTAT Americas is underway at the Hilton San Diego Bayfront, San Diego, California, we look at this busy business hub on the West Coast. Here are the operational details you'll require to plan a flight to San Diego International Airport.
San Diego International /Lindbergh Field Airport
IATA Code KSAN
Latitude / Longitude N32-44.0/W117-11.4
Mag Var: 11E
Elevation: 17 FT
Fuel type AVGAS JET
Time Zone: UTC – 8 hours
Operational Information
Aircraft with an MTOW of more than 100,309 lbs and/or registered to special interest countries (China, Cuba, Iran, North Korea, Russia, Sudan, and Syria) require TSA Waiver Authorization if flying domestic legs within the U.S. FAA Route Authorization for landing and overflying is also required for aircraft registered in special interest countries.
TSA Waiver Authorization is not required for aircraft with MTOW of less than 100,309 lbs overflying the United States and departing and arriving at portal countries (Canada, Mexico, Bahamas, Bermuda, British Virgin Islands, & Cayman Islands). Aircraft registered in these countries are also authorized to operate within the Territorial Airspace of the U.S. so long as all applicable regulations are met.
Non-scheduled commercial flights require U.S. Department of Transportation license to operate flights in the USA.
Foreign operators wishing to provide air transportation services must obtain two authorizations from the Department of Transportation:
Economic Authority from the Office of the Secretary of Transportation in the form of a certificate for interstate or foreign passenger and/or cargo authority
Safety Authority in the form of an Air Carrier Certificate and Operations Specifications from the Federal Aviation Administration (FAA)
There are no parking restrictions at this time.
Airport Information
TERRAIN & BLDGS TO 500′ MSL N & E WITHIN 1 1/2 MI.
PRACTICE APPROACHES AND TGL PROHIBITED.
TO REDUCE JET BLAST IMPACT AT N END OF TWY F ACFT WILL NOT START ENG UNTIL 800 FT FM N END OF TWY F; ABEAM THE SECOND PARKING PAD.
ULTRALIGHT VEHICLES PROHIBITED ON ARPT.
747 AND LARGER ACFT ARE PROHIBITED FM MAKING INTERSECTION TKOFS.
INTERMITTENT PRESENCE OF BIRDS ON AND INVOF OF ARPT.
CROSS-BLEED ENGINE STARTS PERMITTED ONLY ON PARALLEL TWY WITH ACFT ALIGNED ON TWY CNTRLN.
OUTBOARD ENGINES OF FOUR-ENGINE ACFT ARE TO BE KEPT AT IDLE POWER FOR ALL GND MANEUVERING.
TAXIING ACFT ARE PROHIBITED FROM PASSING TO THE SOUTH OF ACFT LCTD ON TWY B INTO ALLEY LCTD BTWN GATES 7 AND 14. TAXIING ACFT SHALL FOLLOW LEAD-IN LINES UNTIL THE NOSE WHEEL OF THE ACFT HAS ENTERED THE NON-MOVEMENT AREA OF THE ALLEY.
PILOTS REQUIRED TO CTC ATCT GROUND CONTROLLER PRIOR TO PUSHBACK, TOW OUT AND TAXI FOR TRAFFIC ADVISORIES.
MILITARY ACFT ON OFFICIAL BUSINESS ONLY CONTACT ARPT OPS AT 619-400-2710 FOR PPR.
ASDE-X IN USE. OPERATE TRANSPONDERS WITH ALTITUDE REPORTING MODE AND ADS-B (IF EQUIPPED) ENABLED ON ALL TWYS AND RWYS.
TWY C EDGE LGTS OTS INDEFLY.
ACFT CROSSING RY 09/27 ON TWY C6, HOLD SHORT OF TWY C6 FACING WEST ON TWY C, PARALLEL TO RY.
DUE TO PAEW ON RY 09-27, 30 MINUTE PPR 0830-1230Z FOR ALL LANDINGS AND DEPARTURES CALL 619-400-2710.
30 MIN PPR (619-400-2710) FOR ACFT WITH OVER 171 FT WINGSPAN.
IN THE EVENT OF A DIVERSION OR IRREGULAR OPERATIONS EVENTS, ACFT OPERATORS CONTACT THE APT DUTY MGR (619) 400-2710 FOR PPR DUE TO LIMITATIONS ASSOCIATED WITH HANDLING DIVERTED FLTS. LIMITATIONS INCLUDE RESTRICTED GATE SPACE, CUSTOMS SERVICES AS WELL AS ACFT SERVICING & PARKING.
FOR ACCESS TO/FR TERMINAL 2: GATES 23, 25, 27, 29, 31, 33-51 AND THE ISLAND AND WEST RON PARKING RAMPS, CTC RAMP CONTROL ON 129.775 FR 0600-2400. FR 0000-0600 CTC GROUND CONTROL ON 123.9. TAXILANE A RSTRD TO ACFT WITH WINGSPANS OF 171 FT OR LESS. ACFT WITH WINGSPANS GREATER THAN 200 FT INBOUND TO WEST RAMP OR GATES 47 OR 51 MUST ACCESS VIA TCP #1.
TWY B RSTD TO ACFT WITH WINGSPANS GREATER THAN 171 FT BTWN TWY B6 & TWY D.
ACFT WITH WINGSPANS GREATER THAN 171 FT (52M) RSTD FROM USING TWY D SOUTH OF TWY B, AND WHEN EXITING RWY 9 WESTBOUND ON TWY B.
For further information and support with Flight Operations to San Diego, contact UAS Americas hou@uas.aero