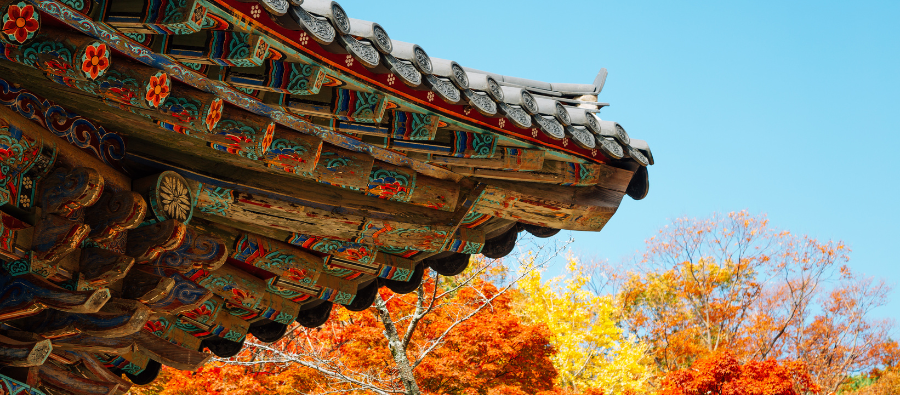 Blog
Hidden Gems: Gyeongju 
Go back to main page
Hidden Gems: Gyeongju – With its rich ancient history, spectacular artifacts, and fascinating architecture, Gyeongju is a welcome addition our Hidden Gems destination list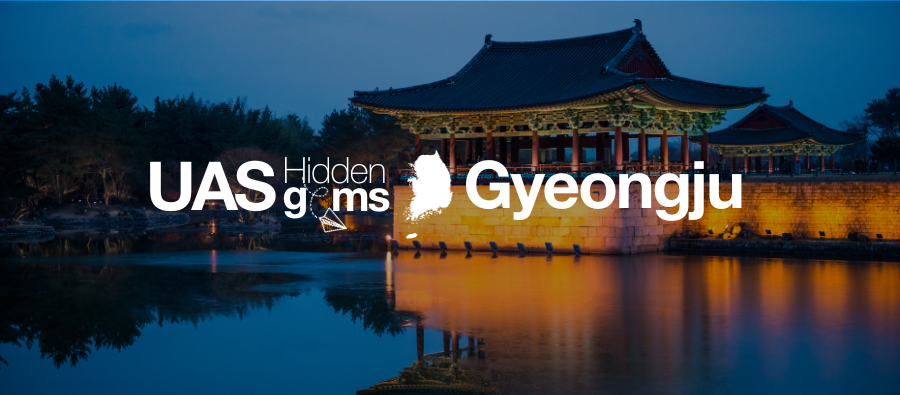 South Korea's ancient capital Gyeongju is situated in the North Gyeongsang Province on the southeast corner of the Korean Peninsula. Here, visitors can catch a glimpse of Korea's splendid past as it was the residence of the Silla rulers for more than 1000 years. A vast number of archaeological sites and cultural treasures from this period remain in the city along with remarkable concentrations of outstanding examples of Korean Buddhist art such as sculptures, reliefs, pagodas, and the remains of temples and palaces from the flowering culture of extraordinary Silla dynasty. The city itself is very laid back and chilled and visitors can enjoy lots of parks, villages and cafes to ramble around and relax in.  
Known as "The Golden City" and "the museum without walls", Gyeongju is loaded with 1000-year-old historical treasures and UNESCO World Heritage Sites.  

The location  
Gyeongju is located in the southeastern corner of South Korea about 70km from the coastal city of Busan and 370 km southeast of the capital, Seoul. 
The people 
Gyeongju has a population of a quarter of a million people. South Koreans are respectful and friendly. They value humbleness, filial piety and hard work.  
The climate 
The climate is temperature with four distinct seasons. Winters are long, cold and dry followed by short, hot, and humid summers. January is the coldest month with average temperatures of 2 degrees Celsius (35° F), July is the hottest month with daytime temperatures of about 29° C (83° F).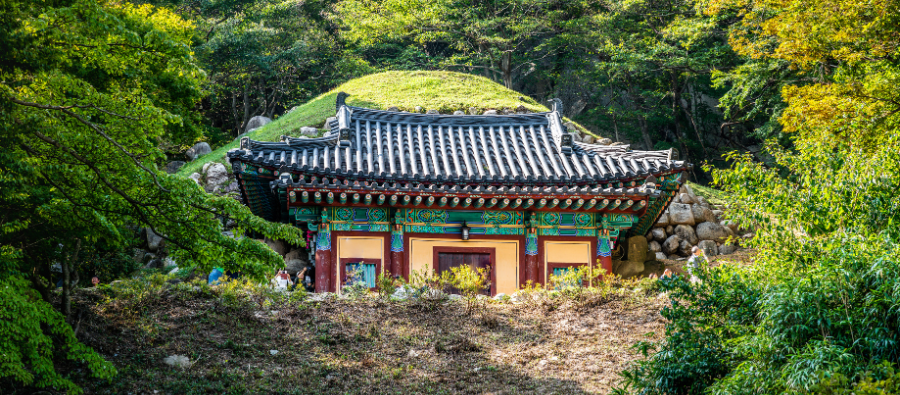 Tourism   
As an important center of history and culture, Gyeongju is a popular tourist destination for both South Korean and international visitors. It routinely attracts more than 5 million South Koreans and 750,000 foreign visitors each year. 
Best time to visit Gyeongju 
The best time to visit Gyeongju are the months of May, June, July, August, September and October, but be prepared for rain in July and August.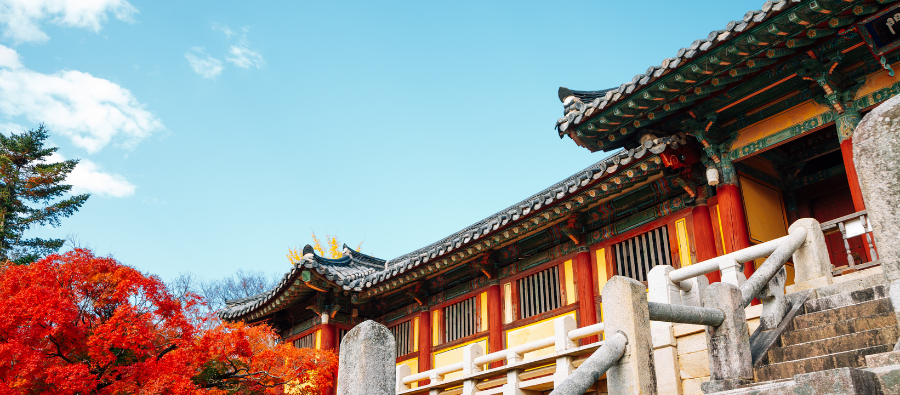 What makes Gyeongju unique 
The sheer concentration of historical and religious sites in this ancient city distinguishes it from all other cities in South Korea. In Gyeongju, visitors can appreciate the modernity the country is famous for but immerse themselves in its cultural heritage.   
What to do in Gyeongju 
Woljeonggyo Bridge

 

Gyeongju National Museum

 

Daereungwon Tomb Complex

 

Golgulsa Temple

 

Gyeongju World Culture Expo Park

 

Donggung Palace

 

Cheomseongdae

 

Hwangnidan-Gil

 

Bulguksa Temple

 

Gyochon Traditional Village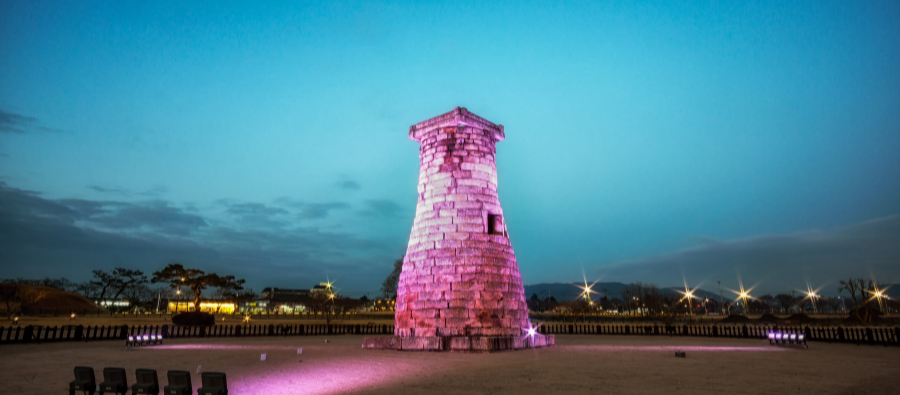 Flying private to Gyeongju  
Chartering a jet to visit Gyeongju will ensure you enjoy premium safety, privacy, and luxury. It will also allow you the flexibility to curate your trip to your own specifications.   
Entry airports 
The two closest airports to Gyeongju are Pohang Airport (RKTH) and Gimhae Airport (RKPK), however the best stations for private flight entry and services are RKSI and RKSS.  
Seoul Incheon International Airport
IATA

: ICN

 

ICAO

: RKSI

 

Coordinates: N37°27.75′ / E126°26.35′

 

Elevation: 23.0 feet

 
The largest airport in South Korea and the primary airport serving Seoul and one of the largest and busiest airports in the world. 
Gimpo International Airport
IATA: GMP  

 

ICAO: RKSS 

 

Coordinates:

N37° 33′ 29.88″ / E 126° 47′ 27.60″

 

Elevation: 58 feet

 
Located in the far western end of Seoul, some 15 km west of the Central District. 
Operational information for Gimhae Airport (RKPK)  
Landing permits are required

 

Lead time for permit approval is two weeks

 

Jet A1 fuel is available

 

Full ground handling equipment is available

 

This is a military airport

 

Parking is not guaranteed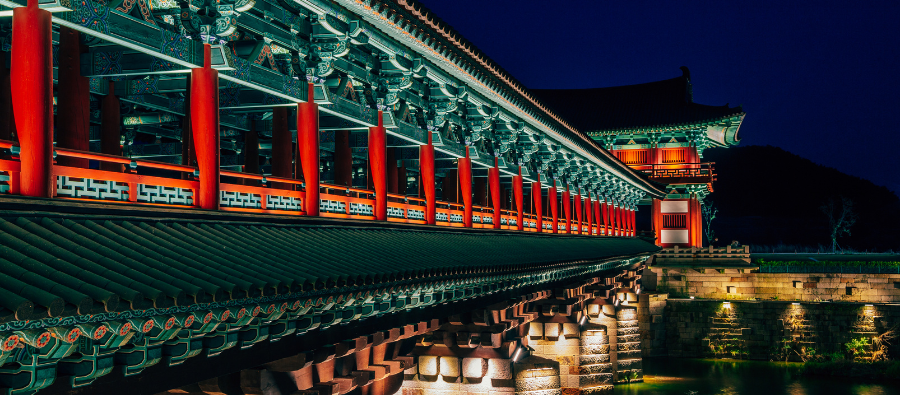 Commercial flights 
Both Seoul and Busan are well connected with international flights from all over the globe. 
South Korea's excellent rail system makes traveling to Gyeongju from either of these airports effortless.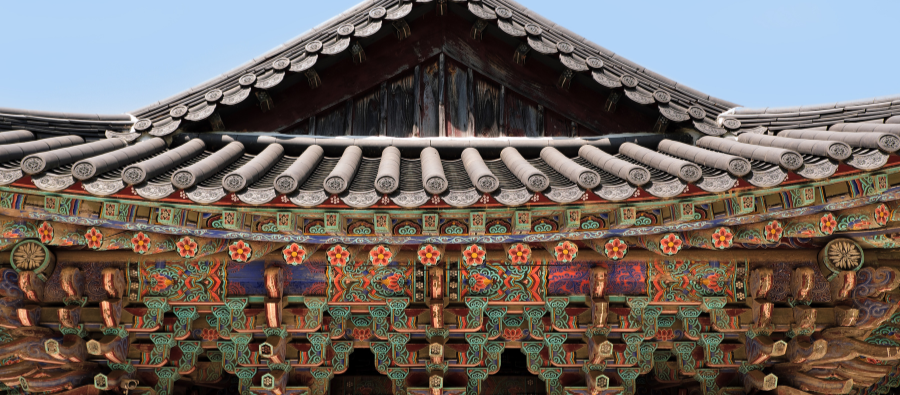 Immigration 
Foreign citizens from around 110 countries can visit South Korea for tourism without having to obtain a visa in advance

 

Most visa-exempt visitors must have an approved South Korea Electronic Travel Authorization to enter for tourism, no matter how long they stay

 

The ETA is a multiple-entry visa waiver valid for 2 years and easily obtained through a quick and simple online application 

 

The length of visa-free stay for tourism permitted depends on the traveler's nationality and ranges from 30 days to 3 months.

 

Visit the official immigration portal of the Republic of Korea here  

 
Health screening   
There are no PCR results or vaccination documents required to enter South Korea.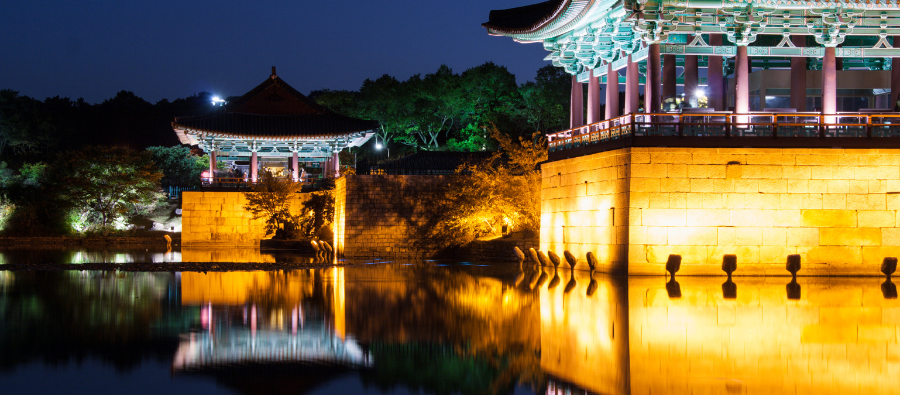 Visitor tips  
Although Korean public transport is efficient and inexpensive, walking is the best way of appreciating Gyeongju

 

It's best to maintain a high degree of formality in your interactions with locals so you don't run the risk of causing offence 

 

Tipping is not the custom in South Korea and leaving a tip may cause offensive  

 
To create your ultimate Gyeongju travel experience, contact UAS Charter or UAS Executive Travel. 
For more Hidden Gems, visit the UAS Blog