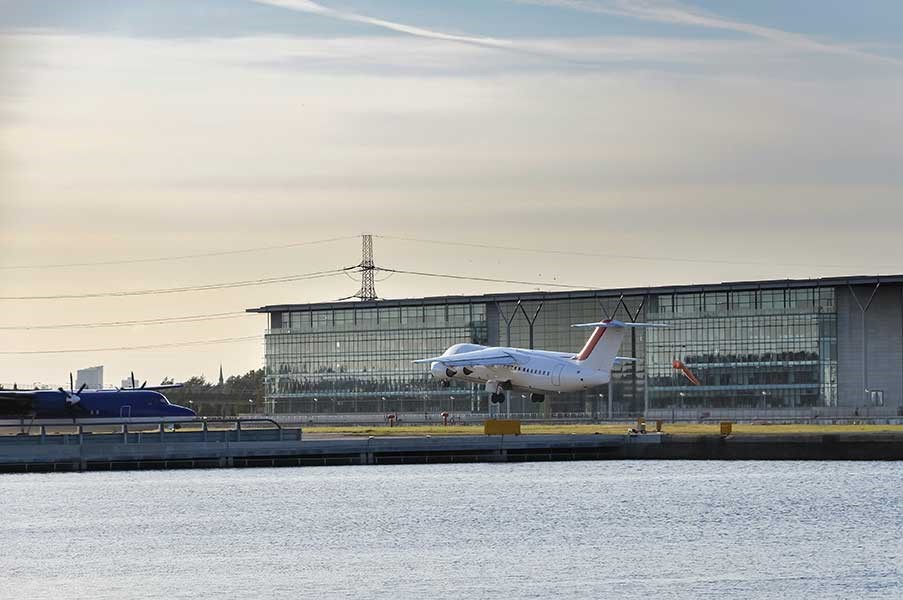 Blog
London City Airport Virtual ATC
Go back to main page
London City Airport Virtual ATC: In two years, air traffic controllers will monitor aircraft movements at London City Airport (EGLC/LCY) from 80 miles (129 kilometres) away at the Swanwick NATS control centre in Hampshire.
This bustling London airport is planning for the UK's first remote digital air traffic control (ATC) tower, which will be 50 meters (164 feet) tall and equipped with cutting-edge technology. Construction will begin next year and operations will commence the following year. That means controllers will rely on live footage via fibre cables from 14 high-definition cameras and two pan-tilt-zoom cameras for a 360-degree view of the airport's 1,500-meter (4,921-foot) runway and its surroundings.
The system will be developed by Swedish company Saab Digital Air Traffic Solutions. The camera equipment will be able to zoom up to 30 times larger than normal view and instruments will gather critical operational and sensor data for instant analysis, with ready access to weather and radar data simultaneously. The system will also be equipped with an audio feed of the ambient noise from the airfield.
The technology has already been tested in Australia, Norway, and Ireland and is currently being used in several airports in Sweden.
Furthermore, protocols will be firmly in place to safeguard the systems against cyber-attacks. This point is ultra-critical in the wake of the "WannaCry" malware attack earlier this year that crippled medical facilities across the UK. Airport authorities insist that the super-fast fibre network connecting LCY and the NATS control centre will ensure operational continuity.
This remote, virtual tower is intended to modernize the airport, advance operational safety, and greatly improve air traffic management for the next 30-plus years. Airport officials refer to it as future-proofing the facility. And since operations at LCY are expected to continue to increase – with a record-setting 4.5 million passengers served in 2016 – this is a vital, multi-million-pound investment in its continued growth and part of a larger £344 million ($448 million) expansion project, which will also extend the terminal building and provide a new taxiway.
The existing, 30-year-old tower will be decommissioned when the new tower comes online, upon the conclusion of a successful, one-year testing period of all new equipment.
For future updates on this topic, visit UAS Blog regularly.