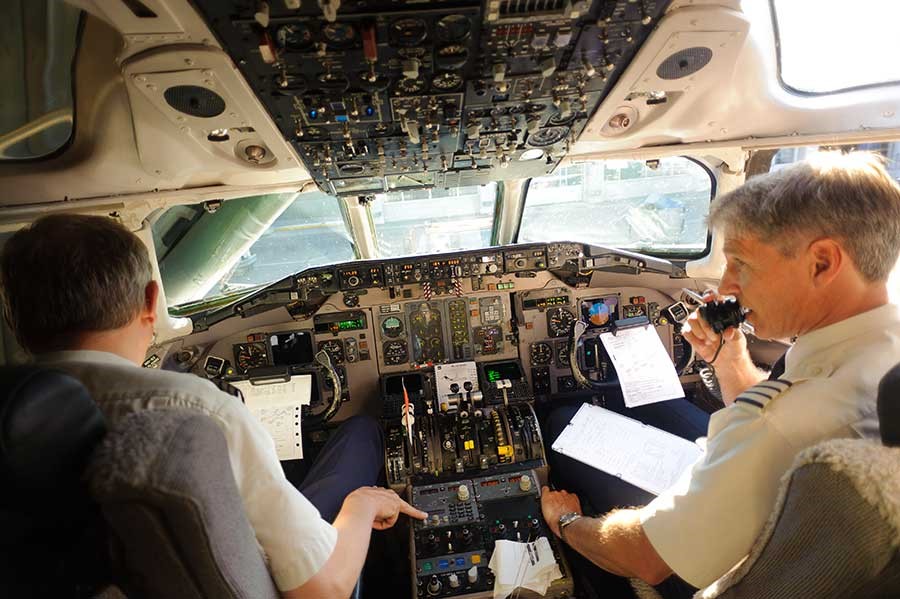 Blog
Flight Operations to San Diego
Go back to main page
Are you aware of the vital operational information for San Diego International Airport?
The NBAA 2016 International Operators Conference gets underway in San Diego, California from March 21-24. Taking place at the Sheraton San Diego Hotel and Marina, the conference is an opportunity for key industry players to share operational, regulatory and real-life information on international best practice, safety, and security issues. UAS Americas team will be there to communicate company expertise and discuss current trends.
Airport
San Diego International/Lindbergh Field Airport
IATA Code KSAN
Latitude / Longitude N32-44.0/W117-11.4
Mag Var: 11E
Elevation: 17 FT
Fuel type AVGAS JET
Time Zone: PST
Operational Information
Aircraft with an MTOW of more than 100,309 lbs and/or registered to special interest countries (China, Cuba, Iran, North Korea, Russia, Sudan, & Syria) require TSA Waiver Authorization if flying domestic legs within the US. FAA Route Authorization for landing and overflying is required for aircraft registered in special interest countries.
TSA Waiver Authorization is not required for aircraft with MTOW of less than 100,309 lbs overflying the United States and departing and arriving to portal countries (Canada, Mexico, Bahamas, Bermuda, British Virgin Islands, & Cayman Islands. Aircraft registered in these countries are also authorized to operate within the Territorial Airspace of the U.S. so long as all applicable regulations are met.
Non-scheduled commercial flights require US Department of Transportation license to operate flights in the USA.
Foreign operators wish to provide air transportation services must obtain two authorizations from the Department of Transportation:
Economic Authority from the Office of the Secretary of Transportation in the form of a certificate for interstate or foreign passenger and/or cargo authority
Safety Authority in the form of an Air Carrier Certificate and Operations Specifications from the Federal Aviation Administration (FAA)
Airport information: 
TERRAIN & BLDGS TO 500′ MSL N & E WITHIN 1 1/2 MI.
PRACTICE APPROACHES AND TGL PROHIBITED.
TO REDUCE JET BLAST IMPACT AT N END OF TWY F ACFT WILL NOT START ENG UNTIL 800 FT FM N END OF TWY F; ABEAM THE SECOND PARKING PAD.
ULTRALIGHT VEHICLES PROHIBITED ON ARPT.
747 AND LARGER ACFT ARE PROHIBITED FM MAKING INTERSECTION TKOFS.
INTERMITTENT PRESENCE OF BIRDS ON AND INVOF OF ARPT.
CROSS-BLEED ENGINE STARTS PERMITTED ONLY ON PARALLEL TWY WITH ACFT ALIGNED ON TWY CNTRLN.
OUTBOARD ENGINES OF FOUR-ENGINE ACFT ARE TO BE KEPT AT IDLE POWER FOR ALL GND MANEUVERING.
TAXIING ACFT ARE PROHIBITED FROM PASSING TO THE SOUTH OF ACFT LCTD ON TWY B INTO ALLEY LCTD BTWN GATES 7 AND 14. TAXIING ACFT SHALL FOLLOW LEAD-IN LINES UNTIL THE NOSE WHEEL OF THE ACFT HAS ENTERED THE NON-MOVEMENT AREA OF THE ALLEY.
PILOTS REQUIRED TO CTC ATCT GROUND CONTROLLER PRIOR TO PUSHBACK, TOW OUT AND TAXI FOR TRAFFIC ADVISORIES.
MILITARY ACFT ON OFFICIAL BUSINESS ONLY CONTACT ARPT OPS AT 619-400-2710 FOR PPR.
ASDE-X IN USE. OPERATE TRANSPONDERS WITH ALTITUDE REPORTING MODE AND ADS-B (IF EQUIPPED) ENABLED ON ALL TWYS AND RWYS.
TWY C EDGE LGTS OTS INDEFLY.
ACFT CROSSING RY 09/27 ON TWY C6, HOLD SHORT OF TWY C6 FACING WEST ON TWY C, PARALLEL TO RY.
DUE TO PAEW ON RY 09-27, 30 MINUTE PPR 0830-1230Z FOR ALL LANDINGS AND DEPARTURES CALL 619-400-2710.
30 MIN PPR (619-400-2710) FOR ACFT WITH OVER 171 FT WINGSPAN.
IN THE EVENT OF A DIVERSION OR IRREGULAR OPERATIONS EVENTS, ACFT OPERATORS CONTACT THE APT DUTY MGR (619) 400-2710 FOR PPR DUE TO LIMITATIONS ASSOCIATED WITH HANDLING DIVERTED FLTS. LIMITATIONS INCLUDE RESTRICTED GATE SPACE, CUSTOMS SERVICES AS WELL AS ACFT SERVICING & PARKING.
FOR ACCESS TO/FR TERMINAL 2: GATES 23, 25, 27, 29, 31, 33-51 AND THE ISLAND AND WEST RON PARKING RAMPS, CTC RAMP CONTROL ON 129.775 FR 0600-2400. FR 0000-0600 CTC GROUND CONTROL ON 123.9. TAXILANE A RSTRD TO ACFT WITH WINGSPANS OF 171 FT OR LESS. ACFT WITH WINGSPANS GREATER THAN 200 FT INBOUND TO WEST RAMP OR GATES 47 OR 51 MUST ACCESS VIA TCP #1.
TWY B RSTD TO ACFT WITH WINGSPANS GREATER THAN 171 FT BTWN TWY B6 & TWY D.
ACFT WITH WINGSPANS GREATER THAN 171 FT (52M) RSTD FROM USING TWY D SOUTH OF TWY B, AND WHEN EXITING RWY 9 WESTBOUND ON TWY B.
Parking
There are no parking restrictions at this time.
Baggage Clearance
All baggage, regardless of next destination, is cleared at the first point of entry in the USA. This also applies to baggage of passengers making an international transfer.
Crew: A special crew line is available.
Airport Embarkation Tax
No airport tax is levied on passengers upon embarkation at the airport.
Immigration
Non-U.S. citizens who wish to enter the United States must obtain a U.S. visa to be inserted into their passport before they enter the country.
There are certain travelers who may travel without a visa through the Visa Waiver Program (VWP). The VWP enables citizens of designated countries to travel to the U.S. for stays of up to 90 days without arranging a visa before their trip.
Citizens of the following countries may travel to the U.S. under the VWP:
Andorra, Australia, Austria, Belgium, Brunei, Chile, Czech Republic, Denmark, Estonia, Finland, France, Germany, Greece, Hungary, Iceland, Ireland, Italy, Japan, Republic of Korea, Latvia, Liechtenstein, Lithuania, Luxembourg, Malta, Monaco, New Zealand, Norway, Portugal, San Marino, Singapore, Slovakia, Slovenia, Spain, Sweden, Switzerland, Taiwan, The United Kingdom*, The Netherlands.
*This applies to British citizens only with the unrestricted right of permanent domicile in England, Scotland, Wales, Northern Ireland, the Channel Islands and the Isle of Man.
All citizens of VWP countries planning to travel to the U.S. for 90 days or under must receive authorization through the Electronic System for Travel Authorization, ESTA, before boarding a U.S.-bound flight. ESTA is an automated system that assists in determining an individual's eligibility to travel to the U.S.
Crew
Crewmember (D) visas are non-immigrant visas for persons working on aircraft and intending to depart the U.S. again within 29 days.
Customs
Import regulations
Special duty preferences exist for articles from certain developing countries. Information regarding the countries and the eligible articles can be obtained directly from the U.S. International Trade Commission, 701 E Street N.W., Washington, D. C. 20436 or from the nearest overseas U.S. Consulate.
For further information regarding the exact allowance for your country of origin, please contact:
• U.S. Department of Agriculture, Animal and Plant Health Inspection Service (APHIS), National Center for Import and Export, 4700 River Road, Unit 39; Riverdale, MD 20737.
• The U.S. Bureau of Sport Fisheries and Wildlife, Washington, D.C. 20240, or at a U.S. Embassy or Consulate overseas.
• Quarantines; U.S. Department of Agriculture (see address quoted above) or at a U.S. embassy or consulate.
Prohibited:
Narcotics, meat products, plants, seeds, vegetables, fruits, soil, dairy products, live insects, snails and other pests.
Also, fish (unless it has been certified disease-free), items from Iran, leather souvenirs from Haiti, and Cuban cigars.
Export regulations
Free export exists for an unlimited quantity of tobacco and alcohol.
Crew are allowed to import:
• One open liter of alcohol
• 300 cigarettes or 50 cigars or 2 kilograms of smoking tobacco
• Merchandise not exceeding USD $200 in value
• A special crew line is available
Currency
The local currency is the United States Dollar-USD. There are no restrictions on the import and export of cash provided arriving and departing passengers report amounts exceeding USD 10,000.
Importation of gold coins or small, non-commercial quantities of gold must be declared on arrival.
Accommodation
Hotels near the airport:
Sheraton San Diego Hotel & Marina
Hilton San Diego Airport/Harbor Island
Homewood Suites San Diego Airport-Liberty Station
Courtyard San Diego Airport/Liberty Station
Holiday Inn San Diego – Bayside
Best Western Yacht Harbor Hotel
Fairfield Inn and Suites San Diego Old Town
La Quinta Inn and Suites San Diego Old Town
Holiday Inn express San Diego Airport – Old Town
Courtyard by Marriott Old Town
Hotels near the event:
Hilton San Diego Airport / Harbour Island
Homewood Suites San Diego Airport / Liberty Station
Courtyard Hotel San Diego Airport / Liberty Station
Holiday Inn San Diego Bayside
Best Western yacht Harbor Hotel
Ground Transport
Trains
Amtrak Intercity and Coaster commuter trains stop in Old Town, Sorrento Valley, Solana Beach, Encinitas, Carlsbad and Oceanside. See more at: http://www.san.org/Parking-Transportation/Public-Transportation#sthash.WHR2zpqn.dpuf
Car and limousine hire
City Bus Public transit links the Airport and downtown San Diego. For more information see http://www.san.org/Parking-Transportation/Public-Transportation#117818-city-bus
Many limousine companies provide services from San Diego International Airport. For more information see http://www.san.org/Parking-Transportation/Public-Transportation#117820-limousines–luxury-sedans
There are numerous rental car agencies available at Rental Car Center. Free dedicated shuttle busses will run continually to ferry customers between the airport terminals and the Rental Car Center. – See more at: http://www.san.org/Parking-Transportation/Rental-Cars#sthash.MqZcCGCN.dpuf
Taxis
If you need a taxi, simply follow the signs leading to the Transportation Plazas. A Transportation Coordinator will place you with the first available taxi, unless you specify a particular taxicab company. For more information see http://www.san.org/Parking-Transportation/Taxis#sthash.aIuyPDcr.dpuf
Shuttle buses
Shuttle services are available at the Transportation Plazas across from Terminals 1 and 2, and curbside at the Commuter Terminal. For more information see http://www.san.org/Parking-Transportation/Shuttles#sthash.yKb3awSS.dpuf
The Airport Loop shuttle service provides free transport between terminals. The Airport Loop runs 24/7. For more information see http://www.san.org/Parking-Transportation/Shuttles#sthash.yKb3awSS.dpuf
Contact UAS Americas Ops team in Houston by emailing hou@uas.aero