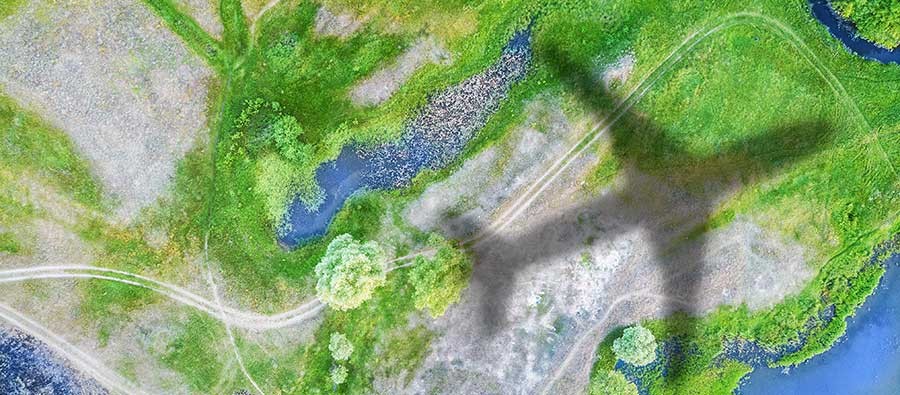 Blog
Achieving Sustainability with Carbon Offsetting  
Go back to main page
The production of C02 emissions is an unfortunate consequence of most industries – including aviation. Although we aviators as a community are making tremendous efforts to achieve carbon-neutral growth and half our total emission by 2050, it remains a reality that until then C02 will be released. In the future, SAFs will be more widely available, helping us to avoid this. In the meantime, there is a way we can mitigate the damage our emissions do and achieve sustainability—that's carbon offsetting.
Carbon offsetting is the funding of carbon reduction projects to compensate for carbon creation thus enabling us to further mitigate any environmental impact.  An offset is achieved by purchasing and canceling carbon credit with 1 carbon credit representing 1 tonne of CO2e reduction. Carbon credits can finance many different projects like renewable energy, waste management, biofuel production, biodiversity protection, forestry and agriculture, energy and fuels technologies, and sustainable development.
IBAC encourages operators to monitor their fuel use regularly. But how do we calculate our carbon footprint… or, in other words, how do we work out the number of offsets we need? Firstly, because ICAO and other entities measure CO2 in metric tonnes, it's recommended that fuel is measured in the same way to best calculate emissions output and do so consistently with global best practices. It's also recommended that measurements are taken for each flight. For every unit of fuel burned, 3.16 units of CO2 are created. So, 4 tonnes of burned fuel produces 12.64 tonnes of CO2, therefore you will require 12.64 offset units.
IBAC recently partnered with the Carbon Credit Exchange (CTX) to offer operators a resource through which they can voluntarily offset carbon emissions by purchasing carbon credits. It also allows them to choose from thousands of accredited projects that support their overall sustainability goals worldwide. This is an awesome show of business aviation's commitment to the future integrity of our planet!
To learn more about carbon offsetting and avail of a discount, visit IBAC's site here.