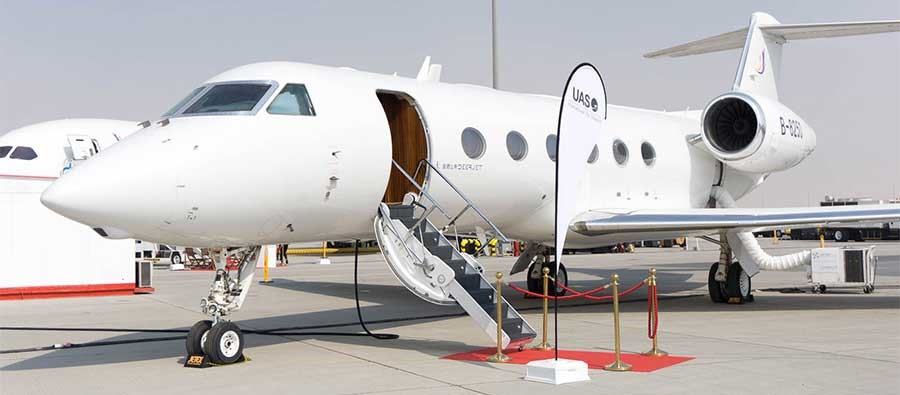 Blog
Chartering a Private Jet – Your Questions Answered
Go back to main page
Going about chartering a private jet can be a daunting process… and it's difficult to find straightforward answers to even the most basic questions. We asked UAS Vice President of Charter Sales, Ammar Al Mahmoud the basic questions asked about private jet charter so there's no more mystery! So, here's everything you need to know about hiring a private jet.
Why do people charter private jets?
There are many reasons people charter private jets. Since the COVID-19 pandemic, safety and health concerns have become a major priority for people. Flying private allows you, your family, or colleagues, to social distance and avoid airports, minimizing the chances of exposure to potentially harmful germs. Traditionally, people have private jet travel because they wish to have complete privacy, luxury, and convenience. The flexibility of being able to travel at any time you wish, not having to queue or check-in at the terminal therefore saving time, mitigating many restrictions (during COVID-19), as well as the ability to design a bespoke jet experience are the main reasons people opt for private jet charter.
What is the biggest expense when chartering a jet?
The biggest expense is the aircraft itself, but there are some differences depending on your location, or where you charter the jet from. In Europe, Asia, and the Middle East, the jet, fuel, crew, etc. is quoted as a total amount. Whereas, in the U.S., chartering a jet will secure you the aircraft, but you will then have to organize crew, catering, ground handling and VIP lounge services, if required.
What impact do destination and timings have on cost?
Longer trips may require larger aircraft so that will impact pricing. Also, where you are traveling to and from will impact the cost. For example, there is a limit to the availability of aircraft operators in certain places – Africa and certain areas of Asia being prime examples – thus driving up the cost. Whereas, in Europe or the Middle East there are plenty of operators capable of flying you anywhere, so the cost won't be as high. Also, keep in mind that it's more costly to fly into airports that are in high demand. Some examples would be Geneva, Zurich, Hong Kong, Heathrow, Beijing, Shanghai, and so on.
Any hidden charges to keep in mind that may change the trip cost at the last minute?
Not these days. Of course, there will be additional charges for any damage done to the aircraft and perhaps for internet usage. Smoking fees will be additional for those who wish to smoke during their journey.
How time-saving is private jet travel?
When you fly private, you only have to be at the VIP terminal 10 minutes before departure and will be expedited out to your waiting aircraft in a matter of moments. Compared to the amount of time spent navigating check-in and immigration and queuing at the airport, it's easy to see why private travel is so appealing.
How long does it take to organize a trip on a chartered jet?
It can be as quick as three hours! Your destination country will determine how long it takes for permit approval to land. For some countries, these can be secured in less than an hour – for others, it could take up to three days. Aviation authorities consider passenger status, origin country, and the reason for travel when granting permit approval. Once approval is given, you can take off as soon as you want.
Can charter companies organize accommodation and ground transport too?
Yes, but for crew members only.
Finally, what is the most important thing to consider before chartering a jet?
Right now, it's important to consider possible COVID-19 restrictions at your destination.
 For support with your air charter requirements, contact UAS