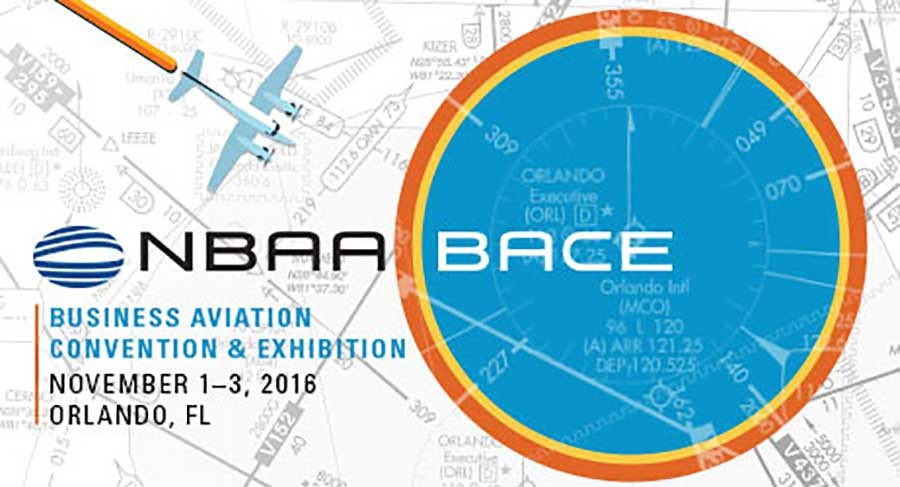 Blog
Flight Operations to Orlando, Florida NBAA-BACE 2016
Go back to main page
Are you fully prepared to travel to Orlando for NBAA-BACE 2016? We've compiled the information you need to organize your trip to the sunshine state…
The Business Aviation Convention and Exhibition (NBAA-BACE 2016) will take place at Orange County Convention Center, Orlando Executive Airport, Florida, this November 1-3. The event, organized by NBAA, is a crucial sales and networking event for stakeholders.  With almost 30 thousand aviation industry professionals are expected to attend this year, we've compiled the important information you need to get you to Orlando.
Orlando International Airport
IATA: MCO
ICAO: KMCO
Latitude / Longitude: N28-25.8/W081-18.5
Magnetic Variation: 06W
Elevation: 96 ft.
Time Zone: UTC –5 hours
Fuel types: Jet / Avgas
Orlando Executive Airport
IATA: ORL
ICAO: KORL
Latitude / Longitude: N28-32.7/W081-20.0
Magnetic Variation: 06W
Elevation: 113 ft.
Time Zone: UTC –5 hours
Fuel types: Jet / Avgas
Location of the static display
Operational Information
Overflight and landing permits are generally not required for private and non-scheduled flights
There are no parking restrictions at this time, but any operation to KORL will likely be restricted to those aircraft participating in the static display only
There is no NOTAM at this time
Immigration
Passengers:
A passport is required and all visitors must hold return/onward tickets
A visa is required
All visitors are required to hold proof of sufficient funds to cover their stay
All visitors must produce any documents required for their next destination
The following applies to those traveling under the U.S. Visa Waiver Program:
Each passenger must hold a passport (including biometric Emergency/Temporary passport) and be traveling as a tourist, on business or in transit. Passengers can make side trips to Canada, Mexico or Caribbean countries/islands, provided first entering the U.S. on a carrier participating in the Visa Waiver program (VWP). There will be no time extension given based on any of these departures.
Crew:
The same regulations apply to crew members as for regular passengers.
Visa regulations for Airline Crews:
A D-Visa is valid for entry of aircrew members arriving in the USA on a flight operated by their own company
Such crew members must be listed as "crew" on the arrival manifesto
If an aircrew arrives on a flight of another carrier for the purpose of boarding a flight as a member of crew, they must have a valid C-1 visa
A Form I-95 must be filled out on arrival
Customs 
Note: making false statements to U.S. Customs officers is punishable by law.
Information regarding regulations for the movement of fish, animals, and foodstuffs, periods of quarantine, etc. should be obtained from the following:
U.S. Bureau of Sport, Fisheries, and Wildlife, Washington, D.C. 20240
U.S. Embassies or Consulates overseas
U.S. Dept. of Agriculture, Animal and Plant Health Inspection Service (APHIS), National Center for Import and Export, 4700 River Road, Unit 39; Riverdale, MD 20737
For full details, please see http://www.aphis.usda.gov/
Baggage Clearance
All baggage, regardless of next destination, is cleared at the first point of entry in the USA, this also applies to baggage of passengers making an international transfer
There is a special crew line available
Airport Embarkation Tax
No airport tax is levied on passengers upon embarkation at the airport.
Accommodation
Hotels close to the airport:
Hyatt Regency Orlando International Airport (on airport)
Orlando Airport Marriott Lakeside
La Quinta Inn & Suites Orlando Airport North
Sheraton Suites Orlando Airport
Hilton Garden Inn Orlando Airport
Courtyard Orlando Airport
Residence Inn Orlando Airport
Hampton Inn & Suites Orlando Airport @ Gateway Village
Hotels close to the event:
Hilton Orlando
Hyatt Regency Orlando
Rosen Center Hotel
Rosen Plaza
The Orange County Convention Center is very close to the Universal Studios entertainment complex as well as Sea World, so there is a multitude of hotel options.
Transport
Orlando has an extensive bus network between the airport and convention center area
All major car rental companies are available at the airport