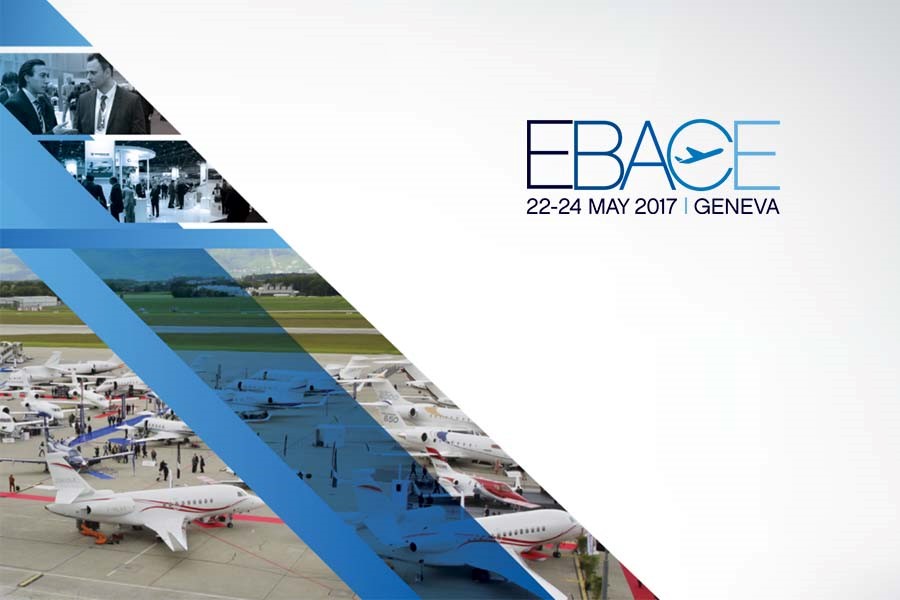 Blog
Flight Operations to Geneva EBACE 2017
Go back to main page
Flight Operations to Geneva EBACE 2017: EBACE 2017 gets underway in Geneva from May 22-24. Here is the crucial operational information you'll need to successfully plan a mission to Geneva Cointrin. 
Geneva Cointrin International Airport
IATA: GVA
ICAO: LSGG
Latitude / Longitude: N 46° 14.3′ E 06° 06.6′
Magnetic Variation: 0.0°W
Elevation: 1411′
Time Zone Info: GMT+1:00 DST (DST in effect 26MAR – 29OCT – current time zone GMT+2:00)
Fuel: 100LL, Jet A-1, AVGAS
Operational Information
LSGG is a very busy airport which is often negatively affected by parking limitations and similar ramp area congestion. This is especially the case in winter during the ski tourist season and mid-summer.
It is mandatory to include PPR details in the filed flight plan when operating to/from LSGG. The operator must obtain a PPR for each arrival and departure regardless of flight category.
Daily peak hours are from 0900z -1300z and 1700z – 2000z. Congestion may cause delays during these times.
Long-term parking approval is also very difficult to obtain. Typically PPR's are issued reflecting 03 hours ground time only. Please also note the details of the NOTAM below A0437/16.
Alternatives for longer term parking are Zurich LSZH, Basel LFSB, and Lyon LFLL. Basel has very good maintenance support facilities in case of technical difficulties and the fuel taxes in France are lower than Switzerland.
GVA Airport hours for general aviation (private) flights 0600-2159LT.
Non-scheduled commercial category operators can apply for an operational extension until 2359LT but expect high surcharges as a result.
Handling agents also plan their resources around the normal operating times for the airport, so it is recommended to double check all is in order especially for schedules in the early morning or late evening.
Immigration and customs also operate within normal airport operating hours but with sufficient advanced notice can report earlier or work later, in line with any approved airport operating hours extension.
Fuel is available via hydrant at many stands. Fuel tanker/bowser delivery is also available and is the usual means of delivery for aircraft parked on remote stands or MRO aprons.
Fuel prices in Switzerland for private operators can attract fees and taxes that are close to 140% of the base fuel price.
The flight category in the flight plan must also match the operator's AOC details if tax exempt fuel is to be charged to commercial category operators.
Catering options at LSGG are very good in quality but prices can be expensive.
NOTAM
No NOTAM currently in effect that is directly related to the EBACE event.
Two other important NOTAMS are active as follows:
A0437/16 NOTAMN
Q) LSAS/QMKLT/IV/BO/A/000/999/
A) LSGG B) 1703170500 C) 1704172259
D) FRI SAT SUN MON H24
E) MAX 1 NGT ALLOWED EXC HOME BASED OPR AND COMMERCIAL SKED FLT.
A0439/16 NOTAMN
Q) LSAS/QFALT/IV/B/A/000/999/
A) LSGG B) 1703180500 C) 1704162259
D) SAT SUN H24
E) AD NOT TO BE PLANNED FOR DIV OR ALTN.
Immigration
Non-EU passengers
Many nationalities are exempt from requiring visas to enter Switzerland for stays up to 90 days. However, it is recommended to check prior to travel and ensure that each passport will be valid for at least 06 months from the date of entry into the country.
EU passengers
Passport or EU country ID allows for a stay of up to 90 days without a visa. An extension of stay is usually possible for visa exempt visitors.
Note:
Passports or any documents acceptable for identification by local authorities must not have been issued more than ten years prior to the date of travel.
Tourists and students must hold proof of accommodation and sufficient funds to cover their stay. It is important to have details of return or onward travel details.
EU crew
Passport or EU country ID plus crew ID is required. Crew listed on a general declaration must be in uniform.
Non-EU crew
Passport with at least 06 months validity remaining plus crew ID is required. Crew listed on a general declaration must be in uniform.
Customs
Free Import when the origin of aircraft is within EU.
Although there are no specific limits on the amount of alcohol and tobacco each passenger/crew member can bring in from EU countries, customs officials are more likely to ask questions if anyone is in possession of more than:
Tobacco products:
800 cigarettes
400 cigarillos (max. 3g each)
200 cigars
1kg smoking tobacco
Alcoholic beverages:
10 liters of spirits over 22%
20 liters of alcoholic beverages less than 22%
90 liters of wine (though no more than 60 liters of sparkling wine)
110 liters of beer
These quantities can be seized if customs are satisfied that they are of a commercial nature. They must be convinced that all items were purchased for personal consumption only.
Medication – for personal use only. Providing documented evidence such as doctors note recommended
Personal items of non-commercial nature worth up to 430 euro when traveling by air or sea
Personal items of non-commercial nature worth up to 300 euro when traveling by land
Personal items of non-commercial nature worth up to 150 euro for travelers under 15 years of age
Non-commercial items are of an occasional nature and consist exclusively of goods for the personal or family use of the traveler, or of goods intended as presents. The nature and quantity of the goods must not be such as to indicate that they are being imported for commercial reasons
Prohibited items:
Narcotics, recreational drugs and any substances of this nature and/or category
Meat and milk and any items thereof from non-EU countries with the exception of limited amounts from Andorra, Croatia, the Faeroe Islands, Greenland, Iceland and small amounts of specific products from other countries
Protected species and products thereof as listed by the CITES (Washington Convention) for example ivory, tortoise shell, coral, reptile skin, wood from Amazonian forests.
Restricted:
Pets need to be identifiable (tattoo or an electronic identification system), vaccinated against rabies and have a health certificate. For more information please refer to the nearest embassy
Maximum of 10 kg of meat, milk and dairy products coming from Croatia, Faeroe Islands, Greenland and Iceland
Powdered milk for babies, food for children, and special medical food (including pets food) may be allowed if they do not need to be refrigerated prior to opening and that it is brand packaged food and the packaging has its original seal (unless in use at the time). Its quantity cannot exceed the weight of 10 kg originating from Croatia, Faeroe Islands, Greenland, and Iceland, and of 2kg if originating in other countries
Fish, only if it is disemboweled and does not exceed the weight of 20 kg
Currency – no restrictions if coming from an EU country. Declarable for all traveling outside the EU when the amount exceeds 10,000Euro or the equivalent in another currency
Coats, fur, and leather shoes made from protected animals will need special authorization
Accommodation
The PalExpo is the facility hosting the EBACE event. For more information, visit https://www.palexpo.ch/en/agenda/ebace2017
Hotels close to the PalExpo:
Genève Résidence Nations
Le Jour et la Nuit
Residence la Reserve Genève
Hotel Campanile Genève Aeroport PalExpo
AppartHôtel and Spa Ferney Genève
Residhome Genève Prévessin Le Carré d'Or
Hotels close to Geneva Airport:
Movenpick Hotel & Casino
Nash Airport Hotel
Crowne Plaza Genève Aeroport
Novotel Suites Genève Aeroport
Starling Hotel Genève Aeroport
Transport
Train
There are two train stations in Geneva, one in the city and one at the airport terminal. The PalExpo is a ten-minute walk from the airport terminal train station.
Bus
Buses are available from Geneva PalExpo to the city and the main train station downtown. The Number 5 bus links the PalExpo with the city center in 20 minutes and runs from early morning to late evening.
Taxi
Taxis can be pre-ordered, hailed on the street or found at any taxi rank. Fares between airport and city range from about CHF 30 to CHF 35 depending on the time, traffic conditions and the number of passengers.
If you need assistance with your next trip to Geneva, contact the UAS Ops team dxbops@uas.aero