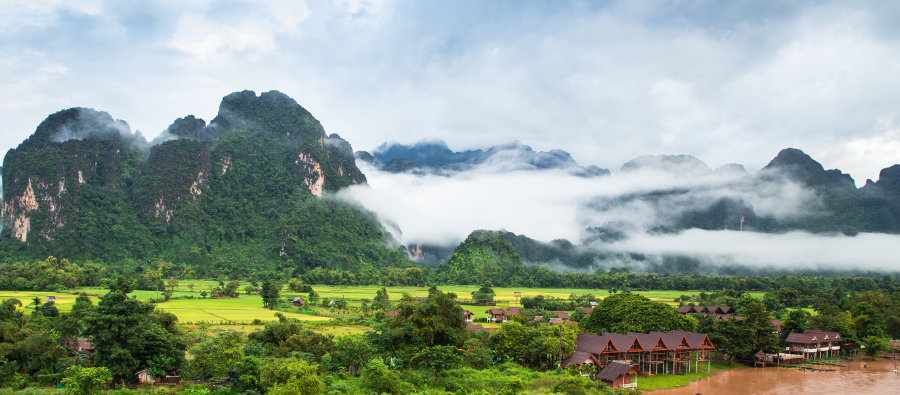 Blog
Flight Operations to Laos 
Go back to main page
Situated on the Mekong River, Laos is famous for its mountains, Buddhist monasteries, and French colonial architecture. Largely unspoiled with a mainly rural population, it is one of the few remaining countries where a truly authentic Asian experience can be enjoyed and is a popular Southeast Asian destination for backpackers and tourists.  
Here's what international operators need to know about flying to Laos.  
Entry airports
Vientiane Wattay International Airport  
The country's main gateway, located in the capital, Vientiane, Wattay International Airport is three kilometers from the city center. Wattay is well served by shuttle bus, taxi, rental cars, and tuk-tuks. 
ICAO: VLVT 

 

IATA: VTE

 

Longest Runway:

3000m / 9843ft (Paved)

 

Elevation 564 ft / 172 m

 

Coordinates:

17°59′18″N 102°33′48″E 

 

Fuel available: Jet 

 

Time zone: UTC +7 

 
Visit the official airport website here. 
Luang Prabang International Airport  
Located four kilometers from the center of Luang Prabang in northern Laos. Car rental, fixed-rate taxis and tuk-tuks are located outside arrivals.  
ICAO: VLLB

 

IATA: LPQ

 

Runway:

06/24 – 7,218 feet 2,200 m Asphalt

 

Elevation: 955 ft / 291 m 

 

Coordinates:

19°53'50″N 102°09'39″E

 

Fuel available: Jet

 
Visit the official airport website here. 
Other airports include: 
Paske International Airport (VLPS/PKZ)

 

Savannakhet International Airport (VLSK/ZVK)

 
Operational Information
Slots are required and include landing permits 

 

Lead times for permit approvals is generally three working days but can be expedited in urgent cases3 

 

ANS fees and any other charges are paid b

y the agents that request the permits

 

 
Immigration 
Laos offers visa exemption for visitors from certain countries (mostly is ASEAN member countries)

Visitors who required visa can do it online or on arrival at the airport with a maximum stay of 30 days

Passport validity of 180 days or more is required 

 

Some visitors from certain countries require an approved visa prior to enter Laos
Laos e-visas must be applied for online here and take an average of three working days provided applicants provide complete information.   
For the list of 160 countries eligible for Laos e-visas, click here. Other nationalities are required to apply for tourist visas on entry. 
Health requirements
There is no vaccination requirement to enter Laos

 
There is no longer a requirement to undergo COVID-19 pre-departure or arrival tests

 

There is no requirement to quarantine

 
 For support with your flight operations to Laos, contact UAS