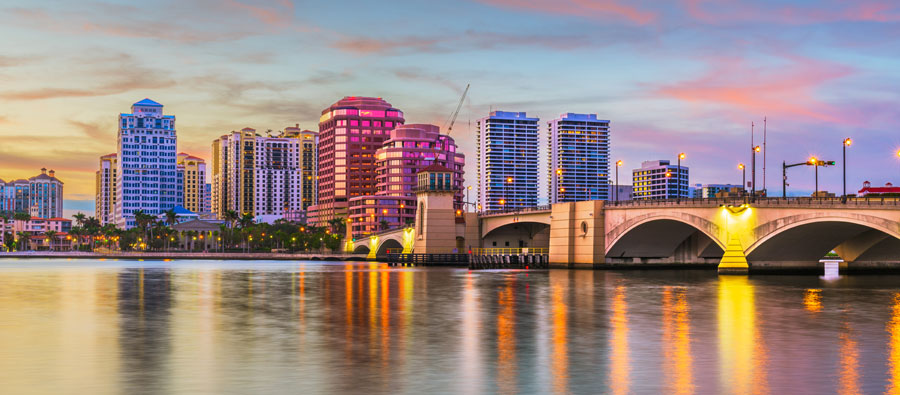 Blog
Flight Operations to Palm Beach
Go back to main page
Flight Operations to Palm Beach: A beloved playground for leisure-seekers with its stunning beaches and upmarket boutiques, Palm Beach and neighboring West Palm Beach have lots to offer visitors. Palm Beach is also set to host the upcoming NBAA Regional Forum later this month. Here's what operators should know…
West Palm Beach Regional Forum 
The NBAA 2020 West Palm Beach Regional Forum will happen on January 29 at Palm Beach International Airport, Florida.
Designed to unite current and prospective business aircraft owners, operators, manufacturers, personnel, and clients, this NBAA event will include exhibits, static displays of aircraft, and education sessions that focus on regional issues. For more information on this event, click here.
Palm Beach International Airport
ICAO code: KPBI
IATA code: PBI
Coordinates: N26-41.0/W080-05.7
Elevation: 20 ft.
Magnetic variation: 06W
Fuel types: Jet / Avgas
Time zone: GMT -5
Operational Information  
Overflight and landing permits (for both private and non-scheduled flights) are generally not required at this airport
There are no parking restrictions at this time
A TSA waiver may be required for private and non-scheduled flights
There are no significant NOTAMs
Accommodation
Embassy Suites by Hilton West Palm Beach Central
Hilton Palm Beach Airport
Holiday Inn Palm Beach Airport
Hampton Inn West Palm Beach Central
DoubleTree by Hilton West Palm Beach Airport
West Palm Beach Marriott
Transport
Palm Beach International Airport is located approximately three miles from Palm Beach
All major car rental companies are available at/near the airport
A free public shuttle bus service connects the arrivals terminal to the West Palm Beach bus and rail stations taking about 10 minutes each way
Attractions
There is so much to do in Palm Beach and West Palm Beach, whether you're looking for culture or entertainment.
For support with your flight operations to Palm Beach, Florida, contact UAS Americas