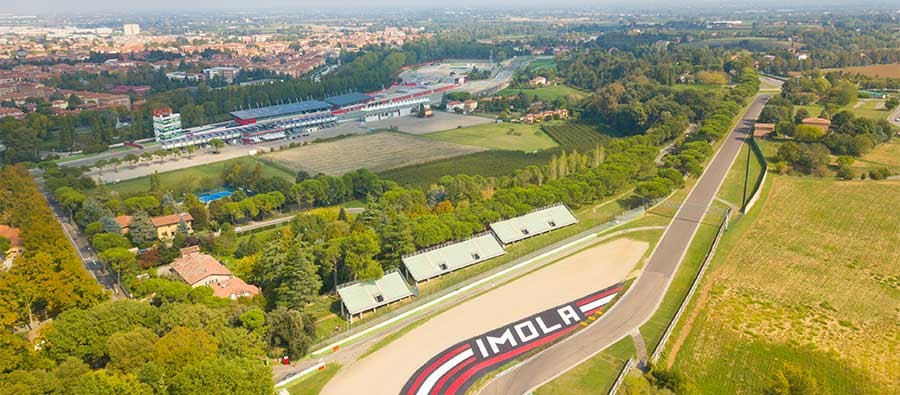 Blog
Flying to Emilia Romagna Grand Prix – Imola
Go back to main page
Imola returns as the second Formula 1 stop this season, kicking off on April 16 with the main event on Sunday, April 18. The venue is the Autodromo Enzo e Dino Ferrari, former home of the San Marino GP. Here's what international operators need to know about organizing flights to Imola.
The three closest airports are Forlì International Airport, Bologna Guglielmo Marconi Airport, and Federico Fellini International Airport in Rimini.
The current COVID-19 entry restrictions for Italy are due to lift on April 6.
Immigration and health screening
All crew can enter on the Gendec with a valid passport and crew ID
There are no health screening restrictions for crew
Passengers require a negative PCR result, self-declaration form, and a valid reason to travel
Non-EU passengers require Schengen visas if they are arriving on a non-Schengen flight
EU passengers don't require visas but must go through mandatory immigration if they don't arrive on a flight from a Schengen country
Airport options
Forlì International Airport (Luigi Ridolfi Airport)
IATA: FRL/LIPK               
Coordinates: N44-11.7 / E012-04.2
Elevation: 98 Ft / 30 M              
Magnetic variation: 02E
Fuel: no fuel available
Bologna Guglielmo Marconi Airport
IATA: BLQ/LIPE
Coordinates: N44-31.9 / E011-17.8
Elevation: 123 Ft / 37 M             
Magnetic variation: 03E
Fuel: Jet A-1 / Avgas       
Federico Fellini International Airport (formerly Rimini Miramare Airport)
IATA: RMI/ LIPR
Coordinates: N44-01.2 / E012-36.6
Elevation: 41 Ft / 12 M
Magnetic variation: 02E
Fuel: Jet A-1     
Operational information   
Private flights don't require overflight permits or landing permits
Non-scheduled flights require both overflight permits and landing permits
LIPR is operational from 8.00 LT – 20.00 LT with extensions on request
LIPE is operational from 7.00 LT – 22.00 LT (extensions not possible)
LIPK is operational from Monday-Friday 09.00-17.00 (08.00-16.00) UTC
Parking restrictions depend on the aircraft type and the schedule requested
Based on airport availability, UAS can support fuel requirements
Accommodation and ground transport can be organized through UAS
NOTAMS
B1703/21 NOTAMN
Q) LIMM/QFAAH/IV/NBO/A/000/999/4411N01204E005
A) LIPK B) 2103300800 C) 2105311800
E) SECURITY, HANDLING, CUSTOMS AND IMMIGRATION OPR HR ARE NOW:
MAR 30 0800-2000 AND 31 0600-2000
APR 01-08 0430-2030 AND APR 09-MAY 31 0600-1800
REF AIP AD2 LIPK 1-1
B1584/21 NOTAMR B1292/21
Q) LIMM/QFFCG/IV/NBO/A/000/999/4411N01204E005
A) LIPK B) 2103230949 C) 2103301745EST
E) AERODROME CATEGORY FOR FIRE FIGHTING DOWNGRADED TO CAT 4 ICAO.
REF AIP AD2 LIPK 1-2
A1273/21 NOTAMR A6655/20
Q) LIMM/QSTXX/IV/NBO/A/000/999/4431N01117E005
A) LIPE B) 2103010921 C) 2105292000EST
E) MAR 01-27 0600-2100, MAR 28-MAY 29 0500-2000
AERODROME CONTROL SERVICE. CALL SIGN ""BOLOGNA GND"" ASSURED ON TWR
FREQ 120.800MHZ DUE TO UNAVAILABILITY OF FREQ 121.925MHZ.
REF AIP AD2 LIPE 1-9
B1726/21 NOTAMN
Q) LIMM/QFAXX/IV/NBO/A/000/999/4401N01236E005
A) LIPR B) 2103271800 C) 2105310600EST
E) DAILY 1800-0600
LDG AND TKOF FORBIDDEN EXCEPT AUTHORIZED SCHEDULED FLT DUE TO
CLOSURE OF RWY 13/31. TFC MAY BE AUTHORIZED UPON REQUEST TO BE
SUBMITTED TO OPS(AT)RIMINIAIRPORT.COM AS FLW:
– HUMANITARIAN, STATE, AMBULANCE FLT 2HR IN ADVANCE.
– ALL OTHER TFC 24HR IN ADVANCE.
REF AIP AD 2 LIPR 1-1
For more information on the Emilia Romagna Grand Prix, click here. 
For support with your flight operations to Imola, contact UAS