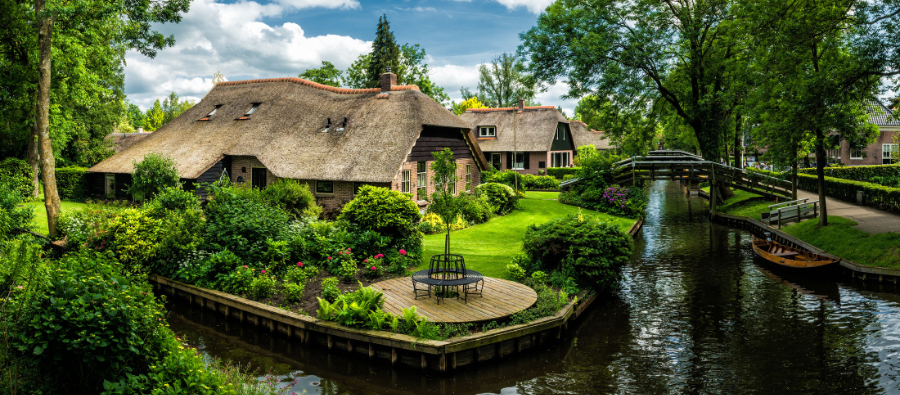 Blog
Hidden Gems: Giethoorn
Go back to main page
Hidden Gems: Giethoorn – With its traditional thatched cottages, winding waterways, and picturesque landscape, Giethoorn is a welcome addition our Hidden Gems destination list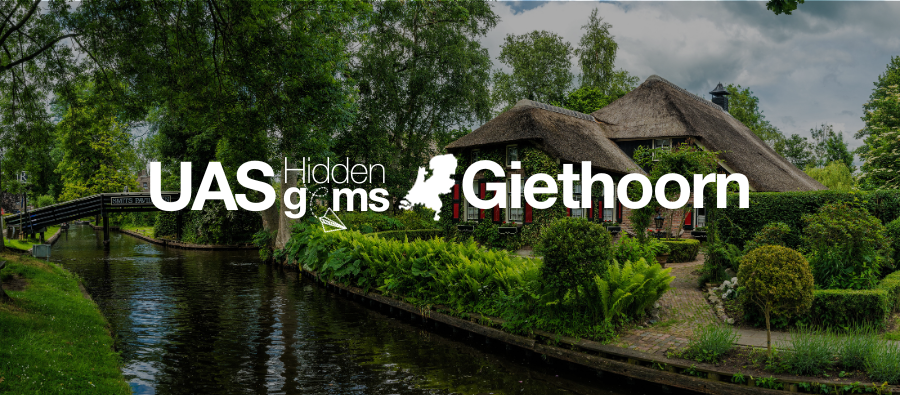 Carpeted in immaculate green lawns, flowers in a symphony of beautiful colours, and weeping willows grazing the surface of the still waters, Giethoorn is a tradition Dutch village famous for its idyllic scenery and serene atmosphere. It is a collection of small peat islands with centuries-old traditional thatched cottages and farmhouses connected by a maze of footbridges. Approximately 90 minutes northeast of Amsterdam by car, the village dates back to the 13th century. With no roads or cars, visitors can choose to journey around the old village of Giethoorn on foot, bike, or boat.   
With its maze of tranquil canals crisscrossed by more than 150 footbridges, Giethoorn is commonly referred to as 'the Venice of the Netherlands' 

The location 
It is in the municipality of Steenwijkerland, about 5 km (3.1 miles) southwest of Steenwijk in the province of Overijssel in the eastern Netherlands.  
The people 
Giethoorn recorded a population of 2,795 in 2020. Its residents are friendly and welcoming to visitors.  
The climate  
Being surrounded by water, Giethoorn has a maritime climate. Winter temperatures average around three degrees, summer temperatures around 16-22 degrees. Giethoorn is worth a visit anytime of the year.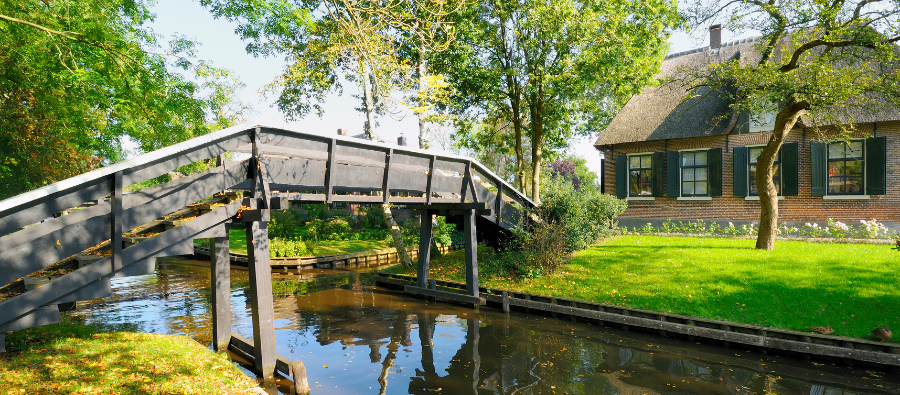 Tourism   
Giethoorn is a popular Dutch tourist destination both within Netherlands and abroad. Much of Giethoorn's original charm as a tourist retreat came from quiet and tranquil it was. However, its popularity as a destination has been steadily on the rise with a reported one million visitors descending on the village annually.  
Best time to visit Giethoorn 
The high season for visitors to Giethoorn is from April to October. Although a visit in the Springtime will allow you to appreciate the colorful flowers and greening trees, all seasons in Giethoorn have their own charm. 
What makes Giethoorn unique 
The experience of visiting Giethoorn is like travelling back in time to a tranquil and dreamy fairytale land.  
Flying private to Giethoorn  
Chartering a jet to visit Giethoorn will ensure you enjoy the luxury of setting your own schedule and can customize your trip to suit to incorporate other tourist experiences in the Netherlands.  
Entry airports 
Groningen Airport 
IATA: GRQ

 

ICAO: EHGG

 

Open: Mon-Fri 06:30-2300 L, weekends 07:30-21:30 L

 
An international airport in the northeastern Netherlands, Groningen Airport is 54.3 km from Giethoorn.  
Operational Information 
Landing permits are only required for military flights

 

Jet A1 fuel is available

 

Parking is available but no hangars

 

Full GSE available

 
Amsterdam Schiphol Airport
ICAO: EHAM

 

IATA: AMS

 

Elevation: -11 FT / -3 M

 

Coordinates: N52-18.5 / E004-45.9

 

Open: 24hours

 

Fire Cat: 10

 
Operational Information 
For non-revenue and non-commercial flights, TCO authorization is not required. However, if the aircraft has an MTOW of more than 45 tons, an entry permit is required

 

Lead time for permit approval is at least three working days

 

JETA1 fuel is available

 

General aviation arrivals are allowed between 0720L and 2240L / GA departures are allowed between 0700L and 2235L

 

Parking is available but note that airport slots are always confirmed by slot coordination 

 

VIP lounge and all GSE equipment is available 

 

No night flights are allowed with exceptions for Military, Governmental, Sport or performance artist related

 

The following documents are required:  

 
copy of Air Operators Certificate (AOC)

copy of airworthiness and registration certificates

copy of insurance certificate in compliance with EC Regulation No. 785/2004

copy of noise certificate

designation from the Civil Aviation Department of the operator to perform

passenger/cargo flights, on the requested routes (scheduled flights only)

statement, by the government, that the aircraft complies with the

requirements about FM immune radio and nav equipment as specified in ICAO Annex 10, Volume I, Section 3.1.4, 3.3.8 and Volume II, Part II, Section

 

2.3.3

 

statement about the carriage of Enhanced Ground Proximity Warning System

(EGPWS) or equivalent on board the aircraft, as required by ICAO Annex 6,

 

Part I, 6.15.

 

statement concerning the use of RVSM equipment

statement that the aircraft is equipped with ACAS II version 7.1

copy of Operations Specifications with the authorization for P-RNAV/RNAV-1

operations in compliance with our AIC 11-02. (EHAM only)

 

Commercial flights 
Commercial flights land at Amsterdam Schiphol Airport from all over the world. The distance to Giethoorn is 101 km, a train journey of under three hours.  
Immigration 
Visa requirements for the Netherlands can be found by clicking here. 
Health screening   
There are no PCR results or vaccination documents required to enter the Netherlands. 
Visitor tips  
Try to be mindful of the privacy of Giethoorn residents and their properties, especially when taking photos 

 

Visitor numbers reach an absolute peak during July and August as well as public holidays and Sundays, so if you want to peacefully ramble around Giethoorn, it's best to go on a weekday in April, May, June, or September 

For more information, visit the official tourist website here
 To create your ultimate Giethoorn travel experience, contact UAS Charter or UAS Executive Travel 
For more Hidden Gems, visit the UAS Blog