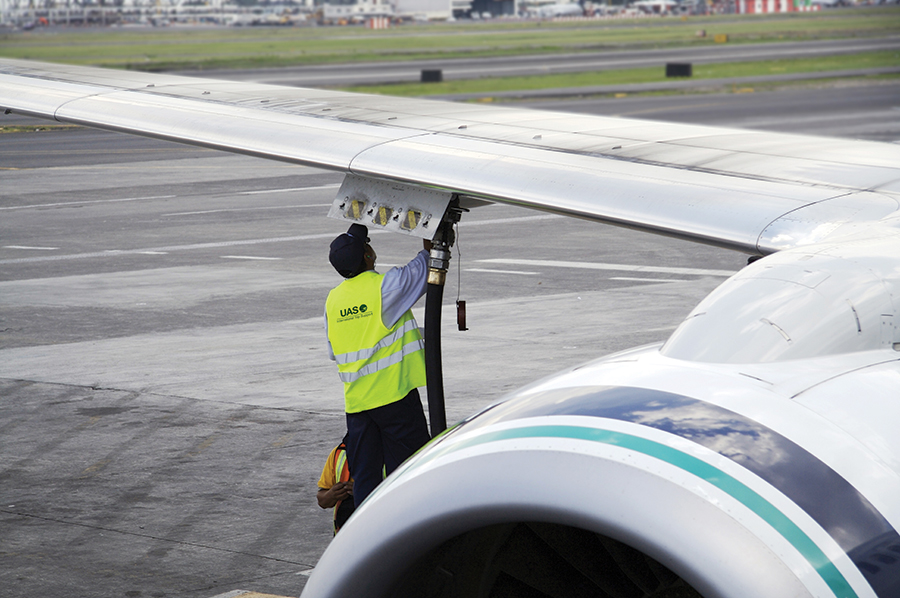 Blog
International Fuel Pricing Distribution
Go back to main page
UAS International Trip Support recently began electronically distributing our international fuel prices directly to thousands of flight departments throughout the Americas. At first blush, this news may sound monotonous, even undeserving of a mention in this blog. However, it is intriguing, and here's why.
In regards to you, our client, we have already been passing the savings we've ascertained from our competitive position in the fuel marketplace on to you for more than 15 years. One of the truths we are taking to Flight Departments throughout the Americas is how UAS eliminates intermediary parties, which results in lower costs to the end user. The most effective way to do that from a mass distribution perspective is through fuel management and trip scheduling programs available on your computer, tablet or smartphone.
The America's client base has been asking us to provide our competitive international fuel prices online for quite some time now. The challenge was in setting up a data distribution network capable of effectively reaching 95 percent of the fuel management and trip scheduling programs in North, Central, and South America. The platforms in which we now distribute the weekly fuel data is either online, stationary (requiring a weekly upload by the end user), or some combination of both.
Your fuel pricing may have been converted by UAS from a photo of a handwritten price, word document, e-mail table, e-mail picture, excel file, or the industry-preferred method of a .csv file. It is no small task preparing our pricing for you every week. Through the collection and accuracy phase, to programming and distribution, many different global departments within UAS all come together to create the select worldwide international .csv files each week.
Stationary scheduling platforms which are not connected live to the internet for vendor updates necessitate a weekly upload of the .csv file. In recent months, you may have started seeing weekly e-mails with our international .csv fuel files. Those weekly e-mails contain the link to the fuel pricing for your flight department when using a stationary scheduling platform. If you are not receiving the weekly e-mail, please send a request to houfuel@uas.aero and provide your name, company and email address. We will be pleased to welcome you on board.
Online fuel management and scheduling platforms only require a one-time activation of UAS within your vendor preferences. If you are using the industry-leading fuel management platform, FuelerLinx, a one-time e-mail request to support@fuelerlinx.com asking for UAS to be displayed within your pricing suite is all that is required. After that, your UAS pricing is always available online to your laptop, tablet, or smartphone, 24/7.
Many have asked where has UAS been in the fueling market, and why do this now – quite valid and understandable questions. Since our inception more than 15 years ago, we have always offered discounted fuel options to flight departments. Commercial, military, cargo, air ambulance, governments, corporate, and charter operators around the world depend upon UAS for guaranteed fuel availability with competitive pricing. A necessary requirement of international trip support is being able to provide fuel in support of any type of aviation mission. We would not be the industry leader within the international trip support community if we had not been providing fuel and in some exceptionally hard to reach global locations too.
Because UAS' core business is providing award-winning international trip support, our business model, unlike some of the competition, does not require reliance upon maximizing or creating confusing fuel margins to stay afloat. In other words, fuel resellers need the highest yielding margins possible to stay in business, whereas UAS does not force our clients to pay more and that is where the savings of our fuel program is passed along to you.
Since we started widely distributing our fuel pricing for select international locations to scheduling and fuel management platforms throughout the Americas, many of you may be seeing UAS in your scheduling or fuel management systems for the first time ever. Do not be alarmed, although our competition is. Healthy and ethical competition is good for any marketplace.
Serving thousands of flight departments worldwide, we understand the importance of your flight department's annual fuel budget. Advertising our fuel prices to our clients throughout the Americas is just another way UAS is your local partner with global reach.