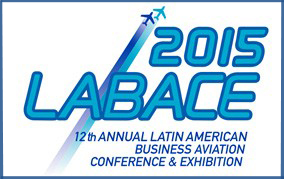 Go back to main page
LABACE 2015 – the annual Latin American Business Aviation Conference and Exhibition – is getting underway on August 11 at Congonhas Airport in São Paulo, Brazil. Running until August 13, the three-day event is organized by the Brazilian Association for General Aviation (ABAG). Now in its 12th year and universally recognized as the largest business aviation gathering in South America, it's set to attract major regional and international companies, manufacturers and operators.
Airport
São Paulo/Congonhas Airport
IATA: CGH, ICAO: SBSP
This is one of three commercial airports serving São Paulo.
Operations hours for LABACE at SBSP airport and restrictions and other nearby airports
LABACE – August 11th and 12th from 12 to 8pm and August 13th from 12 to 7pm
Airport – daily from 6am to 11pm (local time)
There are no restrictions documented
Nearby airports are SBGR / SBKP
Operations
Slots can be allocation 120 hours in advance of travel
Prior permission is not required
Parking
Parking is not required unless an Operator is bringing the aircraft into the show itself as a 'static display.' Other than that A/C parking can be accommodated at the other nearby airports (SBGR/SBKP) and crew transport can be facilitated.
Customs
SBSP is not an International Airport or an AOE so there is no customs/immigration.
Immigration must be conducted at SBEG, this airport is the largest airport to clear at.
SBCF – Belo Horizonte is also recommended as an airport to conduct customs, immigration and clearance at. It is an AOE that operates on a 24 hour basis.
Local Currency
Brazil's national currency is the Brazilian real -R$ / BRL.
Transportation
Taxis and bus transportation are also available at Conghonas airport.
UAs' handling agent, LIDER, can offer the transportation during LABACE show.
Transportation available are:
Executive Van with bilingual driver
Executive Sedan with bilingual driver
Executive Mini Van with bilingual driver
Accommodation
Hotels (average of 2km from the airport)
Blue Tree Premium Congonhas Airport
Transamerica Executive Congonhas
Slaviero Slim Congonhas
Bourbon Convention Ibirapuera