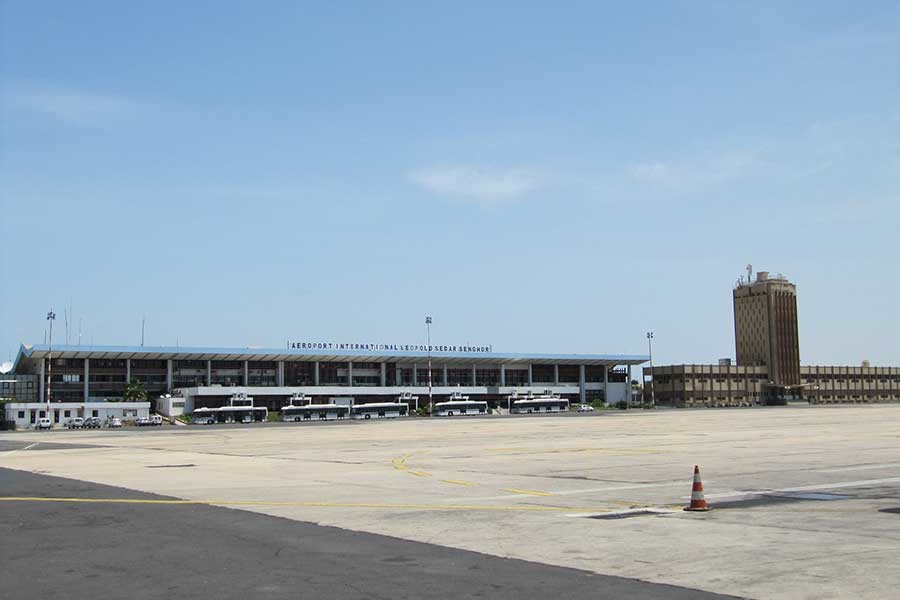 Blog
Léopold Sédar Senghor International Airport GOOY
Go back to main page
Léopold Sédar Senghor International Airport 
| | | | | |
| --- | --- | --- | --- | --- |
| City: | Dakar | | Country: | Senegal |
| ICAO: | GOOY | | IATA: | DKR |
| Traffic pattern altitude: | 1085 feet (331 m) | | Latitude/longitude: | 14-44-29 N (14.739700) & 17-28-43 W (-17.490200) |
| Elevation: | 26 meters | | Mar Var: | 7.6 W |
| Time zone: | GMT | | AOE: | Yes |
| Fuel types: | Jet-A1 | | Airport type: | International |
| PPR: | Not applicable | | Runway type: | Asphalt |
| Runways: | Two | | Runway lengths: | 3051m and 1500m |
| Airport slots: | Not applicable | | ATC hours: | 24 hours |
| Tower frequency: | 118.1 | | FBO:   | None available |
Languages: French and English
Beacon color: White-white-green
Lead time for permit approval: 48 hours
Landing permits: Must be obtained from the CAA before landing at Léopold Sédar
Catering: Provided by Servair
Equipment availability: GPU, APU, ASU, forklift, and stairs
CCTV and Security guards: Available
Hangars: There are no hangars available for public use
Alternative airports:
GOOY is the only AoE in Senegal
Alternative airports outside Senegal include GBYD and GGOV
Customs operating hours: 24 hours
Immigration
Citizens of 125 countries can visit Senegal without a visa for up to 90 days. To find out what countries are included, visit cic.gc.ca/english/information/
Tanzanian nationals can obtain a visa on arrival provided they hold a valid official invitation and an onward ticket.
Documentation required: A passport with six months' validity
Airport details
Yoff, Dakar, Senegal
Tel: +221 33 820 83 03
Website: aeroportdakar.com
Important Numbers
Airport authority: +221338656020
CAA: +221338656000
Security brief
It is highly advisable to check with your flight or trip support advisor before travel.
Ground transport
Car rental is available from Hertz and Senecartours
Airport bus is available
Accommodation
Radison Blu Hotel
Novotel Dakar
Onomo Hotel
King Fahd Palace Hotel
Terrou-Bi Hotel
Note: This list is for informational purposes only and based on proximity. UAS does not promote any specific establishments.  
Tourists attractions
Lake Retba
Grand Mosque of Dakar
IFAN Museum of African Arts
Gorée Island
African Renaissance Monument
Parc Han Mariste
Weather
Dakar has a hot, semi-arid climate. It gets lots of sunshine and little rainfall – the rain generally occurs in April, May, and September. The dry periods occur in January, February, July, and August.