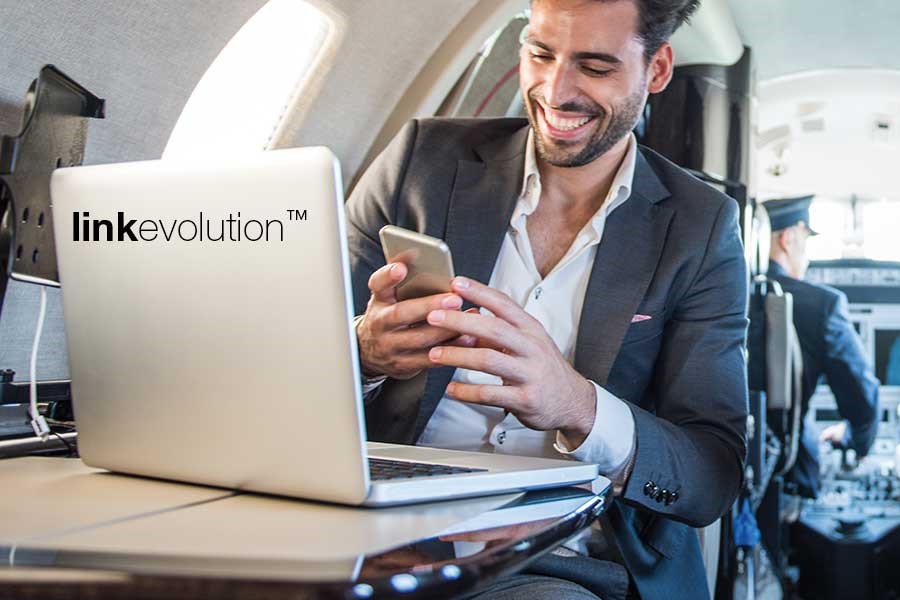 Blog
Communications Technology UAS LinkEvolution Launches at EBACE
Go back to main page
Communications Technology UAS LinkEvolution Launches at EBACE: The second tool from the UAS Evolution™ technology suite has just launched at EBACE. UAS LinkEvolution™ provides seamless global connectivity to the cockpit and the cabin using powerful datalink satcom networks so passengers and crew always remain connected, wherever they are.
Additionally, UAS is delighted to announce enhanced features of its revolutionary flight planning and weather tool, UAS FlightEvolution™, that launched last year.
UAS clients can also benefit from the powerful trip management system UAS TMSevolution™ that gives real-time access to mission-critical information about solution requests with UAS free of charge.
UAS Evolution is a ground-breaking suite of online and mobile technology designed specifically for business aviation providing the most customized and responsive solutions to clients' unique requirements, no matter how complex.
UAS Link Evolution 
With the speed aviation is moving at today, you need reliable connectivity that anticipates your every need. You need direct access to the newest technologies, applications and compression techniques on the market. You also need a partner who delivers the best solutions and the newest and most impressive technologies.
UAS International Trip Support is proud to introduce UAS LinkEvolution, a forward-looking datalink solution that delivers everything from traditional ACARS via VHF datalink and mobile satellite communications to the latest I-5 capabilities over Ka band.
UAS LinkEvolution provides seamless global connectivity to the cockpit and the cabin using powerful datalink satcom networks. Also, our solution provides value-added services at a price point you can't find anywhere else. In addition to unrivaled connectivity, you will increase your flight safety capabilities and operational efficiency. You can also stay abreast of datalink regulations and in compliance regardless of where you operate with the evolving technology built into UAS LinkEvolution. Our technology partner, Honeywell, has a proven track record in the datalink-satcom space and its committed to ensuring our services are world-class and set the industry standard for decades to come.
UAS LinkEvolution will change the way you communicate throughout your missions. It is the second tool to launch from UAS|evolution –  our most ambitious collection of technology platforms; a suite of self-service trip, flight, and fuel planning tools.
Flight Deck Solutions
Worldwide coverage for datalink
Compatible with most avionics
Unlimited data regardless of network
VHF analog and digital datalink, HF analog and satcom communications
No hidden charges for satcom
Cabin Communications Solutions
Worldwide coverage for voice communications and facsimile
Internet through Inmarsat network
Satcom speeds between 432 Kbps and 1.2 Mbps
Benefits
Single-vendor solution for entire fleet
Amazing 24/7 technical support, powered by Honeywell
Well suited for ATN only avionics
!-5 capabilities over Ka band for optimized frequency speeds and efficiencies
Competitively priced service
Visit UAS booth E88 at EBACE this week for demos of these powerful, game-changing tools or visit https://www.uas.aero/evolution