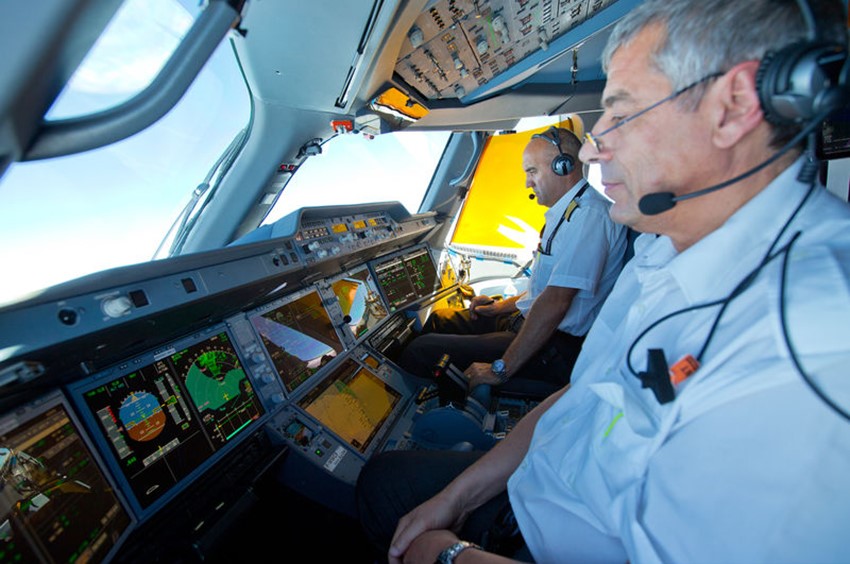 Blog
ADS-B Deadline Hits U.S. Operators
Go back to main page
ADS-B Deadline Hits U.S. Operators: Automatic Dependent Surveillance Broadcast (ADS-B) Out is the pending U.S. Federal Aviation Administration (FAA) mandate that takes effect January 1, 2020, for controlled aviation operations. This is part of the U.S. Next Generation Air Transportation System's (NextGen's) surveillance initiative and governs in-flight broadcasts.
The countdown has begun for ADS-B Out to go into effect, and everyone is beginning to ask the right questions and look at this seriously, as it will impact the clear majority of U.S. business aviators. U.S. operators are finding out that compliance will require more than flipping a switch in the cockpit. Equipment upgrades and even replacements will be in order. The equipment will be mandatory for all aircraft operating in airspace requiring a Mode C transponder. ADS-B Out will transmit information related to altitude, airspeed, and location determined by the Global Positioning System (GPS), from the aircraft to ground stations and other aircraft in the vicinity.
Luckily, some international aviators who operate in Australia, Hong Kong, Singapore, Taiwan, and Vietnam have already installed the required ADS-B Out equipment and may not need to adjust anything. Also, some operators are proactively installing the equipment to get out ahead of the pending June 2020 mandate for ADS-B Out for European operations.
Still, there may be last-minute adjustments needed if the ADS-B-compliant equipment was installed early on or falls short of full compliance with the Part 91.225 requirements for any reason. Have no doubt: though this is labelled Part 91, it will also apply to Part 121, 125, and 135 operators, among others.
The January 1, 2020, deadline will be strictly enforced without exceptions, according to the FAA. If you haven't begun considering the ADS-B solutions on the market that are good fits for your operations, you should begin doing so immediately. The overwhelming majority of business aircraft have viable ADS-B solutions readily available from the respective OEMs.
Another point to remember is there are roughly 150 repair stations in the U.S. that are equipped to install the new equipment for business aircraft and turboprops. It is imperative that you allow ample time to comply before the deadline. This also includes the requisite testing period post-installation on your new ADS-B system. You may be limited too by which service centers are contracted by the OEM of your aircraft make, meaning out of nearly 150 stations, you may be limited to a couple of dozen to choose from for service.
In general, you should allow up to two weeks per aircraft. Should you encounter issues with the system after installation, you may need to contact that FAA in order to identify the problem and fully work through it properly. When selecting a service center for the installation, make sure it has all the proper ADS-B equipment to do the job correctly. It's worth paying a little extra up front if it saves you frustration and added expenses in the end.
Good news: The FAA launched an ADS-B rebate reservation system in September 2016 for fixed-wing, single engine, piston-powered aircraft. This allows you to apply for a $500 USD rebate toward the installation costs for your ADS-B Out equipment. You'll need to complete the rebate form found on the FAA website, but you'll have to do your homework first.
The form requires you to know the make and model of the ADS-B equipment you plan to use, and you must have an installation date scheduled in advance of submitting the form. Additionally, make sure your aircraft registration is current because the FAA will check the information on your form against the FAA Civil Aircraft Registry (i.e., the rebates will only apply to U.S. registered aircraft). Discrepancies will cause unwanted delays. Plus, you will need to hold off on the actual installation until you receive confirmation that the rebate has been made available to you.
In our next blog on ADS-B, we'll look at the benefits of implementing ADS-B In (receiving) in conjunction with your ADS-B Out (transmitting) installation.
Be sure to frequent UAS Blog for updates on this topic and daily, worldwide operations as well.