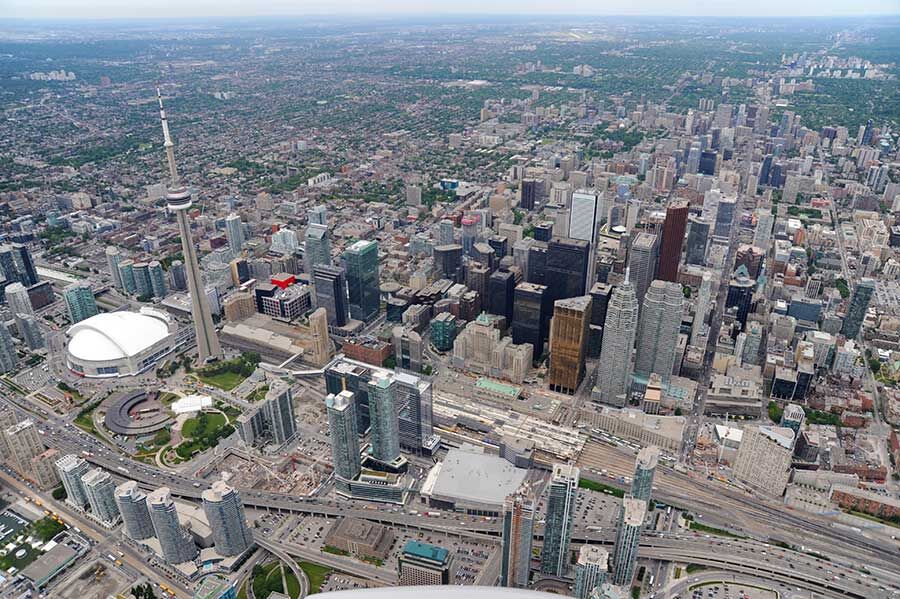 Blog
Toronto Pearson another mega hub in North America?
Go back to main page
Toronto Pearson another mega hub in North America?: An ever-increasing demand for regionalized air travel and more international routes usher in the need for more mega hubs. Toronto Pearson International Airport (CYYZ/YYZ) is poised to become just that, and airport planners have requested government support and funding.
In our last blog about Southern Ontario, we discussed the need for a comprehensive, regional approach to addressing the ever-growing air travel demands for this densely populated and industrialized region of Canada. Now, the latest discussions from the Greater Toronto Airports Authority (GTAA) center around transforming Toronto Pearson into a mega hub by 2035.
A simplistic definition for "mega hub" is an airport that offers many available connections – both domestically and internationally. Further qualifiers include handling at least 50 million passengers annually, 20 million of which travel to or from international destinations. Of the world's current 100 largest airports, half are considered mega hubs.
The criteria for determining rank at these airports is the number of possible connections for inbound and outbound flights within a six-hour window. Using this metric, the largest 100 airports are assigned a connectivity score. Chicago O'Hare International Airport (KORD/ORD) is presently ranked number one in the world. Looking at share by region for the top 50 mega hubs, North America accounts for 46 percent; Asia Pacific for 32 percent; Europe 12 percent; Latin America 8 percent; and the Middle East and Africa 2 percent. This is according to OAG, an air travel intelligence company that provided the ranking for the world's mega hubs in 2016.
Projections indicate that the 41 million passengers served by Toronto Pearson in 2015 will likely swell to 80 million by 2020. But there are some critical milestones that must be met to make mega-hub status a reality for this airport. First and foremost, Toronto Pearson needs to become a multi-modal hub, meaning the methods of transit to and from the airport itself must be enhanced if not completely overhauled. The roadways leading to the airport are badly congested; improvements are needed. A rapid rail system would help, and a network of airport buses should help unclog the roadways. Plans of this magnitude, however, would require a major financial investment from the federal level.
Additionally, Toronto Pearson must dramatically improve and streamline internal processes so that backlogs can be eliminated at security screening and customs and immigration checkpoints. This is paramount if the airport plans to serve the tens of million more passengers in the coming years while continuing to provide an excellent passenger experience. There are numerous examples of airports around the world that have successfully balanced dramatic increases in passenger volume while maintaining good quality service – Hong Kong, Frankfurt and Singapore, to name a few.
And lastly, the remaining milestone would be improving the ease of using Toronto Pearson for international travelers. This involves relaxing regulations and policies that govern how international passengers can enter the country and use Canadian airports for pass-through to other international destinations. Some suggestions include reviewing the visa and electronic travel authorization process and see how they can be amended to incentivize passengers to use the airport. Naturally, this will require tremendous support from the government in Ottawa – a great deal of political clout and a long-term commitment. But as GTAA is quick to point out, the rewards from all of this are well worth the effort.
GTAA contends that for Ontario to stay competitive with other global city-regions and maintain access to global markets, Toronto Pearson must take this next step. Moreover, it's required to ensure that Canada retains access to international markets.
For future updates on this and other stories, visit UAS Blog often.