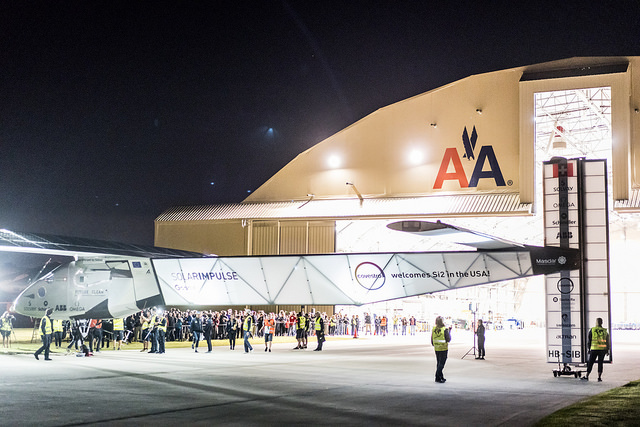 Blog
The Solar Impulse 2 Crosses North America
Go back to main page
© Solar Impulse 
On May 12, the Solar Impulse 2 (Si2) took off from Phoenix Goodyear Airport (KGYR/GYR) in Arizona for Tulsa International Airport (KTUL/TUL) in Oklahoma. This was the eleventh leg of the round-the-world flight for the solar-powered aircraft and its crew. Swiss aviator, Bertrand Piccard touched down at 23:00 local time in Tulsa after a 17-hour, 50-minute flight – roughly one hour past the estimated time of arrival.
The trickiest part of the trek from Phoenix to Tulsa was overflying the Rocky Mountains east of Albuquerque, New Mexico. Piccard needed the winds to cooperate at their fullest in order to pull off this leg safely. The plan was straightforward: to ascend roughly 24,000 feet (7,300 meters) during the early morning hours before cloud build-up posed serious problems and to ride across the tops of the clouds.
Now, the push is on to get to New York City as soon as possible, according to a statement released by the Si2 team the day before leaving Phoenix. With bad weather expected in Tulsa, however, the crew anticipated the layover after arrival.
On May 21, the aircraft set out on the twelfth leg – an estimated 17-18 hours to traverse the 692 miles (1,110 km) from Tulsa to Dayton, Ohio – the birthplace of aviation legends, Orville and Wilbur Wright. With Swiss businessman and pilot Andre Borschberg at the controls, the flight path followed a carefully charted, good-weather route provided by the flight team at Monaco Mission Control Center. The single-seat aircraft touched down at Dayton International Airport (KDAY/DAY) after 16 hours and 34 minutes of constant flying.
The speculation is that the team may make one more stopover in Pennsylvania before heading to New York City. From there, it will fly eastward across the Atlantic Ocean toward its final destination in Abu Dhabi, the capital of the United Arab Emirates, where the journey began in March 2015.
Te UAS Blog will have latest developments on this flight. For more information see www.solarimpulse.com