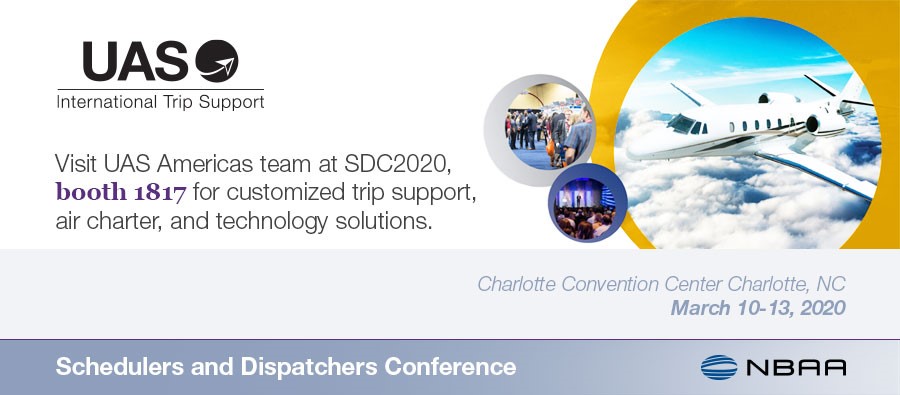 Blog
2020 Schedulers & Dispatchers Conference SDC2020
Go back to main page
2020 Schedulers & Dispatchers Conference SDC2020: Resilience in the face of challenges… just one of the topics of interest being covered at SDC2020. Taking place from March 10-13 at the Charlotte Convention Center, Charlotte, North Carolina, the event will see almost 3,000 delegates from all over the world gather to share the most up-to-date operational information, network with new vendors and suppliers, and discuss the challenges currently facing the industry.
SDC2020 will feature over 500 exhibitors (be sure to visit UAS booth 1817!) as well as courses and educational sessions. For more information on this NBAA event, click here.
There are three gateways to Charlotte: Charlotte Douglas International, Charlotte-Monroe Executive, and Concord-Padgett Regional Airports. There are also plenty of accommodation and ground transport options available.
Charlotte Douglas International Airport
ICAO: KCLT
IATA: CLT
Coordinates: n35-12.8/w080-56.9
Elevation: 748 ft.
Magnetic variation: 07w
Opening hours: 24/7
Location: 4kms outside the city center
Operational information
TSA waiver may be required for landing rights
FBO facilities are available
Slots are not required
CIQ comes with landing rights
Jet A1 and Avgas are available
There are no significant NOTAMs at this time
Ground transport
All major rental car companies operate from this airport
Bus and taxi services are available
Chauffeur service can be arranged through UAS or your local handler
Accommodation 
Hotels close to the airport:
Sheraton Charlotte Airport
Holiday Inn Express & Suites Charlotte Airport
Holiday Inn Charlotte Airport & Conference Center
Hampton Inn & Suites Charlotte Airport
Hilton Garden Inn Charlotte Airport
Doubletree by Hilton Charlotte Airport
Hotels downtown:
The Westin Charlotte
Residence Inn by Marriott Charlotte Uptown
Hilton Charlotte City Center
Omni Charlotte Hotel
Embassy Suites by Charlotte Uptown
The Ritz-Carlton Charlotte
Charlotte Marriott City Center
Concord-Padgett Regional Airport
ICAO: KJQF 
IATA: JQF 
Coordinates: n35-23.3/w080-42.5
Elevation: 704 ft.
Magnetic variation: 06w
Opening hours: 0700-2300l
Location: Concord, approximately 15 miles outside Charlotte
Operational information
TSA waiver may be required for landing rights
Slots are not required
Jet A1 and Avgas are available
There are no significant NOTAMs at this time
Ground transport
Avis, Enterprise, Hertz operate from this airport
Taxi services are available
Chauffeur service can be arranged through UAS or your local handler
Accommodation
Hilton Garden Inn Charlotte/Concord
Hampton Inn & Suites Concord/Charlotte
Springhill Suites by Marriott Charlotte/Concord
Residence Inn by Marriott Charlotte/Concord
Embassy Suites by Hilton Charlotte/Concord
Courtyard by Marriott Charlotte Concord
Charlotte-Monroe Executive Airport
ICAO: KEQY
IATA: EQY
Coordinates: n35-01.0/w080-37.3
Elevation: 683 ft.
Magnetic variation: 06w
Opening hours: 24/7
Location: Monroe, approximately 21 miles outside Charlotte
Operational information
TSA waiver may be required for landing rights
Slots are not required
Jet A1 and Avgas are available
There are no significant NOTAMs at this time
Ground transport
Avis, Enterprise, Hertz operate from this airport
Taxi services are available
Chauffeur service can be arranged through UAS or your local handler
Accommodation
Hampton Inn Charlotte/Monroe
Holiday Inn Express & Suites Monroe
Best Western Inn & Suites Monroe
For support with your flight operations to 2020 Schedulers & Dispatchers Conference SDC2020, contact UAS Americas