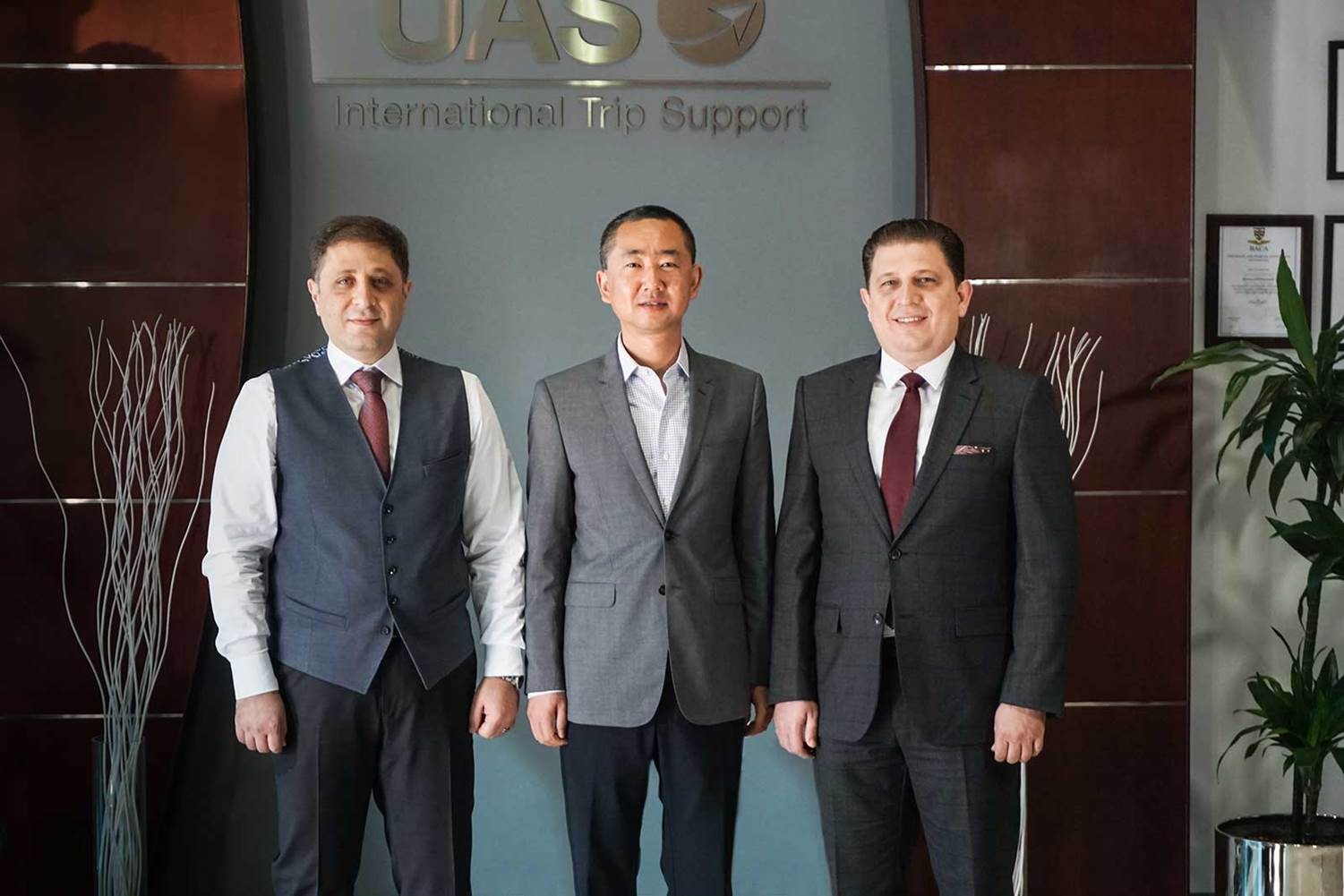 Blog
Deer Jet and UAS Conclude Share Acquisition Agreement
Go back to main page
Global leading business aviation company Deer Jet has concluded the acquisition of major shares of UAS International Trip Support (UAS). Deer Jet has become the major shareholder of the global flight support solutions provider.
The agreement was completed ahead of MEBAA Show 2016 on Sunday, December 4 by UAS' existing shareholders and Deer Jet Chairman and President Zhang Peng. UAS Group executive management continues under the leadership of both Co-Owners/Founders Mr. Mohammed Husary as Executive President alongside Mr. Omar Hosari as Chief Executive Officer.
First announced at NBAA-BACE 2016 in October with a view to finalizing by the end of 2016, the strategic alliance is set to massively benefit the two industry heavyweights and their clients by significantly enhancing their capabilities and accelerating strategic goals to enhance international business aviation flights and user experience.
UAS is now the flight support partner for the impressive fleet of 90 aircraft that Deer Jet operates and manages. The fleet includes the world's only BBJ 787 in VVIP configuration – "the Dream Jet."  Deer Jet operates as a wholly owned subsidiary of HNA Group, a Fortune 500 company, and by joining the Deer Jet family, UAS will have more opportunities to serve the group's airlines.
Mr. Mohammed Husary, UAS Co-Owner/Founder and Executive President, said: "We're delighted that this partnership is now ratified, it is the result of a long period of discussion and negotiation between our two companies. We are also extremely pleased to have such a pioneering and successful partner as Deer Jet is a major boon for UAS' global strategic objectives. Our two companies reach and expertise will have a massive impact on the solutions we can both offer."
Mr. Omar Hosari, UAS Co-Owner/Founder and Chief Executive Officer, said: "This partnership was designed to facilitate both UAS and Deer Jet's ambitions to increase our influence in the international aviation industry. From an operational viewpoint, we've ironed out the finer points and are currently finalizing our mid to long-term business plan. Our clients can now expect a broadened range of services delivered to the same levels of efficiency, quality, and operational excellence they have come to expect from us."
Mr. Zhang Peng, Chairman and President of Deer Jet said: "We are delighted to conclude the share acquisition of UAS and very excited to see the valuable synergies our companies are about to create in the near future. After founding Hong Kong Jet, and acquiring shares of Asia Jet, Hawker Pacific, and UAS, Deer Jet will continue to expand its global range through strategic partnerships with the best companies in the world of business aviation. For second consecutive year, Deer Jet has been selected as the World's Leading Private Jet Charter by the World Travel Awards (WTA), a strong statement on our longstanding leadership and firm commitment towards excellence in service."