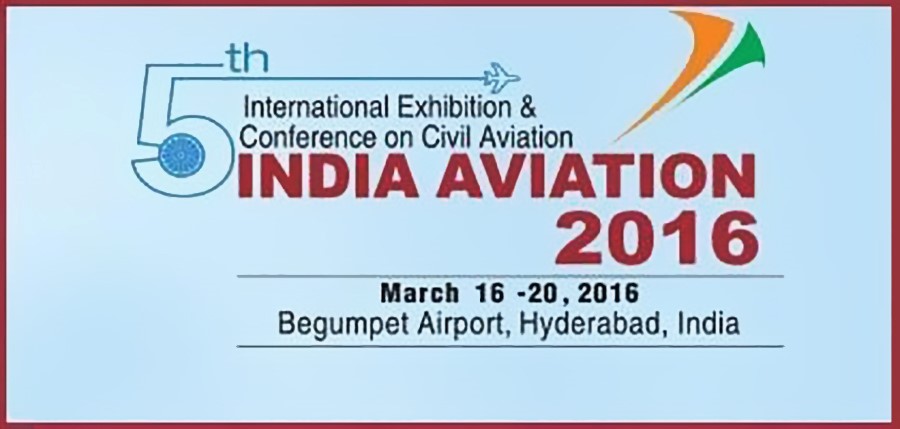 Blog
India Aviation 2016 – Hyderabad
Go back to main page
India Aviation 2016 takes place in Hyderabad from March 16 – 20 with Begumpet airport as the venue for the biennial show.
In addition to the exhibition, static display and demonstration flights, India Aviation 2016 will hold a conference on the civil aviation sector with a focus on policy issues and business aspects. Eminent speakers, policy makers, and experts will address the gathering. The Honorable Minister for Civil Aviation, Mr Gajapati Raju will inaugurate the event. The function will be attended by a who's who of Indian aviation industry and senior ministry officials.
Preceding this event, Business Aircraft Operators Association (BAOA) will host a one-day seminar on March 15, 2016. This is the fifth edition of the conference organised by Ministry of Civil Aviation (MoCA) in conjunction with the Federation of Indian Chambers of Commerce and Industry (FICCI), and Farnborough International Ltd (FIL) will be the overseas associate for this event.
India is one of the fastest growing markets in the region and currently the ninth largest civil aviation market in the world. With adequate policy support and augmentation of infrastructure, it presents a huge opportunity for growth and projected to be the third largest aviation market by 2020. Once aviation grows wings in India, it also has the potential to develop into an important MRO hub.
This show will attract more than 200 exhibitors from 11 countries. All major aircraft manufacturers, especially those dealing with business jets like Gulfstream, Bombardier, Embraer, and Dassault are expected to participate. The exhibition is expecting a footfall of more than 60 thousand in the form of business and general visitors.
The UAS India team will be present at this prestigious event. It will be a good opportunity to network with our existing and potential clients and seek feedback and opinion on the quality and experience of UAS service.
How to Get There
Hyderabad has two airports – Rajiv Gandhi International Airport (RGIA) at Shamsabad and the old airport at Begumpet. While Begumpet airport is located in the central business district, Shamsabad is 30 kilometers from the town and takes about 45 minutes to reach the event venue. For business visitors travelling by commercial airlines, they would be disembarking at RGIA. The visitors should be in possession of a valid Indian visa.
Those aircraft taking part in static display and demonstration flights, the arrangement of CIQ facilities at Begumpet airport will facilitate their direct landing at the venue of the air show. Temporary Landing Permit (TLP) for crew can be arranged on arrival for a period not extending three days. This facility would be made available only for the crew and any guests travelling on board should be in possession of a valid Indian visa prior to arrival.
UAS India will cater to all requirements for aircraft and guests participating in this event – starting with 'meet and greet', arranging for landing clearances, ground handling, parking, refuelling, accommodation and crew transportation. Our staff will be right there to ensure that you have a smooth entry and comfortable stay during the show.
We look forward to seeing you at Hyderabad!