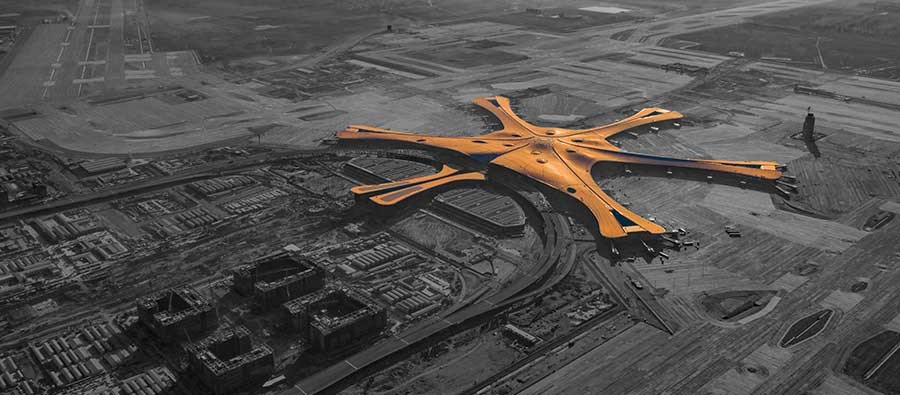 Blog
Beijing Daxing International Airport
Go back to main page
Beijing Daxing International Airport: Beijing Daxing International Airport opened on September 26, 2019. The city's newest gateway – already renowned for its unusual starfish shape- is expected to become a pivotal air traffic hub for international travel to and from China. It features some of the most cutting-edge technology (such as facial recognition technology) in operation throughout the airport. Most regional and international airlines are planning to move their operations to Daxing in 2020 if they choose not to operate at both Beijing airports. GA and business operations to ZBAD won't be possible until early 2020, and the FBO will be due for completion at the end of 2020. Here are some more facts about Beijing Daxing.
Beijing Daxing International Airport
ICAO: ZBAD
IATA: PKX
Coordinates: 116°23.9'   39°30.1'
Elevation: 2M
Magnetic variation: 5°58′W(1980)/
Opening hours: 24hr
Location: South of Beijing, Daxing, Beijing & Guangyang, Langfang (Hebei)
46 km from Tiananmen Square
26 km from Langfang City Center
67 km from Beijing International Airport
 Operational Information
All flights require landing permits
Slots are required
CIQ is available
Jet fuel(s) available: Jet A1
The airport can provide gravity refueling (6.7L/s) and pressure refueling (63L/s) service
Inflight catering is available
Fire category: CAT 10
Airport Facilities
Cargo-handling: Container lift truck (7.5-14t), container tractor, fork-lift (2.5-3.5t), conveyor truck, platform collation tractor, small towing vehicle.
Deicing apron (Nr.1: DE1-DE9, Nr2: DS1-DS7, tempotary: DN1-DN3), 18 de-icers, deicing fluid (type I, type II).
Line maintenance available for various types of aircraft.
Aircraft parking and hangarage: Yes, available for aircraft maintenance.
Immigration
All non-EU & EU passengers and crew require visas for Beijing except for those who qualify under the 144-hour tourist visa-free policy.
Ground Transport
Taxi
Time: 1-1.5 hour
Fare: 220 RMB (=29€/31$)
Due to traffic jams, the travel time may increase as well as the final taxi fare.
Subway
The new airport subway line connects Daxing Airport to the Caoqiao Station 草桥 (line 10). The new line runs from 6:00am to 10:30pm and the waiting time between trains is 8.5-10 mins.
Time: 19 mins
Ticket fare: 35 RMB (4.4€/4.8$)
Beijing-Xiong'an Intercity train
The Beijing – Xiong'an Intercity railway transfers you to Beijing West Railway Station [Beijingxi Railway Station 北京西站 – line 7] (Daxing to Xiong'an Area route will be completed by the end of 2020).
Time: 30 mins
One-way ticket fare: 30 RMB (3.8€/4.2$).
Shuttle bus
There are 6 bus lines connecting Daxing airport to the Beijing city center.
The bus lines 1-5 run daily from 5:00am to 11:00pm while the airport bus line 6 operates only during the night shift.
Time: approximately 40 mins
One-way ticket fare: 40 RMB (5€/5.5$)
Visit the official Beijing Daxing International Airport website here
For support with your flight operations to Beijing, contact UAS China