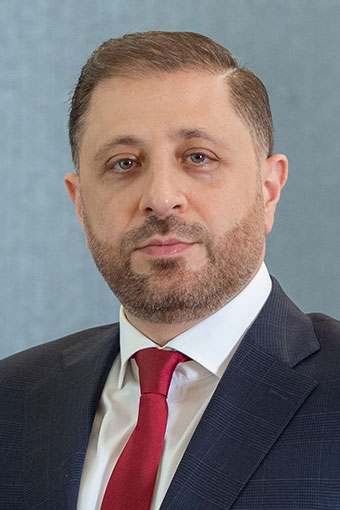 Omar Hosari
UAS Co-Founder and CEO
Mr. Omar Hosari is a respected entrepreneur and passionate advocate of global business aviation. As co-founder and CEO of UAS International Trip Support he has applied his extensive knowledge to launching, developing and expanding the global aviation company. His ability to recognize and respond to emerging industry trends, identify business synergies, and curate a strong in-house team, has helped drive successful commercial growth. As a strategic architect Mr. Hosari is now spearheading UAS business expansion across the rapidly growing aviation sector in the wider Asia Pacific.
Mr. Hosari sits on the board of governors for AsBAA, the Asian Business Aviation Association. In addition, he represents AsBAA on the prestigious Board of the International Business Aviation Council, IBAC. He is committed to both Associations' missions to advocate the benefits of business aviation at regional and international levels to business, regulatory and government stakeholders. Applying his entrepreneurial skills and influential industry network he also supports the Associations, and their members, in building a sustainable aviation future, as well as developing commercial strategies to underpin continued growth and expansion for aviation, and the economies and societies it serves. Mr. Hosari is also a member of the Dubai chapter of YPO.
Recipient of many Leadership Awards and listed in the Best 100 Arab CEOs globally at the Arabian Business Awards 2018, Mr Hosari aims to inspire his colleagues by supporting their personal and career development. He encourages lively, creative ideas and embraces innovative approaches to industry challenges. The introduction of various technologies at UAS, the company's focus on environmental sustainability, and its support of enterprise development in emerging markets exemplifies his progressive style of business.
Mr. Hosari is a BSc graduate of Economic Science and Management, a Master of Science, Aviation and holds an Executive MBA from Hult International Business School.
He travels extensively and reflecting his approach to business, will often take the road less travelled, yet most rewarding. In Spring 2018 he took on the physical and emotional challenge of trekking to Everest base camp, an altitude of 5,354 metres. Summiting Mount Kilimanjaro is his next adventure.
Mr. Hosari was born in Syria where his father was among the pioneers of business aviation in the Middle East in the 1950s. At 14 he insisted on working and learning the family business after school and at weekends. Today he shares this same passion with the next aviation generation.