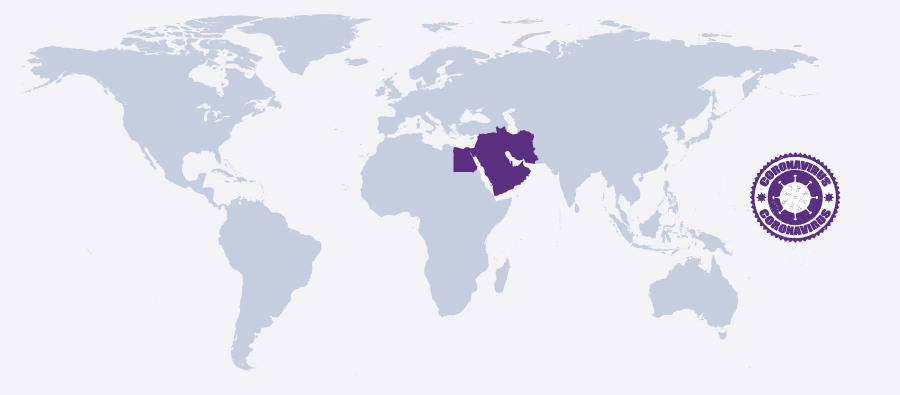 Blog
Coronavirus Travel Restrictions in the Middle East
Go back to main page
Coronavirus Travel Restrictions in the Middle East: Middle Eastern countries are imposing the following restrictions and travel bans to combat the spread of COVID-19.
United Arab Emirates
On June 25, the UAE General Civil Aviation Authority announced that all airports reopen and flight restrictions be lifted.
This resumes international flights to and from UAE airports provided that operators and passengers strictly comply with relevant public health precautionary measures.
Bahrain
Procedure for obtaining a landing permit:
Application through Embassy of Bahrain of the respective country for a diplomatic permission (MOFA) in order to obtain a landing permit for OBBI.
Once the application is approved it must be forwarded to the handling agent along with the passenger and crew manifest that includes their nationalities.
The handling agent should communicate with the Ministry of Health about the arrival of the aircraft.
All of these supporting documents must be submitted at application stage.
All arriving passengers and crew must go through COVID19 screening which will take a couple of hours.
Egypt
From August 15, all travelers must present a negative PCR test result issued not more than 72 hours prior to arrival. This does not apply to Egyptians or travelers flying directly to Sharm el Sheikh, Taba, Hurghada, Marsa Alam, and Matrouh International Airports.
Passengers arriving from the Republic of Iraq of any nationality, including Egyptians, must submit a negative PCR test.
Operator/ airline procedures:
Airlines must provide declaration forms at the airport of departure and ensure that it is fulfilled and signed by the passenger
Must accommodate exit screening examination for departing passengers at the departure airport
Don't allow any passenger to board with a temperature equal or over 38 degree or showing any respiratory symptoms
Fulfill the general acknowledgement of the aircraft and deliver it to the quarantine authority in the destination airport
Submit a form to the quarantine authority at the destination airport in order to state the cleanliness of the aircraft
Jordan
All flights arriving or departing Jordanian civil airports are suspended until August 31 with the exception of the following:
Emergency, cargo, humanitarian/medevac, repatriation, UN, and state/diplomatic flights
Technical stops where crew and passengers do not disembark
As alternate airports identified in a flight plan for flight planning purposes
Domestic flights with prior permission, training flights, and flight tests
The exempted flights above shall refer to the instructions of civil aviation regulatory commission available at www.carc.gov.jo
Overflights of Amman continue as normal.
All air services are normal.
Iran
All airports within Tehran are available for limited passenger operations with the following conditions:
Resuming international flights requires obtaining a verification from the Air Transport Bureau
Operators must apply for slots in advance
The entry of commercial freight through cargo flights is permitted without any restriction
All arriving passengers are required to hold valid health certificate issued (in English) by the appropriate health authorities of their country of departure
This certificate shall contain a COVID-19 molecular test issued at maximum of 96 hours before entry
All passengers must complete a health declaration form before arrival
All operators are required to adhere to best practice in-flight COVID-19 health protocols
Israel 
Only Israeli nationals and residents or those passengers that have Israeli government approval will be allowed to enter.
Kuwait 
As of now only Kuwaiti passengers, passengers travelling with a Kuwaiti sponsor, or residents are being accepted.
Inbound passengers:
Full handling or flight schedule and must be sent 48 hours before operations
Passenger passport copy and the MOH form must be signed by each passenger
COVID-19  test will be done on arrival by medical staff
Outbound passengers:
Full handling or flight schedule and must be sent 48 hours before operations
Non nationals must provide a passport copy if they wish to leave Kuwait
Kuwaiti nationals wishing to leave must be granted official approval from the Ministry of the Interior and the Ministry of Foreign Affairs as well as a passport copy
Crew:
All crew members must stay at the Safir Hotel during their transit
Crew must wear complete PPE such as masks and disposable gloves
Crew will be checked by medical staff
Oman
All international and domestic passenger flights arriving or departing from OOMM are suspended.
OOMS and OOSA are available for emergency diversions only with 15 minutes' notice required.
This doesn't apply to:
Cargo flights approved by the authorities
Domestic flights to OOKB
Overflights at OOMM
Select aircraft operations and exemptions by authorities

Humanitarian, repatriation, and diplomatic flights approved prior to operations
Please note that all flights with disembarking/embarking pax, permission must be applied through diplomatic channels.
Qatar 
No visitors are allowed to enter.
Saudi Arabia 
Saudi nationals and residents are allowed to enter with approval from the MOH but a 14-day quarantine is necessary
Domestic flights have resumed but international flights have been suspended indefinitely
Requests for repatriation flight out of Saudi must be submitted 72 hours before the departure
Tech stops are allowed but crew and passengers may not disembark
Crew rest is not available unless a layover is approved by the authorities
While the Information is considered to be true and correct at the date of publication, changes in circumstances after the time of publication may impact on the accuracy of the Information. The Information may change without notice and UAS is not in any way liable for the accuracy of any information printed and stored or in any way interpreted and used by a user.
For support with your flight operations, contact UAS 
Next, we'll look at travel restrictions for Africa and Russia/CIS.