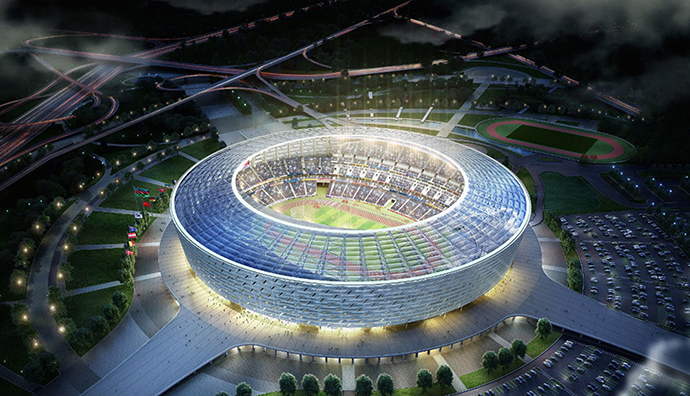 Go back to main page
The Baku 2015 1st European Games are taking place in Azerbaijan from June 12-28. The international multi-sport event will attract more than 6,000 athletes representing 50 National Olympic Committees of Europe. A total of 20 different sports will be competed in over the 16-day event.
The opening ceremony gets underway on Friday, June 12 at the Baku National Stadium. Here is some vital information required for anyone planning a trip to Azerbaijan for the games.
Immigration
A passport and visa are required for all visitors
Visa exemptions apply to visitors holding a 1st European Games Accreditation Card
Visa issuance
Any person holding an official invitation letter issued by the State Migration Service of Azerbaijan (or another Azerbaijan government authority) can obtain a visa on arrival.
Employees of the Asian Development Bank (ADB) and their dependents can obtain a visa on arrival if holding an official invitation letter from the ADB.
Visitors can obtain a visa on arrival for a maximum of 30 days if holding a ticket to any event of the European Games. They must also hold a passport valid for three months beyond the period of the visa validity, onward or return tickets and two colour passport photos, with a white background. Fees vary between EUR 35 and EUR 90 depending on the nationality of the applicant.
Note: Travellers visiting relatives must register with the local police. This can also be arranged by your hotel.
Visa policy
Foreigners who permanently reside abroad and have obtained tickets for the Baku 2015 European Games may obtain a visa on arrival at the Consular Department of Azerbaijan's Foreign Ministry. These are located at the international airports of the Republic of Azerbaijan, and this procedure will be available from June 2.
In order to receive a visa upon arrival, all spectators are requested to complete a special form on the Ticket Sales webpage, to purchase a ticket and to obtain their purchase confirmation. It is necessary to present a ticket for the Games, or the document confirming the purchase of a ticket, in order to receive a visa upon arrival.
Crew
All crew members require a passport and a General Declaration Form and must be traveling in uniform
A visa is not required
---
Healthcare
It recommended to take the following precautions:
Malaria prophylaxis: malaria risk, exclusively due to P. vivax, exists from June to October in lowland areas of Azerbaijan
There is no malaria transmission in Baku
Recommended prevention in risk areas: A
In Timatic, the recommended type of prevention is referred to as:
Type A (very limited risk of malaria transmission) – Mosquito bite prevention only.
Type B (risk of P. vivax malaria only) – Mosquito bite prevention plus chloroquine chemoprophylaxis.
Type C (risk of P. falciparum malaria with chloroquine and sulfadoxine-pyrimethamine resistance) – Mosquito bite prevention plus atovaquone-proguanil or doxycyline or mefloquine chemoprophylaxis.
Type D (risk of P. falciparum malaria plus reported multi-drug resistance) – Mosquito bite prevention plus atovaquone-proguanil, doxycyline or mefloquine chemoprophylaxis, depending on the local drug resistance.
Chemoprophylaxis should be started about one week before departure and no later than the first day of exposure; it must be taken with unfailing regularity and continued for four weeks after the last exposure.
Note: No prophylactic regimen is 100% protective against infection, but even if it fails to prevent the disease it may render the infection milder and less life threatening.
---
Customs
Import regulations
Free import by persons of 16 years and over:
1,000 cigarettes or 1,000 grams of tobacco products
1.5 liters of alcoholic beverages and 2 liters of wine
Perfume for personal use only
Goods up to an amount of USD 10,000 for non-residents
Prohibited items: Photographs and printed matter directed against Azerbaijan, live animals (subject to special permit), military arms and ammunition, narcotics, fruit and vegetables.
Export regulations
It is prohibited to export: Arms, ammunition, precious metals (gold, silver), precious stones or real pearls, furs, antiquities and art objects (these are subject to duty and require a special permit from the ministry of culture).
Passengers must declare all personal effects that fall under the above criteria upon arrival.
---
Baggage Clearance
Baggage is cleared at the first airport of entry in Azerbaijan
Baggage of transit passengers with a destination outside of the CIS is exempt
---
Airport Tax
There is no airport tax levied on passengers at this airport.
---
Currency
Import regulations
Non-residents can carry unlimited foreign currencies provided they make a declaration stamped by Customs at Baku.
Export regulations
Non-residents can leave with the amount imported and declared (proof of import must be presented otherwise a maximum of USD 1,000 only can be exported).
---
Airport
Baku Heydar Aliyev International Airport, AZE UBBB
N 40° 28.2′ E 50° 03.1′ Mag Var: 4.9°E
Elevation: 10′
Fuel: Jet A-1
Time Zone Info: GMT+4:00 uses DST
Sunday 29 March 2015 04:00 (DST) UTC/GMT +5h
Sunday 25 March 2015 05:00 (STD) UTC/GMT +4h
Private flights
Overflight permits are not required
Landing permits are required
Non-scheduled flights
Overflight permits are not required
Landing permits are required
Note:
Slot approval must be requested in advance – at least three days prior arrival
The most congested hours at UBBB are 0800L-1100L and 1630L-1900L
Fuel Service
UAS offer supply via truck/bowser fuel delivery
JET A1 readily available
Significant NOTAM on this date:
(A0027/15NOTAMN
Q)UBBA/QFAXX/IV/NBO/A/000/999/4028N05003E005
A)UBBB B)1503290000C)1506292359EST
E)ALL AIRLINES ARE KINDLY REQUESTED TO CHECK THE
RESERVATION OF THEIR SLOTS FOR HEYDAR ALIYEV FOR THE PERIOD FROM MARCH 29 TO JULY 31 DUE TO FIRST EUROPEAN GAMES.
---
Accommodation
The following hotels are within 3 km of Baku:
Highpark
Excelsior Hotel And Spa Baku
Highpark
Divan Express Baku
Teatro Boutique Hotel
Qafqaz Park Hotel
Premier Hotel
Consul Hotel
Hotels close to the airport:
Sheraton Baku Airport Hotel
Days Hotel Baku Azerbaijan
Khazar Beach Hotel
---
Transport
Bus
A direct express minibus (Number 116) operates from Baku City center every 30 minutes from early morning until late night. It approximately 30–40 minutes from the airport to the city.
Car
The airport is 20 km northeast of Baku and is linked to the city by two modern highways – Airport Highway and Zigh-Airport Highway. The journey takes about 30-40 minutes depending on traffic conditions.