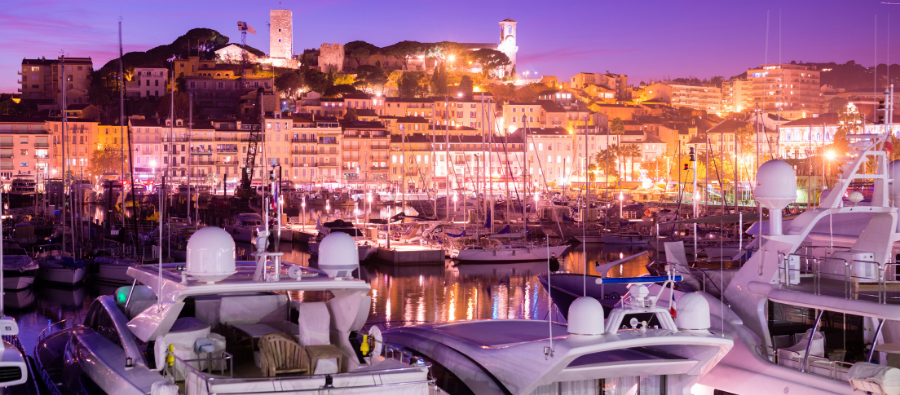 Blog
Flight Operations to Cannes Film Festival 2022
Go back to main page
The 75th edition of the Cannes Film Festival gets underway from May 17 to 28 with private jets from all over the globe gravitating to the South of France for the prestigious event.
Organizers are set to axe COVID-19 curbs ahead of the diamond jubilee event with no plans to test attendees —as it did last year— and no mask mandate at screenings.
The majority of private jets with passengers destined for Cannes will pass through either Nice Cote d'Azur Airport (LFMN) or Mandelieu Airport (LFMD).
Nice Cote d'Azur Airport
IATA: NCE
ICAO: LFMN
Latitude / Longitude: N 43° 39.9′ E 07° 12.9′
Mag Var: 0°E
Elevation: 14′
Fuel: Jet A-1
Time Zone Info: GMT+1:00 uses DST
Operational Information
Overflight and landing permits are not required for private flights
Non-scheduled commercial flights require overflight and landing permits
An AOC / General Declaration is needed
Slot approval must be requested in advance and by an agent to secure slots
There is a special form request for charter flights
Jet A1 is readily available
Cannes – Mandelieu Airport
IATA: CEQ
ICAO: LFMD
Latitude / Longitude: N43° 32.47' E006° 57.25'
Elevation 14 ft
Magnetic Variation 0° E
Fuel types: Jet A1 / Avgas
Time Zone Info: GMT+1:00 uses DST
Operational Information
There is limited parking availability
Slots and prior permission required (PPR) are mandated for LFMD for the May 17-29 period
Airport slots will be needed for all arrivals/departures at LFMD along with PPR for parking
During this period any schedule changes of more than 20 minutes will require cancellation of approved slots and the need to reapply
CIQ clearance is always accomplished in the main terminal and the process is usually quick
Airport operating hours: 0600 local to the latest of 1800 or Sunset + 30 minutes
Longest Runway: 5051 Ft
Prohibited for Jet ACFT with more than 35t MTOW and propeller ACFT more than 22t MTOW
Airport classified as category B
For more information on this year's event, visit the official website here.
For support with your flight operations, security, and accommodation in the South of France, contact UAS