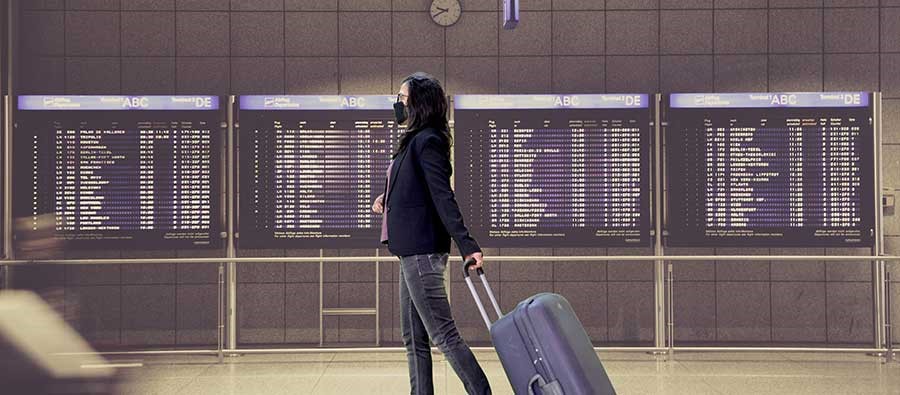 Blog
Global Coronavirus Travel Restrictions A-Z
Go back to main page
Global Coronavirus Travel Restrictions A-Z: With India suspending travel from overseas and the United States banning travel from Europe, global attempts to curtail coronavirus are in full swing. Although the situation is constantly evolving, here are the latest travel restrictions to reduce the spread of COVID-19 and what you can expect in the following countries.
Albania: Not currently restricting entry or exit but has increased medical personnel at ports of entry. As a preventative measure, all suspected cases arriving at the Mother Teresa International Airport of Tirana are being evaluated by the specialized medical staff onsite.  Enhanced screening and quarantine measures are being implemented.
Andorra: Currently no travel restrictions for entry to Spain.  Travelers arriving from China who develop symptoms must home isolate and call 112 for medical assistance.
Armenia: Suspended entry of most travelers from Iran and ceased flights from China. Armenian citizens are permitted to return from Iran after health screening. Armenia is conducting symptom checks for everyone entering the country and requesting travelers from affected areas complete health questionnaires and self-monitor.
Austria: Travelers arriving in Austria who have been in China, Iran, South Korea, or Italy within the last 14 days must carry a medical clearance certificate (issued in the past 4 days) in English or German stating their health condition permits travel and they have had a test result of negative for the SARS-CoV-2 virus.
Azerbaijan: Suspended electronic visas and visa applications for Chinese citizens. Border officials are screening all arriving travelers for symptoms and quarantining when appropriate.
Belarus: There are currently no travel restrictions in place though temperature screening measures are in place at Minsk National Airport. Travelers from Iran, Italy, and South Korea who arrived in Belarus after February 20 are instructed to visit the polyclinic for screening.
Belgium: No travel restrictions have been implemented.
Bosnia and Herzegovina: No restrictions in place as a result of the worldwide outbreak.  There is no particular documentation needed to enter/exit the country.  At Sarajevo International Airport, travelers reporting travel to China, Iran, South Korea, or Italy in the past 14 days must fill out a questionnaire and will be interviewed by a health inspector and may be placed under quarantine at home or in a medical facility.
Bulgaria: There are no new restrictions to get into Bulgaria. Travelers arriving from China are subject to medical checks at points of entry and may be placed in quarantine. All those returning from Italy will undergo compulsory medical surveillance and quarantine for 14 days at home or in a hospital.
Cyprus: There are no new restrictions in place.
Czech Republic: Flights from China have been banned since February. Flights to and from South Korea have been suspended and further restrictions on connection with the northern Italian cities of Milan, Venice, Bologna, and Bergamo will be put in place following European Commission approval.
Denmark: Halted all flights originating in China (Hubei Province), Iran, northern Italy, Gyeongbuk Province in South Korea, and Tirol, Austria.  Travelers from these destinations will not be allowed to enter the main terminal at Kastrup International Airport in Copenhagen and instead will be taken to a secondary screening area and required to self-quarantine for 14 days.
Estonia: No specialized procedures have been put in place at airports. The government recommends people arriving from affected areas to stay home from work for two weeks.
Finland: There are no restrictions in place.
France: No travel restrictions have been implemented, airport operations in France are normal.  Flights from China, Hong Kong, Macao, Singapore, South Korea, Iran, and affected regions in Italy arriving at Charles de Gaulle airport are met by medical professionals to answer questions and take into care any person presenting symptoms.
Georgia: All travelers arriving in Georgia are subject to medical screening including temperature checks and may be asked to fill out a locator form. Travelers who display symptoms of COVID-19 may be quarantined.  All travelers who have been in China, Iran, Italy, or South Korea within the previous 14 days are subject to a mandatory quarantine for 14 days.  Direct flights to and from Iran, China, and Italy have been suspended.
Germany: Hasn't implemented any travel restrictions but has implemented the use of passenger locator cards for all individuals entering the country.
Greece: No travel restrictions at this time.
Hungary: Has recommended no travel to China.
Iceland: No entry screenings are recommended at this time but tourist information on how to approach the health care system in Iceland for illness for those who need it is being communicated through a number of channels.
Ireland: Hasn't implemented any travel or consular restrictions.  Signs at its airports warn of the coronavirus outbreak and advise those with symptoms to see a doctor.  If someone tests positive, the Department of Health will isolate and treat the individual.  Ireland has no direct flights to China.
Italy: Enhanced screening and quarantine measures.  COVID-19. Travelers should be prepared for additional travel restrictions to come into effect at extremely short notice. Italy has suspended flights from China and Taiwan. However, there are no specific restrictions for entry of anyone based solely on their nationality. Italy has expanded temperature screening to all air travelers upon arrival on all international (including European) and domestic flights arriving at major airports.
Kazakhstan: Enhanced screening and quarantine measures.
Latvia: There are no visa restrictions in effect. The government is advising its population not to travel to Australia, Bahrain, Belgium, Canada, Egypt, Greece, Iceland, Iraq,  Kuwait, Malaysia, The Netherlands, Norway, Sweden, Thailand, The UK and The United States of America.
Liechtenstein: No entry/exit restrictions.
Lithuania:  There are no restrictions in place. Medical crews are on standby at all three airports. All arrivals from Italy are being screened and signs in Chinese at all airports ask those passengers who have been to China to approach the doctors so their health status can be evaluated.
Luxembourg: Advising against non-essential travel to China. Luxembourg has no direct commercial flights to China and there are currently no admission restrictions or special entry requirements for travelers originating from China.
Malaysia: Travelers from China, Korea, Italy, Japan, and Iran are not allowed to enter until further notice. Everyone arriving on international flights must go through health screening in airport on arrival.
Malta: No visa services have been suspended. Travel between Malta and Italy, Switzerland, Germany, France, and Spain are banned and thermal cameras have been introduced at the airport.
Moldova: Has restricted travel of any foreigner, including U.S. citizens who are not permanent residents of Moldova, arriving by plane who transited a country designated by the World Health Organization as having a Level 4 outbreak of COVID-19, including China, Italy, South Korea, and Iran.  Moldova currently has no visa restrictions and has not suspended visa issuance.
Montenegro: Travelers arriving from China are screened and put under observation. For all other travelers, no extra procedures have been put in place at airports. The government is advising against unnecessary travel.
Netherlands: No travel or consular restrictions to prevent the entry or quarantine of persons with recent travel to China or other affected countries.  Travelers flying from China receive a flyer onboard providing information on what to do and whom to contact in case they start feeling ill. They must also fill out a Passenger Locator Form.
North Macedonia: Restricted entry into the country for travelers from the crisis areas of Northern Italy only through the airports in Skopje and Ohrid. Travelers from areas heavily affected are required to complete a health questionnaire assessment prior to admission. It is conducting thermal screenings for all incoming flights at both Skopje and Ohrid Airports. It has advised against travel to Italy.
Norway: Advising people to avoid travel to Hubei province and unnecessary travel to mainland China. They are asking people traveling from the Hubei province in China to be particularly alert and limit social contact in the first 14 days after arrival in Norway.
Poland : Implemented enhanced screening and quarantine measures. There are checkpoints at airports.  Travelers do not need any particular medical documentation to enter/exit, but entering passengers may be required to provide their travel itinerary and contact information, and they may be screened for symptoms of a possible infection.
Portugal: Has suspended all flights between Portugal and Italy for 14 days.  There are no additional documentation requirements at this time.
Romania: Suspended all flights to Italy or from Italy. Airlines may not board foreign passengers from Italy, China, Iran or South Korea on connecting flights to Romania. 
Russia: Has banned entry of Chinese nationals and Iranian citizens into Russia, except for transit purposes. It has also restricted entry of South Koreans – they may only enter via Sheremetyevo International Airport in Moscow.
Serbia: Airports in Belgrade and Nis screen passengers coming from high-risk areas, and inbound travelers receive translated materials on how to seek medical care. Passengers with temperatures are transferred to the Clinic for Infectious and Tropical Diseases for testing and further medical surveillance as necessary. It has prohibited entry to Serbia of travelers from parts of northern Italy, parts of Switzerland, South Korea, certain provinces of China, and Iran. Serbia is advising citizens to cancel or delay travel to China and not to travel to Northern Italy.
Singapore: A Health Declaration Card must be filled out prior to entry.
Slovakia: Cancelled all direct flights with Italy. Travelers arriving by air will undergo basic health checks and be given information on the symptoms and health service numbers to contact in the event of illness.
Slovenia: Travelers may be subject to temperature and other additional screenings.  Travelers from Italy may be required to show a health certificate.
Spain: No travel restrictions for entry.  Travelers arriving from China who develop symptoms must put themselves into home isolation and call 112 for medical support.
Sweden: Advises against all trips to Hubei Province and unnecessary trips to other parts of China, with the exception of Hong Kong and Macao.
Turkey: All passenger flights have been suspended to/from China, Italy, South Korea, Iraq, and Iran. The government has suspended all flights to/from Iran. Travelers who visited China, South Korea, Iran, Iraq, or Italy in the past 14 days are not permitted to transit or enter Turkey.
Ukraine: Has stopped direct flights from China to Ukraine. Personnel are stationed at airports to check temperatures for all arriving travelers.
United Kingdom: Enhanced monitoring of direct flights from affected areas.
Please remember that these measures are changing constantly. Please consult government websites for minute-by-minute updates.
For support with your flight operations, contact UAS