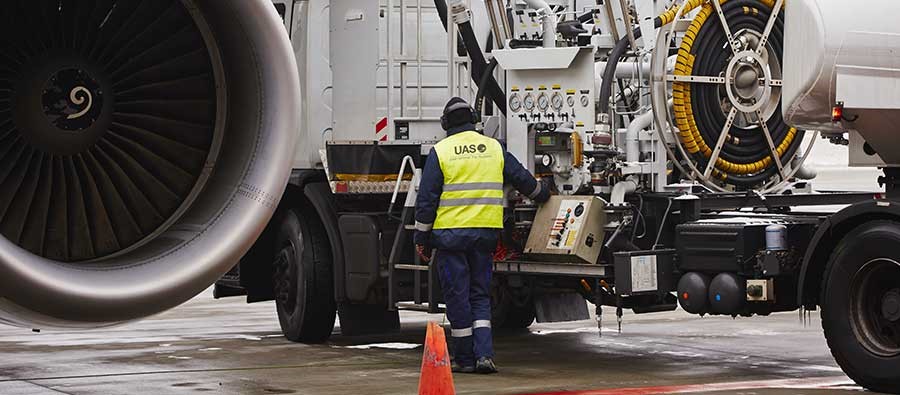 Blog
Global Fuel Solutions – Your Questions Answered
Go back to main page
Global Fuel Solutions – Your Questions Answered: Operators' pain points regarding global fuel solutions are all similar; whether it's getting the type of fuel they need in the right volume at the right location, short notice requests, or handling credit terms in an efficient way. Sometimes operators are concerned about VAT and MOT claims… We asked the UAS Fuel Team to answer common fuel pain point questions and provide insight into how you can get the best deals for fuel.
How can fuel be secured in challenging locations? 
Operating to remote or difficult locations or organizing technical stops for refueling can put operators in a tough situation. It's not always easy to find the right fuel or to get it at the station you require. This is where it's vital to rely on a trusted local partner. With our fuel supplier network, we can supply operators with fuel across the globe, and if necessary, fuel can be transported to remote airports, and all at very competitive prices. We can support all fuel types, Jet A, Jet A1, TC-1, AVGAS, etc.
How can quality and service be guaranteed?
Operators often worry about what service level to expect, and whether they will stay on schedule and this can cause a lot of stress and uncertainty. But over the years we only work with the best and have built extremely strong partnerships with our preferred network of fuel suppliers all over the world and know we can rely on their promptness and professionalism. It also means that we have great bargaining power and negotiate better differentials for our clients. We don't use third parties and have direct agreements with the main suppliers – this keeps our prices the most competitive in the fuel market. In the case of frequent or high-volume uplifts, we can negotiate special discounted pricing. We also offer special fuel prices for scheduled flights.
What about locations where cash payments are required?
Having to deal with cash payments is another major pain point for operators. We understand this and know that it can disrupt the efficiency of their mission. This is why we ensure that we facilitate credit extensions to our clients in locations that demand cash payments.
What about short notice assistance?
It's crucial for our clients to be able to rely on us for short notice assistance, no matter where they are. So, we're available for short notice uplift requests 24 hours a day. We can obtain the fuel confirmation at short notice since we have direct agreements with suppliers all over the globe. Though some suppliers may require 24-48 hours' notice because of customs approvals and other official documentation requirements, our 24/7 dedicated fuel team doesn't let our clients down.
What about securing fuel at military airports versus a commercial or GA ramp?
Although military airports often have exceptional conditions, being a US government-approved vendor, we can provide fuel and services at most military institutions throughout the United States. Outside of the US, our network of fuel suppliers is flexible and can move bowsers to the locations where they're required.
Can CSV files be provided on a monthly basis?
General Aviation and Commercial CSV files for more than 1,600 stations around the globe are generated weekly and can be sent directly to clients. In addition, UAS fuel pricing is available on a number of fuel price platforms including Fuelerlinx and Jet Fuel X, as well as Dispatch based platforms such as Airplane Manager, FOS, and BART.
What about VAT and MOT claims?
UAS is VAT exempt in Germany, the Netherlands, Switzerland, Greece, the UK, Austria, Spain, Latvia, Denmark, Poland, and Belgium. We can claim MOT for AOC holders.
UAS can alleviate these operator pain points with its preferred network of fuel suppliers located all over the globe and ready to move to support our clients. For support with your fuel requirements around the globe, contact UAS