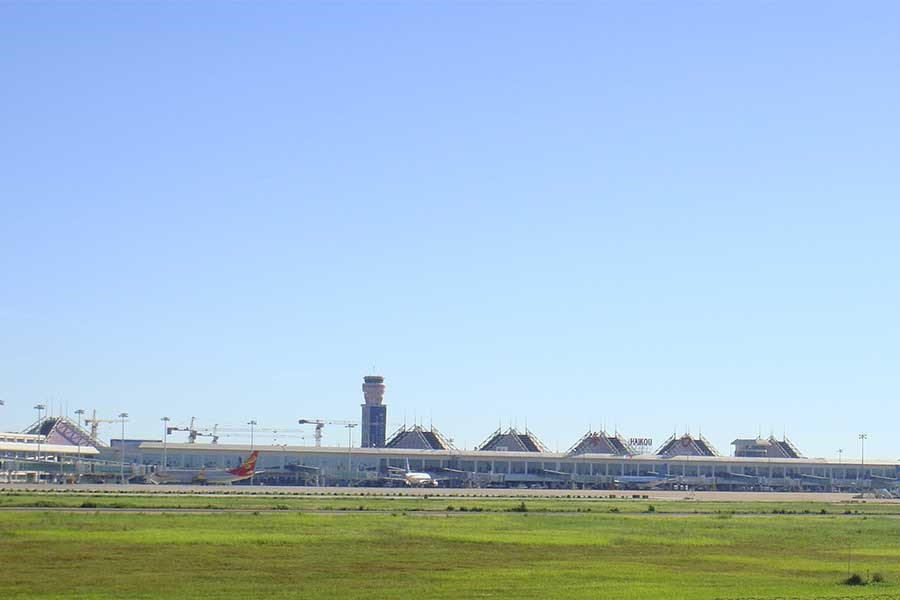 Blog
Haikou Meilan International ZJHK
Go back to main page
Haikou Meilan International Airport
| | | | | |
| --- | --- | --- | --- | --- |
| City: | Haikou | | Country: | China |
| ICAO: | ZIHK | | IATA: | HAK |
| Time zone: | +8 UTC | | Latitude/longitude: | 19°56.0'N/110°27.6'E |
| Elevation: | 23m | | Mar Var: | 1°W |
| PCN: | 095 RBWT | | AOE: | Yes |
| Runway length: | 11811 x 148 ft. | | Runway surface: | Hard |
| Permits: | Required | | Waiting time: | 3 days |
| Airport slots: | Not required | | Mandatory handling: | No |
| PPR: | Not required | | ATC hours: | 24 hours |
| Tower frequency: | 118.6 | | Ground frequency: | 121.65 |
| Fire category: | CAT8 | | Navaid: | Yes |
Languages: Mandarin
Type of aircraft handled: Up to B747
Terminal capacity: 15 million passengers a year
FBO and handling agent: DeerJet
Fuel types: Jet A1
Restrictions
No take-off or landing allowed during 0700L-0900L(2300Z-0100Z) for business jets
Passenger facilities
There is no GA terminal available at this airport
A business aviation lounge provides 24-hour service for private flights
Two VIP rooms are available for rest or meetings during passengers' stay
MROs and hangars: Yes, available for aircraft maintenance
Catering: Available
Crew facilities: Lounge
Parking
Overnight parking is limited at ZJHK
Parking is subject to availability during the winter season
Some parking stands have wingspan restrictions
Business jets are permitted during the day but no overnight parking is allowed
There is only a G550 tow bar available at the airport. We suggest all operators take their own tow bar on board as "nose out" parking cannot be guaranteed
Customs and Immigration
For international flights, crew and passenger will clear immigration through main terminal at arrival and departure. For domestic flights, they will go through FBO for arrival and departure.
Visas are required for crew members
A General Declaration is required
Immigration
Citizens of Japan, Singapore, and Brunei holding a regular passport are able to grant visa-free stay in China for up to 15 days. Other citizens should hold valid Chinese visa before entry.
The following passengers may get such punishments as being denied boarding or entry, or being fined, etc.
Those arriving before a visa is completed (those with waivers are exempt)
Those arriving with an expired visa
Those staying with the visa exceeding the staying period
Them whose passport expires during their stay in China (Regardless of their visa)
Additional notes: APEC card holders are allowed to enter China without a visa.
Customs
Luggage and goods carried by inbound and outbound passengers should be for personal use only and in a reasonable quantity and should be declared as actual personal items to the Customs and subjected to inspection by the Customs officials.
The duty-paid value of inbound and outbound goods is determined by the Customs officers according to the law.
Short-term passengers (those approved to stay in or outside China for not more than one year) may carry the following goods into or out of China, subject to the following restrictions:
Category 1

Category 2

Category 3

Fabrics, clothing, shoes, hats, objects of art, and other personal effects worth not more than
RMB 1,000.
Tobacco products and alcoholic beverages.
Personal effects worth more than RMB 1,000 but not more than
RMB 5,000.
Goods in Category I should be for personal use only and in a reasonable quantity.
An inbound passenger may carry 400 cigarettes, 100 cigars or 500 grams of tobacco and two bottles of alcoholic beverage (of higher than 12 percent alcohol and less than 1.5 liters) free of duty.
An inbound passenger with Category III goods will be subject to customs duties.
China Customs e-brochure provides distinct guidelines on all customs regulations and clearance procedures. See http://english.customs.gov.cn/Legislation/Laws
Airport details
Haikou Meilan Airport, Haikou 571126, Hainan province, China
TEL: 86-898-65751909 FAX: 86-898-65751178
E-mail: mljcdds@hnair.com
Important Numbers
Medical Center: 898-65751920
Emergency: 120
Police: 110
Fire:119
Airport authority: 86-898-65751909
Cities served by airport
Haikou, Wenchang, Qionghai, Boao, Wanning, Lingshui, and Sanya
Weather
Hainan has a tropical marine climate with an average annual temperature of 20 C (68 F). The spring is warm and dry and the high temperatures during the summer months bring heavy rain.
Security brief
There are generally no security concerns, however, it is always recommended to check with your trip support advisor before travel.
Ground transport
Public buses serve the airport terminals and the city
The airport train station operates 20 daily trips to neighboring cities
Taxis are available outside the arrival halls at the terminal
Land distances
Sanya City is approximately 90 mins by train and 3 hours by car
Downtown Hainan can be reached by taxi within 40 minutes (25km)
Hainan's South Bus Station can be reached within 40 minutes
Accommodation
Eadry Royal Garden Hotel Capri Fraser Hotel
Hainan Meilan HNA Hotel
Shangri-La Hotel
Haikou Marriott Hotel
Sheraton Haikou Resort
Note: This list is for informational purposes only and based on proximity. UAS does not promote any specific establishments.  
Dining
Authentic local dishes and a broad range of international cuisine is available.
Tourists attractions
Hainan Tropical Wildlife Park and Botanical Garden
Wugong Temple
Huoshankou National Geopark
Jiari Beach
Hainan Museum