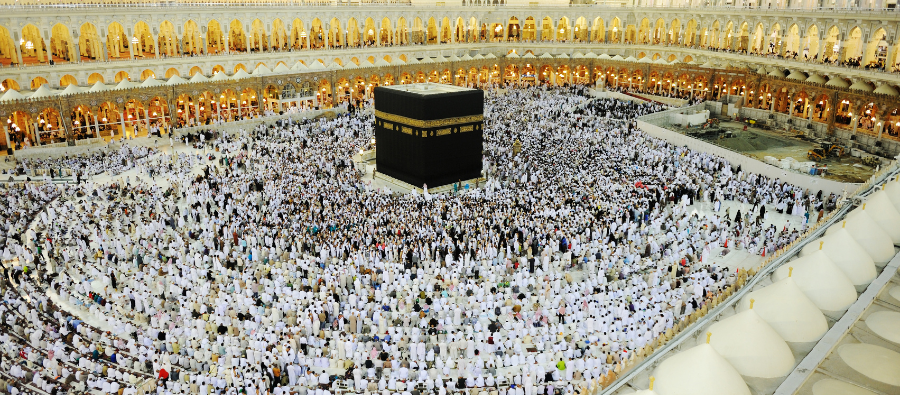 Blog
Hajj Flight Operations to Jeddah 2023
Go back to main page
Taking place from June 26 – July 1, 2023, the annual Hajj pilgrimage will see an influx of traffic at King Abdulaziz International Airport in Jeddah and Prince Mohammad bin Abdulaziz International Airport in Medina.
Parking will be limited during the Hajj period and operators are advised to reserve handling as early as possible.
Additional restrictions are also expected in the weeks ahead and delays may also affect operations at OERK/Riyadh and OEDF/Dammam.
Here's what operators need to know to plan Hajj operations to Jeddah.
King Abdulaziz International Airport (KAIA)
IATA Code: JED
ICAO Code: OEJN
Latitude/ Longitude:  21.670233 / 39.150578
Magnetic Variation: 3° E
Elevation: 48 ft.
Fuel type: JET A1
Time Zone Info: GMT + 3 hours
Operational Information for KAIA 
Slot are necessary for scheduled and non-scheduled flights at international airports
Application in SCR format should be sent to slots@airportcoordination.org
Air carrier's schedules must be submitted to Airport Coordination Australia (ACA) slots@airportcoordination.org (in Excel format)
Be sure to include the date, flight number, type of aircraft, seating capacity, call sign, and aircraft registration in both phases for each flight
A separate operation agreement with GACA must be signed prior to slot requests
Operational Information for Madinah
Slot allocation requests must be submitted to the airport authority by sending a standard SCR message to SITA address: MEDPAXH
Alternatively, the air carriers may send their requests by email (medslotteam@tibahairports.com) or through Tel: +966-14-8138040
Slots are valid for three hours
Obtaining landing permits at Jeddah and Madinah
For air carriers operating at the Kingdom HAJ charter operation, requests must be submitted through the authorized agent
Carriage of pilgrims will be shared equally on a 50/50 basis between the Kingdom of Saudi Arabia and those countries for state pilgrims in accordance with the specific 

Hajj

quota in the agreements
These rules apply to all requests whether owned or leased aircraft operates flights
Required documents:
Acceptance of Security Program (AOSP)
Foreign Operator Authorization (FOA)
Bank Guarantee (Returning Pilgrims)
Bank Guarantee (Housing and Catering Expenses)
Flight Schedule
Air Carrier Updating Information
Air Carrier Representative Information
Air carriers conducting an operation with a leased aircraft should obtain the required technical permits from GACA. A copy of the aircraft lease agreement must be submitted.
Immigration
All passengers must obtain visas prior to arrival
Air carriers must comply with the Ministry of Health regulations and ensure medical airplane clearances and vaccinations against infectious diseases and epidemics
For support with your Hajj Flight Operations to Jeddah 2023, contact UAS