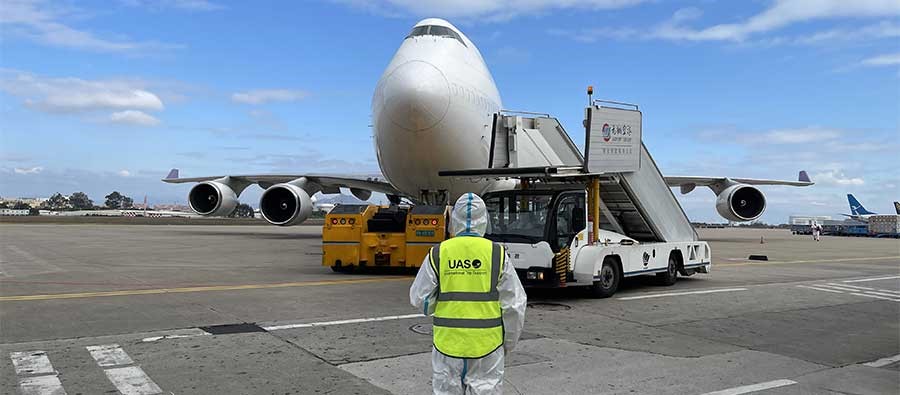 Blog
Handling COVID-19 vaccine cargo – Our expert tips
Go back to main page
Aviation is playing a critical role in the delivery of vaccines worldwide with air shipments estimated to peak in the second quarter of the year. Global transport infrastructure and supply chains are concentrating on this massively complex logistical challenge. So, to make vaccines available as quickly and safely as possible, a smooth vaccine global distribution system must be ensured by leveraging existing networks and processes.
Expediting vaccine distribution presents big challenges for aviators. With almost half of cargo distributed by air going in the bellies of regular airliners, the dip in flight volume will result in distribution challenges. Although many airlines have converted passenger aircraft to transport cargo and GA operations continue despite travel restrictions, meeting the capacity demand may be an issue and this would have a knock-on effect of slowing distribution down – a major setback for global health and economic recovery.
All over the globe, governments are executing their distribution strategies, and airports have boosted security and expanded cold-storage facilities to store doses at the required temperatures. This commitment to expedite vaccine air transportation throughout the aviation supply chain illustrates how business aviation is perfectly placed to overcome any challenge this massive undertaking may bring. Here, UAS global experts give some insight and tips to expedite vaccine air transportation in 2021.
At UAS, we have long since cut our teeth on some of the most complex and exacting operational challenges that have ever existed – and we are ready to continue to do so throughout 2021 as we continue to play our part in COVID recovery.
Consistent and correct temperature is vital 
The really critical point in cargo handling of COVID-19 vaccines will not be the transportation by airplane but the landside handling. While the cargo is flying, the required temperature can be controlled by the aircraft, but once the aircraft lands (i.e. custody is passed from the aircraft operator to the receiving party), it's vital that the ground handling conditions are perfect in order to preserve the delicate, temperature-sensitive cargo. The vaccine still needs to pass through customs and security at airports and cargo loading and unloading are time-consuming…
Considering that the temperature must not be interrupted, special equipment is needed to handle such a big amount. Also, during the time between the cargo hold door opening until the truck loading takes place, the vaccine will be exposed to outside temperatures but must always be kept between 2/8 degrees or -7/-80 degrees (depending on the manufacturer). By this stage, several parties are involved, such as the cargo handling agent, airside ground transportation, customs agents, warehouse personnel, and landside truck loading. All of these links in the chain will play a crucial part in the safe and secure handling of the vaccines.
Due to the high stakes involved in the distribution of the COVID-19 vaccines, it is critical that the whole team understand the importance of this valuable, lifesaving cargo and the critical role it will play in its safe distribution – therefore proper preparation is vital.
Putting procedures in place
First and foremost, cargo handlers should follow the manufacturers' guidance, as well as that of the local authorities in charge of the immunizations who can advise on specific governmental guidance, restrictions, and requirements. Based on this information, standard operating procedures must be created to cover all aspects of vaccine management and include routine and emergency response procedures for equipment malfunction, weather issues, and power outages. The SOP should be reviewed annually and/or whenever a new vaccine is introduced. Prior to aircraft arrival, allocated members of staff should liaise with the receiving party for specific coordination and handling guidance.  This is particularly important for a vaccine that has not been handled before.
As has already been stated, every vaccine requires different temperature configurations – some need 2 to 8 degrees which can be controlled by the aircraft itself, while others need temperatures of minus from -7 to -80 degrees and this requires the use of containers specially constructed for this purpose. Once on the ground, every effort must be made to ensure this temperature is maintained until the vaccine is delivered into the hands of medical professionals at its destination, so cold storage will require adequate temperature-monitoring equipment to be calibrated and available.
The CDC recommends using a continuous monitoring digital data logger (DDL) for each unit and has a backup DDL unit as well. Well-thought-out procedures for inventory management must also be in place. Finally, effective and clear communication will also play a large role as the handling staff will need to coordinate the turnover of the vaccines with the receiving party and ensure the proper authorities have advised and the customs clearance process has been identified and prepared for in advance of the aircraft's arrival. It's vital that potential logistical bottlenecks are identified early in the process.
The importance of skilled personnel
There is always a high level of skill and expertise required for handling medical supplies, therefore ground handlers are constantly updating and refreshing their skills. As for this large-scale, global vaccine movement – it is the first of its kind so global exportation will really set a precedent for the future. All staff members involved in the transportation, storage, or handling of vaccines must be trained on the safe handling of the vaccination. This training should be conducted upon orientation, every time new vaccines are added, as recommendations are updated, and annually. The training should also be documented and include the type, date, and names of participants.
Contact UAS today for support with your medical cargo
Benefit from our 20 years' global aviation experience and global network of continental headquarters and Operations teams in Houston, Dubai, and Beijing; offices in Johannesburg, Lagos, Nairobi, and Hong Kong; and ground presence in 31 destinations.