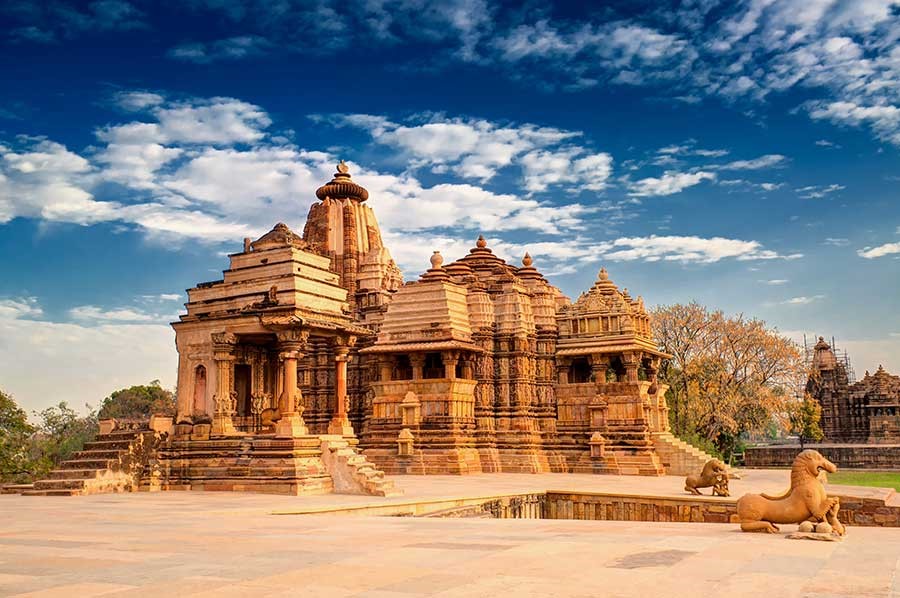 Blog
Khajuraho Airport VEKO
Go back to main page
Khajuraho Airport (also known as Civil Aerodrome Khajuraho) is located in the Khajuraho, Chhatarpur District, Madhya Pradesh, India. Its main function is to facilitate tourism to the UNESCO protected Khajuraho Group of Monuments. Here's what you need to know.
| | | | | |
| --- | --- | --- | --- | --- |
| City: | Khajuraho  | | Country: | India  |
| ICAO: | VEKO | | IATA: | HJR |
| Aircraft handled: | B737 | | Latitude/longitude: | 244912N 0795506E |
| Elevation: | 728 FT | | Mar Var: | 0.50°W (1985) |
| Time zone: | +5.30 UTC | | AOE: | N/A |
| Fuel types: | Jet-A1 |   | Airport type: | Domestic  |
| Ground frequency | 127.875 MHZ (ATIS) | | PCN: | 55/F/C/W/T Bitumen |
| Runways: | 1 | | Runway length: | 2286 x 45 m  |
| Airport slots: | Yes  | | Fuel type: | Jet A1 |
| Tower frequency: | 118.15 MHZ  | | Fire category: |  CAT – 6 |
Languages spoken at Khajuraho Airport: Hindi and English
Navaid available: DVOR, NDB, DME, LLZ, DME(ILS), GP
Airport operating hours: 0400-1200 UTC (check with NOTAMs)
ATC hours: Should be checked with ATC before the flight. The watch hour can be extended with prior coordination with APD/ATC. Positive slot approval from VEKO APD office is required.
On the Ground 
Ramp facilities: GH equipment, transport, and first aid/emergency services are available.
Passenger facilities: There is no GA terminal. An agent is required to provide baggage assistance and assist guests with security clearance.
Maintainance and hangars: These are limited and only available through a commercial airliner.
Crew facilities: There is no GA terminal. Like for passengers, an agent is required to provide baggage assistance and guide crew through security and ATC clearance.
Parking facilities: Due to limited parking, pre-approval from APD office is required for all flight operations. The aircraft should carry a tow bar on board.
Customs and Immigration: There are no Customs and Immigration at this station.
Alternatives to Khajuraho Airport: VEBN, VABP, VAID
Security and safety:
Guest are advised to follow their planned schedule with a pre-appointed guide
Use hotel transport and avoid traveling at night
Avoid wearing expensive jewelry
Always take heed of travel alerts and frequent warnings
Beware of people pretending to represent charities – always check for authenticity before making donations
Attached your local telephone or travel consultant's number to your passport
Women traveling alone should try to get accommodation close to other female travelers
Distance to city: 5km (10 mins)
Dining: Authentic local dishes and a broad range of international cuisine are widely available.
Contact Numbers:
Emergency: +91 7686-272810 , 2747666 , 7866274766  (ATC)
Police: +91 (7686)-274 032  or  100
Fire: 101
Tourist Information 
Tourist attractions:
1. Khajuraho Temples – Khajuraho temples are declared World Heritage Sites dating from 950-1050 AD.
2. Lakshmana Temple – Lakshmana temple is the second largest temple in Khajuraho, dedicated to the Hindu god Vishnu.
3. Panna National Park – here you can find one of the best Tiger reserves in India.
4. Raneh Falls – Raneh Falls is located a half hour drive from Khajuraho and the rock formations and forests make it popular with nature lovers.
Read more at http://www.transindiatravels.com/madhya-pradesh/khajuraho/tourist-places-to-visit-in-khajuraho 
Weather:
During the summer months, the maximum temperature recorded is 47°C. The summer season generally begins in the month of March and lasts until May. Expect it to be hot and humid.
Accommodation close to Khajuraho Airport:
Radisson Jass Hotel
Hotel Clarks, Khajuraho
The Lalit Temple View
Ramada Khajuraho
Hotel Chandela
For assistance with your operation to Khajuraho Airport, or another location in India, contact  india@uas.aero