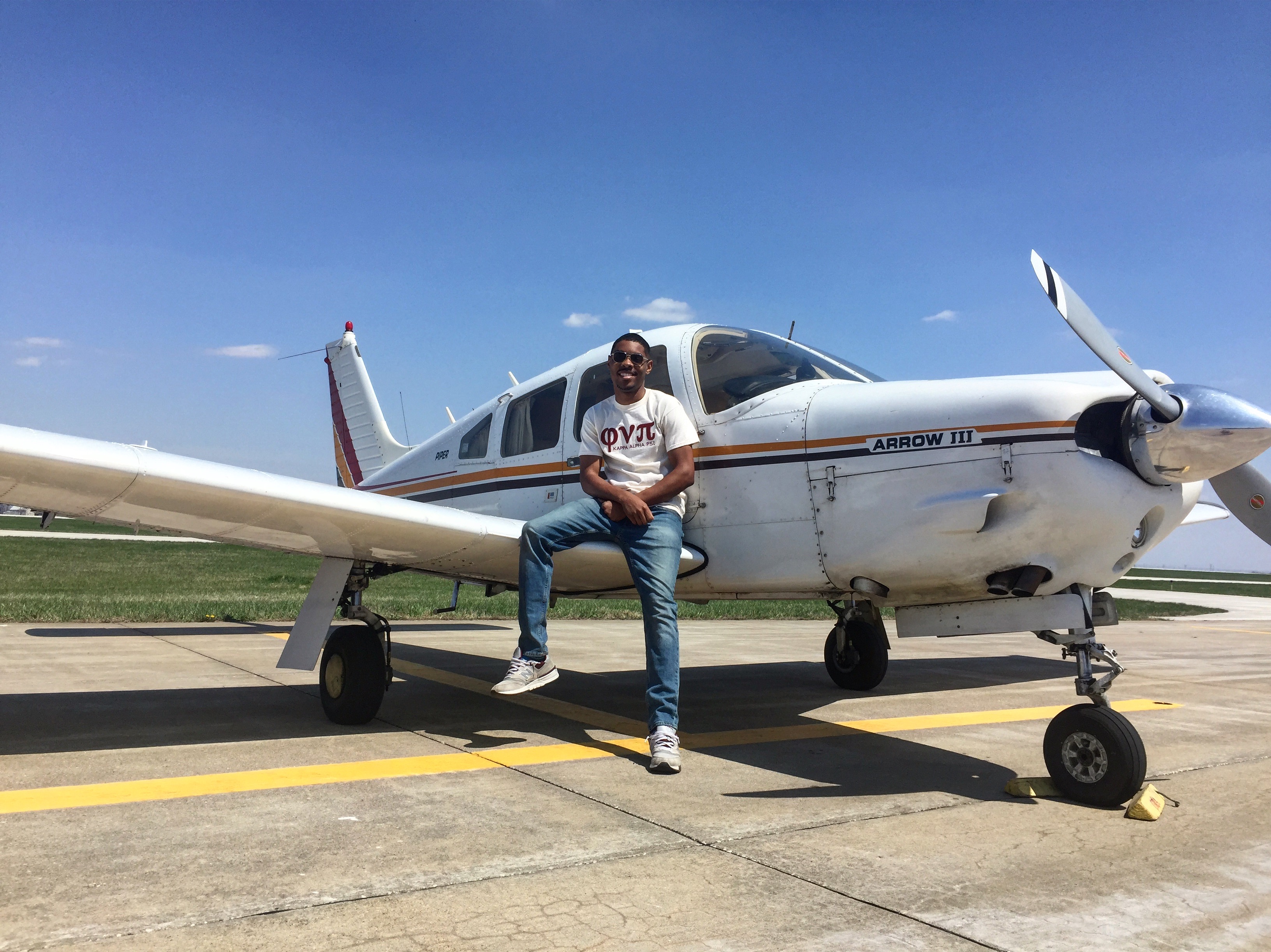 Blog
Let's Invest in the Future of Bizav
Go back to main page
Let's Invest in the Future of Bizav: Investing in the future of business aviation is the responsibility of everyone who loves and benefits from the industry. Each year, NBAA International Operators Committee (IOC) Scholarships support the professional development of recipients in business aviation with related international operations. UAS International Trip Support is proud to be a long-term contributor to the IOC Scholarship fund. One IOC scholarship recipient is Josh Hernandez, a commercial pilot from Illinois. We asked him a few questions about how the scholarship helped him achieve his goal of a career in aviation.
When you did know you wanted to become a pilot?
It sounds like a cliché! When I was a kid, my mom took me to the Chicago Air and Water show every year and when I saw the US Navy Blue Angles, I pretty much made my decision right there! Most kids say they want to be a Fireman, Astronaut, a sports player, etc., and that tends to change as they get older. Not me, I knew that's what I wanted to do from that age and my mom has supported that dream since day one.
How did the IOC help?
I received my first NBAA scholarship from the International Operators Group in 2016. I was an intern at NBAA and my boss at the time, Doug Carr, invited me to sit in on International Operations Conference committee meeting. There I witnessed the meeting of the minds and watch the conference sessions and topics come together. Now knowing that the IOC has a conference, I discovered that they had a scholarship. At the time I was working on my instrument rating, so I went ahead and applied for the scholarship, won it, finished my instrument, applied again in 2018 and became the top recipient. The IOC professional scholarship being huge financial help for my training would be an understatement.
How do you begin preparation for training and what was it like?
Initially, when going for your first lesson, the instructor gives you a briefing on what you will be doing in the air, and that all depends on what general knowledge you have of flying already. For commercial training, there is a learning curve when it comes to commercial maneuvers. Since all your instrument training is straight and level flight, the challenge of flying the airplane using performance maneuvers, like the Lazy 8, Chandelles, steep turns, slow flight, 8's on pylons, can be quite the challenge. Although these maneuvers are possible to perform, they require good stick and rudder skills that take patience, practice, and repetition. The short answer would be watching a lot of videos on YouTube to give you a 360 view of the maneuvers before you go up and do them. I spent countless hours watching instructional videos before flights and that helps a lot more than one would think.
Where did you train?
All my flight training was done in Quincy, IL at Quincy University's flight school. During my time there, all the instructors were graduates of the QU Aviation program so they all knew what was expected of the students during their lesson plans, what the Designated Pilot Examiner expected and what the Chief Pilot expected.
What do you think is the most prohibitive thing that stops young people becoming pilots?
For kids, I think it's the lack of support from their parents and the lack of knowledge of their parents. In my experience growing up in inner city Chicago, you don't see many pilots. Most people think becoming a pilot is impossible. I remember saying I wanted to be one and my friends would look at me like I was crazy. It's unrealistic. Had my mother had that same mentality, who knows what I'd be doing. My mom tried to find ways to get me involved in aviation and that's where we found the EAA Young Eagles program at Meigs Field (when it was still an airport). She was resourceful in finding ways to get me involved. At these events, you can chat with people of all ages and background that live for giving back to kids and giving them the experience of flying. That's where I met my mentor Steve Whitney. I was 11 years old when he took me up. I am 26 years old and he is still very instrumental in my life today.
I think initial cost of aviation is a deterrent as well. Everyone does not have $30k – $40k laying around so it can be discouraging for parents and adults who want to take up aviation. But if you want to make a career out of it, like anything, you sacrifice upfront and it more than pays for itself down the road. You get out what you put in and with a great attitude and hard work ethic, you will see a tremendous return on investment. This is where professional scholarship like the IOC scholarship comes into play! It's for professional development and not just limited to undergrads and high school students. That is something that I really appreciate about the IOC scholarship. For guys like me who graduated college and did not finish their flight training during undergrad. Since I am no longer in college, I'm am no longer eligible for most scholarships on the market for that reason. So, I am really grateful IOC has scholarships for professional development. I think the aviation industry would attract a bit more talent if more scholarships like this were available.
You passed my commercial checkride on April 23, what's next?
A few weeks after receiving my commercial license, I've decided to accept an offer that will allow me to fly as a contract pilot for a few companies based in the Quincy, IL and Burlington, IA area. This will afford me the opportunity to build quality flight time in turbine aircraft with advanced avionics. When I'm not contract flying, I will be working towards obtaining my CFI so I can instruct on the weekends. An exciting opportunity to say the least! It's pretty surreal think that my childhood dream is coming to fruition. This is the beginning of an amazing journey and I look forward to enjoying every step!
Any advice for others pursuing a career in aviation?
Network, keep a great attitude, be patient, enjoy your journey, work hard, keep your head down and your nose clean. From all the pilots that I've had the pleasure of speaking with, they all said the same thing. So far, those very things have all seemed to work well for me, so we shall see where these attitudes and qualities take me.
To find out more about a career in business aviation, click here