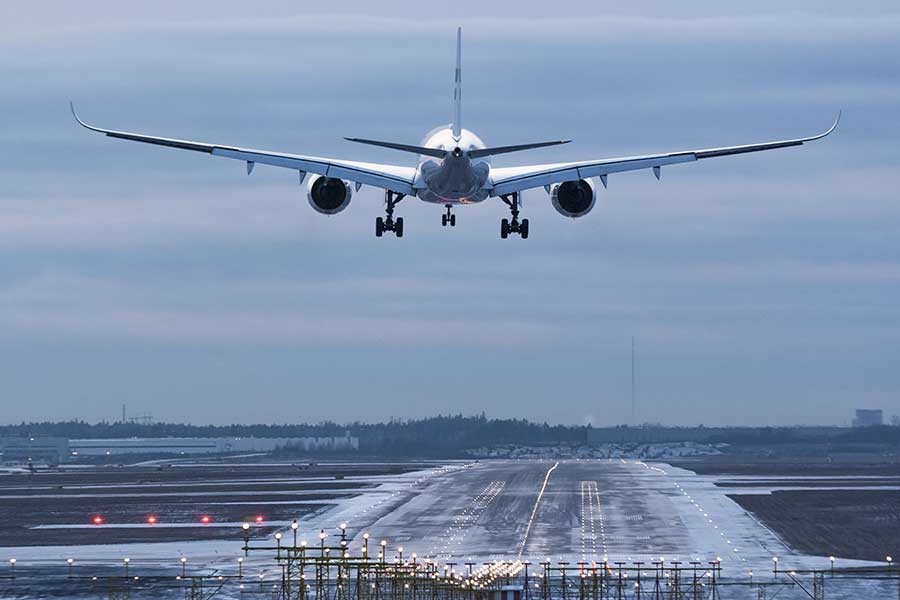 Blog
Negotiating North Atlantic Winter Weather
Go back to main page
Negotiating North Atlantic Winter Weather: If you are planning a transatlantic flight through the North Atlantic during the next few months, be prepared. If your aircraft is larger, flies high, and carries a lot of fuel, you have nothing to worry about. However, for the smaller private aircraft that require tech stops to make the journey, many more variables must be taken into account to have a safe and successful trip.
With the winter months approaching, crews can anticipate harsh weather conditions at popular tech stops in Iceland, Greenland and Northeast Canada. Why are the winter months worse than summer months? An understanding of jet streams will help answer the question.
The jet stream is a continuous flow of strong winds in the upper levels of the atmosphere. The size and speed of the jet stream are dictated by the boundaries between hot and cold air. During the winter months, these boundaries are more distinctive, therefore, during the winter months, they are strongest. As a tailwind, jet streams offer an opportunity to cut flight time and save fuel when heading west to east. As a headwind, however, expect longer flights and higher fuel burns. Jet streams will often dictate if an additional fuel stop is required when making your journey, which will then affect duty times and overall cost of the trip.
If a tech stop is required to make your journey, popular destinations are below:
BIRK
• Located in the city of Reykjavik, Iceland – the airport's longest runway is 5,141 feet (1,567 meters). There are ample hotel options in the city. One drawback is the airport is not open 24 hours.
BIKF
• Located in Keflavik, Iceland – the longest runway is 10,000 feet (3,048 meters). This is the hub for Icelandair. This airport is open 24 hours. There are few hotel options available if an overnight is required. Reykjavik is about a 45-minute drive away.
Greenland
BGBW
• Narsarsuaq, Greenland – the runway length is 6,000 feet (1,829 meters). This stop is recommended strictly for refuel purposes as it has very few amenities available. TAFs and METARS are only issued when the airport is open and staffed. Prepare for expensive extra fees if operating outside normal airport hours.
BGSF
• Sondre Stromfjord, Greenland – This airport has a 9,219-foot (2,810-meter) runway. Like BGBW, this location has few amenities and is not recommended for an overnight stay.
Canada
CYYR
• Goosebay, Canada – With an 11,051-foot (3,368-meter) runway, this is a great stop for fuel only and overnights. It is open 24 Hours also. We recommend that you reserve hotel rooms as soon as your trip formulates – the rooms move very quickly due to high demand.
CYQX
• Gander, Canada – The runway is 10,200 feet (3,109 meters) and available for use 24 hours a day. This is a Popular ETP waypoint. It has full amenities and is often used for tech/RON purposes.
CYYT
• St. Johns, Canada – This airport's runway is 8,502 feet (2,591 meters). Normally open 24 hours a day, it has full amenities and hotel options. Located 107 NM SE, CYQX is a popular option for an alternate.
CYFB
• Iqaluit, Canada – commonly referred to as Frobisher Bay, this airport is open 24 hours and has an 8,605-foot (2,623-meter) runway. It is popular for aircraft that have to fly on the "Blue Spruce" routes but is not a typical first choice for a normal tech stop.
There are many factors that need to be considered when making a normal trip. Trips over the North Atlantic and during the winter months require more planning, patience, and flexibility. Weather can change on a dime and plans will need to be adjusted. As the adage goes, "Given the choice, make the safe decision," seldom are there dull days when crossing the North Atlantic during winter.