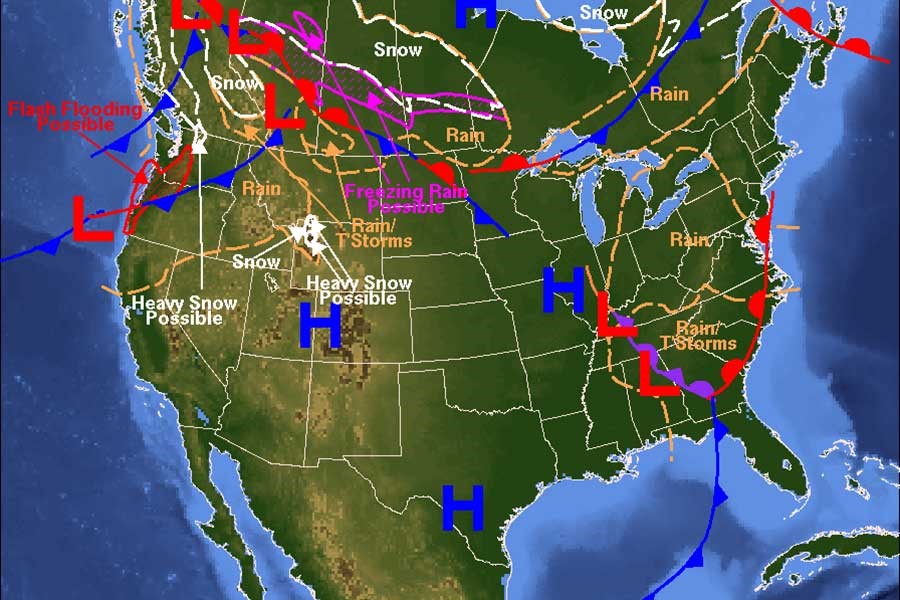 Blog
New NWS Product on the Horizon for the U.S.
Go back to main page
New NWS Product on the Horizon for the U.S.: A new product that will facilitate a more detailed outlook of weather forecasts for the U.S. is in the pipeline at the National Weather Service (NWS). 
The NWS is beginning to test a new product that will provide a more graphical representation of the forecasts within the continental U.S. This may likely begin replacing the standard text-based forecasts that the aviation community is more used to. Named the Extended Traffic Flow Management Convective Forecast, it will focus on areas of high confidence only which will meet specific criteria for coverage and cloud tops. This will make it easier to focus on areas of concern.
The Extended Traffic Flow Management Convective Forecast will be an interesting product as it will not show cloud tops below 25000 feet, which will make those flying at lower altitudes having less information available to them. Also, the more isolated areas of storms will not show up in this graphic. Areas of coverage over whole square miles will show up on the graphic.
The Extended TFM will be used by decision-makers at the FAA Air Traffic Control command centre as well as the TRACONs. This will help these decision makers to develop proper traffic management initiatives which will mitigate the impact of the projected weather systems.
It will be updated every odd hour throughout the day and come from five different forecast models run at different times. These models will be indicated at the lower left of the Extended TFM. Also, it will be fully automated – a change from the regular human forecast intervention included in the previous TFM product. This new product will run from 10 to 24 hours into the future. For example, a forecast product issued at 17Z would show forecasts for 7Z, 9Z, 11Z, 13Z, 15Z and 17Z on the following day. This will be a big benefit to ensuring safe routes are planned well in advance of significant weather outbreaks. For more information, visit http://www.weather.gov/ 
Visit the UAS Blog for future updates on this experimental product.