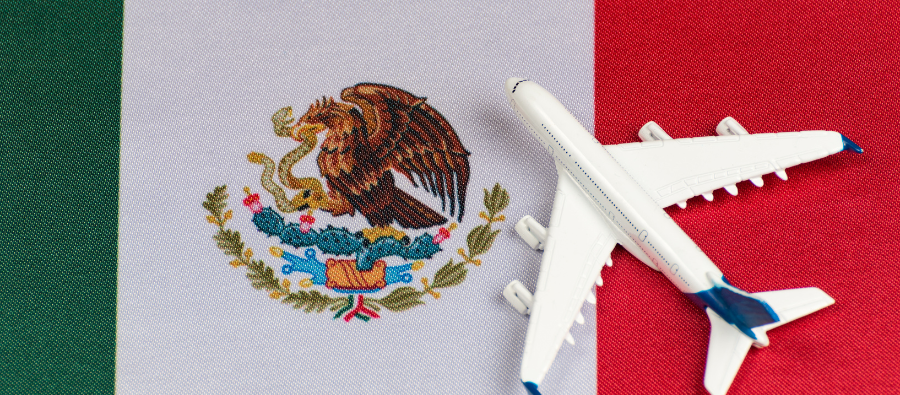 Blog
New rules for Mexico overflight permits
Go back to main page
As of July 2023, the Mexican Civil Aviation Authority (AFAC) and Mexican Air Navigation Services (SENEAM) have implemented new rules concerning overflying Mexican airspace.
Applicable to all aircraft flying over Mexican airspace, these changes are significant for operators of business jets, commercial airlines, and other aircraft.
A Mexico Overflight Permit is not required, and a notification will suffice.
The AFAC and SENEAM have outlined several key points that operators must keep in mind:
CAA's Working Hours: The CAA operates from 1500Z till 2300Z or 0900 to 1800 local time except for Federal holidays and weekends (Saturday and Sunday)
Required Documents: Certain aircraft documents must be submitted with the overflight request
Air Navigation Bill: The Mexico air navigation bill can be obtained either through IATA or a local agent
Overflight Debts: SENAM will no longer authorize flight plans for aircraft registrations with outstanding overflight debts. All operators entering Mexican airspace are required to register with SENAM, which issues an ID that ensures proper record keeping, payment system registration, and facilitates coordination between aircraft and the service
Details required 
To acquire a Mexico Overflight Permit, the following details are needed:
Complete Flight Schedule
Entry / Exit and ATC Flight Plan
Required Aircraft Documents
The following documents must be submitted:
Air Operating Certificate (Private Aircraft AOC Not Required)
Certificate of Airworthiness
Registration Certificate
Who is responsible for the overflight air navigation bill?
The Mexico CAA will issue the air navigation bill directly to the Operator or local agent who administrates the ID.
For support with your flight operations to Mexico, contact UAS