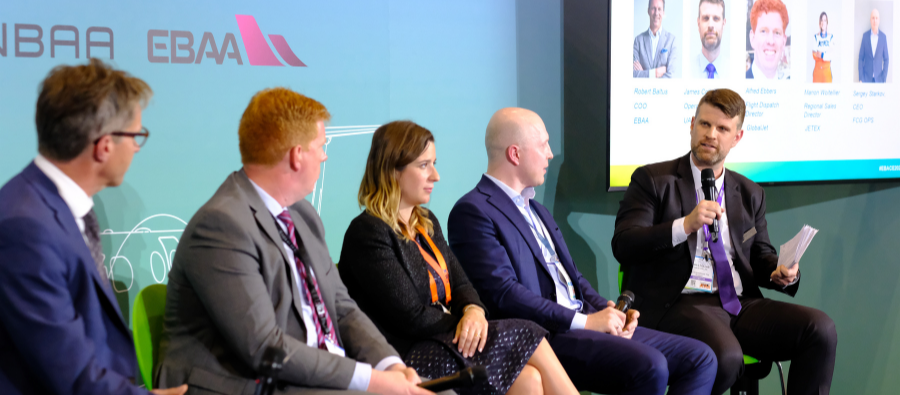 Blog
Operational Challenges in the Next 12 Months
Go back to main page
Our industry thrives on information. Sharing what we know and what we have experienced is the best way to ensure a strong future of business aviation. I was invited by the EBAA to join a panel of industry experts at EBACE to discuss operational challenges over the next 12 months where we covered the main operations and regulatory challenges facing business aviation operators. Regulatory and operational updates, a special focus on post-COVID-19 operations, the EU-LISA system, and operational consequences of the Ukraine crisis were all up for discussion.
All panelists welcomed March's European Union Aviation Safety Agency proposal that air operators be allowed to reduce the amount of fuel carried during operations, thereby reducing the CO2 emissions of the overall flight and the environmental impact of the flight. From the end of October this year, the amount of additional fuel required can be optimized, while continuing to ensure high safety levels, due to improved risk assessment, calculations based on better data, and better decision making.
There was also mutual agreement that the COVID-19 pandemic and the impact it had on travel, passenger trust, and airport operations created a need for new innovations and that more effective, efficient, less disruptive, and scientifically supported measures will be implemented as they become available, and out-of-date measures removed. The pandemic put greater focus on the need for a flexible approach and an urgency to put available technology to use, to provide this flexibility and unlock the full benefits which are achieved with global coordination rather than isolated approaches. Undoubtedly, this situation we're now gladly emerging from has forced us to be more flexible and creative – and this is never a bad thing.
We also spoke about the operational consequences of the Ukraine crisis. As of March, 36 countries, including EU countries, the UK, and the US, have closed their airspace to Russian airlines. Russia has in turn banned airlines in most of those countries from entering or flying over Russia. Several airlines from countries not directly impacted by sanctions have also temporarily reduced flights to/from Russia, for example in Japan and South Korea. The Russian domestic air passenger and cargo market is impacted by sanctions on leased aircraft, spare parts, maintenance, and training. At present, airlines continue to operate regular schedules, outside of the airspace close to Ukraine, which has been shut.
Jet fuel prices are always a concern for operators, and they have risen sharply since the start of the conflict. They were at USD 150 per barrel in March, up 39% on the month and 121% year-on-year. Upward pressures on prices may continue, in particular, if more stringent sanctions are applied to the Russian energy sector and depending on potential increases in production elsewhere. Fuel expenses – which factor in consumption, hedging, and other elements – represented around 25% of airlines' operating expenses prior to the pandemic, globally. The share declined in 2020 and 2021, as airlines' variable costs fell, but in most cases, the share is now back to its pre-crisis level. Airlines have two options in terms of managing the increased cost of fuel; they must either absorb the costs themselves, which may be a challenge as profit margins are already slim currently, or pass the higher fuel costs on to passengers through higher airfares. At a time of already elevated inflation, higher airfares could reduce demand for air travel. It's a delicate balance to achieve but open discussion and brainstorming help to spur the top minds of our industry to find solutions that will benefit all.
For support with your flight operations, contact UAS