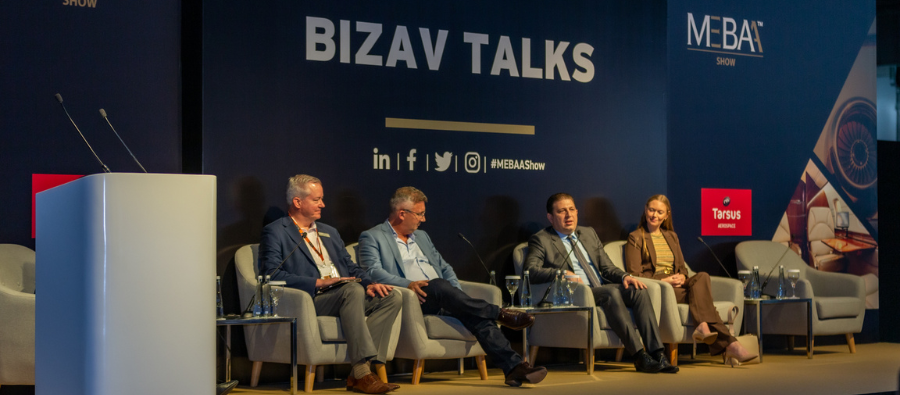 Blog
Tackling the BizAv Skills Shortage in 2023
Go back to main page
Our industry is currently experiencing a personnel crisis. The wave of retirees brought on by the pandemic left business aviation and aviation at large bereft of much of its expertise and experience. People's priorities also changed with work life balance and an emphasis on wellbeing climbing employees' wish lists.  Companies now must focus on talent recruitment and retention by adopting people first strategies to overcome the workforce challenge. This is such a contentious issue that we felt compelled to cover it in UAS' The Forward Discussion – panels featuring industry thought leaders we organized at EBACE, NBAA-BACE, and MEBAA Show 2022.
At NBAA-BACE's The Forward Discussion, the first of our panels examined how best to overcome the skills shortage in business aviation and explored ways to attract new talent to the industry. Moderated by veteran aviation journalist and editor of Future Aviation/Aerospace Workforce News, Kathryn Creedy, guest panelists included Tamarack Aerospace Founder and CEO, Nick Guida, Beth Cook, Chief Human Resources Officer at JSSI, Krimson Aviation Founder and CEO, Dawit Lemma, and NBAA's Senior VP, Education, Training and Workforce Development, Jo Damato.
Business aviation industry leaders are looking to boost recruitment, retention, and expand diversity within their companies. Nick Guida spoke about Tamarack Aerospace's strategy to develop home grown talent due to geographical restraints of their base in Idaho. He maintained that a culture of aviation has grown in the region as a result of this policy, and that it also creates opportunities for local residents by providing well paid, highly skilled jobs in this rural area.
Exploring how to best attract people into aviation careers, Dawit Lemma stressed the importance of developing a company brand that embraces empathy, is diversity riven, and where leaders serve their community; a company people want to work with you.  Jo Damato spoke about NBAA's efforts to put the industry on the map with its Business Aviation Top 40 Under 40— an annual shortlist that celebrates forty international movers and shakers that are revolutionizing the industry (I'm happy to say that I am a formerly short-lister!)
Beth Cook maintained that the secret sauce is really listening to people and creating opportunities, being fair and equitable, and investing in sponsorship for education. She also emphasized the importance of educating on unconscious bias as part of efforts to enhance diversity, something that Dawit maintained is the solution to the workforce challenge.
All panelists agreed that attractive benefits and compensation, a great work life balance, and great leadership culture are vital to retain talent. Also, personal values aligning with the corporate culture plays a huge role.  Looking forward to 2023, all these elements must be considered if we as an industry are to attract and retain the type of talent and enthusiasm necessary to secure a prosperous future for BizAv.
Watch the full panel on UAS' YouTube channel here.
For more Executive Insight, visit UAS Blog