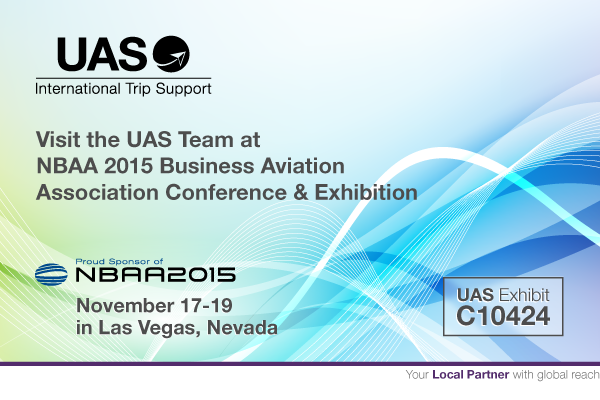 Go back to main page
NBAA's Business Aviation Convention and Exhibition 2015 will take place this November 17-19 at the Las Vegas Convention Center, Las Vegas, Nevada.  Running from Tuesday until Thursday, the highly-anticipated event will bring together over 25,000 international aviation professionals and enthusiasts including OEMs, operators, aircraft owners and prospective owners. Up to 1,000 exhibitors will showcase their product and service offerings. There will also be static displays at Henderson Executive Airport and inside the convention center itself, as well as educational sessions promoting industry best practices. The goal of the exhibition is to make attendees better informed of all the newest products available to best support business aviation and expand operational knowledge.
We've compiled some crucial information for anyone planning at trip into Nevada for NBAA2015.
Immigration
Non-U.S. citizens who wish to enter the United States must obtain a U.S. visa to be inserted into their passport before they enter the country.
There are certain travelers who may travel without a visa through the Visa Waiver Program (VWP). The VWP enables citizens of designated countries to travel to the U.S. for stays of up to 90 days without arranging a visa before their trip.
Citizens of the following countries may travel to the U.S. under the VWP:
| | | | | |
| --- | --- | --- | --- | --- |
| Andorra | | Hungary | | New Zealand |
| Australia | | Iceland | | Norway |
| Austria | | Ireland | | Portugal |
| Belgium | | Italy | | San Marino |
| Brunei | | Japan | | Singapore |
| Chile | | Republic of Korea | | Slovakia |
| Czech Republic | | Latvia | | Slovenia |
| Denmark | | Liechtenstein | | Spain |
| Estonia | | Lithuania | | Sweden |
| Finland | | Luxembourg | | Switzerland |
| France | | Malta | | Taiwan |
| Germany | | Monaco | | The United Kingdom* |
| Greece | | The Netherlands | | |
*This applies to British citizens only with the unrestricted right of permanent domicile in England, Scotland, Wales, Northern Ireland, the Channel Islands and the Isle of Man.
All citizens of VWP countries planning to travel to the U.S. for 90 days or under must receive authorization through the Electronic System for Travel Authorization, ESTA, before boarding a U.S.-bound flight. ESTA is an automated system that assists in determining an individual's eligibility to travel to the U.S.
Crew
Crewmember (D) visas are non-immigrant visas for persons working on aircraft and intending to depart the U.S. again within 29 days.
Customs 
Import regulations
Articles from certain developing countries are given special duty preferences when imported into the USA. Information regarding the countries concerned and the eligible articles may be obtained directly from the U.S. International Trade Commission, 701 E Street N.W., Washington, D. C. 20436 or from the nearest overseas U.S. Consulate.
For further information regarding the exact allowance for your country of origin, please contact:
S. Department of Agriculture, Animal and Plant Health Inspection Service (APHIS), National Center for Import and Export, 4700 River Road, Unit 39; Riverdale, MD 20737.
The U.S. Bureau of Sport, Fisheries and Wildlife, Washington, D.C. 20240, or at a U.S. Embassy or Consulate overseas.
Quarantines; U.S. Department of Agriculture (see address quoted above) or at a U.S. embassy or consulate.
Prohibited:
Narcotics, meat products, plants, seeds, vegetables, fruits, soil, dairy products, live insects, snails, and other pests.
Also, fish (unless it has been certified disease-free), items from Iran, leather souvenirs from Haiti, and Cuban cigars.
Export regulations
There is free export for an unlimited quantity of tobacco products and alcoholic beverages.
Crew
Crew are allowed to import:
One open liter of alcoholic beverage
300 cigarettes or 50 cigars or 2 kilograms of smoking tobacco, or a proportionate breakdown of each
Merchandise not exceeding USD $200 in value, and may include gifts, free of duty
A special crew line is available
Currency
The local currency is United States Dollars (USD).
A passenger may import USD and other currencies without restrictions, provided they report amounts exceeding USD 10,000 to U.S. customs on entry and departure
The importation of gold coins or small quantities of gold must be declared on arrival
Baggage Clearance
All baggage, regardless of the next destination, is cleared at the first point of entry in the U.S.
This also applies to baggage of passengers making an international transfer
There is a special crew line available
Airport Embarkation Tax
There is no airport tax levied on passengers upon embarkation at this airport.
Airport
McCarran International Airport, LAS
N 36-0.48 / W115-09.1
Elevation: 2,181 ft.
Magnetic Variation: 15E
Fuel: AVGAS JET
Time Zone Info: UTC –7 hours
Private and Non-Scheduled flights
TSA Waiver Authorization is required for all overflying aircraft.
Aircraft registered in the countries listed above do not require a waiver to conduct flights within the U.S.
Private and non-scheduled flights require TSA Waiver Authorization if flying domestic legs within the U.S.
Federal Aviation Administration (FAA) Route Authorization for landing and overflying is required for aircraft registered in China, Cuba, Iran, North Korea, Russia, Sudan, and Syria.
Foreign operators wishing to operate as an air carrier must first obtain two separate authorizations from the U.S. Department of Transportation:
Economic Authority from the Office of the Secretary of the Transportation Department in the form of a certificate.
Safety Authority in the form of an Air Carrier Certificate and Operations Specifications from the FAA.
Fuel
Please note that general aviation parking is limited.
Accommodation
Hotels near McCarran Airport:
Best Western McCarran Inn
Homewood Suites by Hilton Las Vegas Airport
ARIA Resort & Casino
Four Seasons Las Vegas
Mandalay Bay Resort and Casino
Doubletree Club Las Vegas Airport
Courtyard by Marriott Las Vegas South
Residence Inn by Marriott Las Vegas South
The Cosmopolitan of Las Vegas
MGM Grand Hotel & Casino
Hotels near NBAA:
Homewood Suites
Las Vegas Marriott
Residence Inn Las Vegas
Hilton Grand Vacations Suites Las Vegas Convention Center
SpringHill Suites Las Vegas Convention Center
Courtyard Las Vegas Convention Center
Hilton Grand Vacations Suites on the Las Vegas Strip
Embassy Suites by Hilton Convention Center Las Vegas
Transport
Public transport
The Regional Transportation Commission of Southern Nevada (RTC) provides bus services to and from McCarran International Airport.
For route information, please visit the RTC website.  http://www.rtcsnv.com/transit/
Car hire
Car hire is available on site at McCarran Rent-A-Car Center.