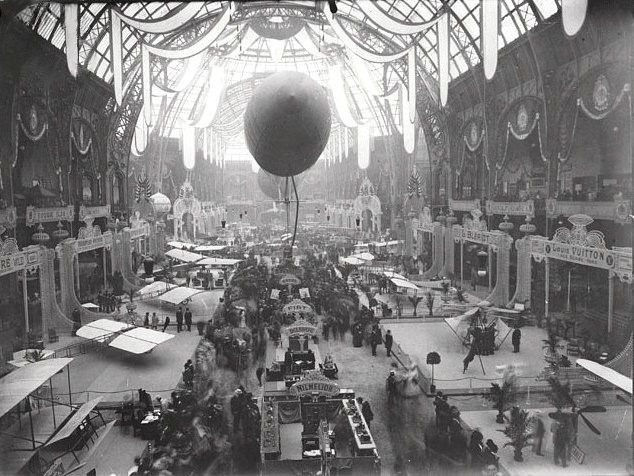 Blog
A Tribute to the Paris Air Show
Go back to main page
A Tribute to the Paris Air Show: No one active in the aviation industry today is unfamiliar with the prestige and longevity of the Paris Air Show. It is as much a fixture in our collective awareness as any other prominent aviation hallmark. With the approach of the 52nd edition, a quick recap of its auspicious history seems in order.
Oddly enough, today's International Paris Air Show – at least in concept – was conceived at the 11th Paris Motor Show, which opened on 24 December 1908. A section of that event was dedicated to showcasing the latest in aviation innovation. The British publication, Flight dubbed this occasion as the "First Aeronautical Salon" and proclaimed it as "the first real exhibition of practical flying machines that has ever been held anywhere."
The display of aircraft included a Wright Brothers' model, an aeroplane-helicopter by Louis Charles Breguet, and a Farman I and Delegrange biplane by Les Frères Voisin, among others. Also, Gustave Rives, a well-known French architect from the late 19th and early 20th centuries, held an associated aviation exhibition, which contributed to the formal creation of the Paris Air Show, inaugurated the following year.
The 1909 Paris Air Show, referred to as the Paris Aero Salon, opened in the Grand Palais on 25 September and ran through 17 October that year. Approximately 100,000 enthusiasts turned out to see the marvelous inventions from 380 exhibitors.
Four of these air shows were held leading up to World War I, and they resumed in 1919. Starting in 1924, the show was held every two years. Again, it was interrupted, by World War II, and recommenced in 1946. And since 1949, the show has been held every odd-numbered year. The Grand Palais continued to host this biennial event and starting in 1949, its flying events took place at Paris Orly Airport (LFPO/ORY).
In 1953, the Paris Air Show, or Salon International de l'Aéronautique et de l'Espace de Paris-Le Bourget, moved to its new home, the Le Bourget Airport (LFPB/LBG), in a northeastern suburb of Paris, just 10.9 kilometers, (6.6 miles) away from the city's center.
The 38th Paris International Air and Space Show (1989) spotlighted aerospace technology from NATO and Warsaw Pact nations. A Mikoyan MiG-29 also crashed during a demonstration flight that year, but there was no loss of life. The 48th show (2009) celebrated 100 years of aviation and space innovation. It also memorialized the victims of Air France Flight 447, an Airbus A330 flying from Rio de Janeiro to Paris that crashed into the Atlantic Ocean after experiencing an aerodynamic stall.
Most recently, the 2015 show hosted 353,000 visitors from the aerospace business and general public over the week-long event. There were more than 2,300 exhibitors from 47-plus countries and 120 aircraft on display. French aircraft manufacturer, Airbus locked up 421 orders, worth $57 billion USD. The arrival of the electric revolution was formally heralded with awe-inspiring exhibition flights. And the weather is remembered as "picture perfect" for the flying displays.
No doubt, the upcoming 2017 edition will have new thrills and technological innovations to wow aviation devotees in attendance, as is the show's tradition. For decades, presidents, royals, CEOs, and celebrities have attended this event – the world's oldest and most prestigious exposition of its kind. It is a place where anybody can go to see the most technologically advanced aeronautical creations on the planet; there's civilian and military aircraft, spaceplanes, satellites, and so much more. We must wait and see what's in store.
Check out our blog on how to best plan a trip to the Paris Air Show: http://blog.uas.aero/operations-paris-air-show-le-bourget/
For regular updates and useful trip-planning tips for events like this, visit UAS Blog often.